Apple season is upon us! I'm seriously giddy with excitement, and while it is still almost 90 degrees here in Vermont we've already been apple picking. (Don't worry, we'll go back when there is a proper nip in the air.)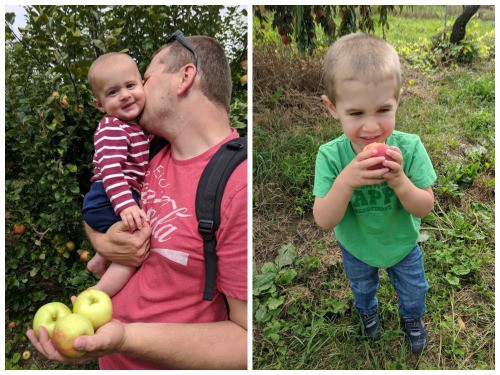 Each and every year we pick over a bushel of apples. Our favorite Vermont orchard only charges $28 per bushel. And at 48 pounds per bushel, that's an incredible price for apples. Plus, heading out into the orchard to pick is just so much fun! But when we're done picking, the work begins. We have to make sure we make the best use of all these delicious apples and give us some sweetness through the winter months.
Heading into the kitchen has become even more enjoyable the last two years, as Fuss Fish is getting big enough to help out with the cooking. Usually, it's just flipping the switch on the KitchenAid or stealing a handful of apple slices, but he's the cutest sous chef I've ever seen!
If you're wondering what to do with all your pick-your-own apples this year, I've rounded up our top 12 recipes that the whole family loves.
Favorite Recipes for Pick-Your-Own Apples
1 – Can homemade applesauce
I love making applesauce and ever since I bit the bullet and learned how to can (it isn't hard! here's a step-by-step guide), I don't feel guilty about making large batches to last us through the winter and spring. (It used to take up so much room in our drop freezer!) I use the plain applesauce to serve with pork chops, in muffins, or as a healthy snack for the boys. And by making a few varieties – like cranberry applesauce and blueberry applesauce – we don't get sick of the same old thing.
Using the food mill speeds up the process, and I use these simple recipes for the fruit blends.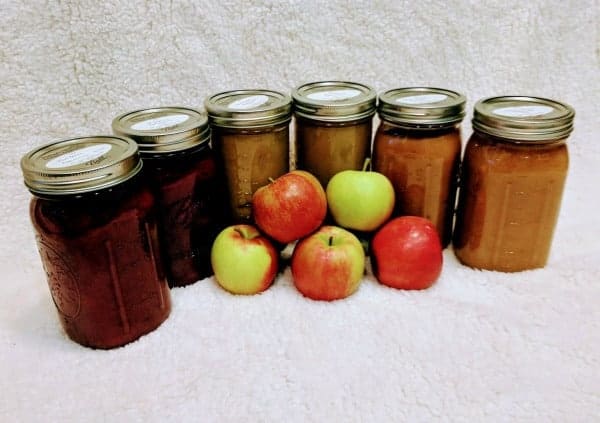 2 – Maple apple breakfast sausage
My husband loves breakfast sausage. But breakfast sausage without preservatives and lots of added sugar is expensive. Especially considering we always do our apple picking in Vermont, fall is the perfect time for us to make our own maple apple breakfast sausage.
I make a batch or two with ground turkey and a few batches with ground pork, usually with a similar recipe to this. We place the uncooked patties on a cooling rack and pop them in the freezer for an hour before placing in containers to freeze (so they don't stick together).
Pro-tip: Always pull out at least one more than you think you'll need at breakfast time. The tiny humans in our house LOVE this sausage!
3 – Apple pie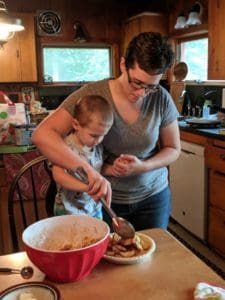 Warm apple pie with ice cream is my all-time favorite dessert. And making it with Fuss Fish is incredibly fun since we now have the coring and peeling attachment to our KitchenAid and he loves turning the machine on and watching the apple spin!
When it comes to preparing pies for the season, you have two options. First, you could assemble and freeze pies before baking. My mother-in-law loves to do this and you just need to allow extra baking time (and remember to cover the top with tin foil early on, so the crust doesn't burn).
Your second option is to make and can apple pie filling. This preserves your apples and makes whipping up a fresh pie super easy. Just be sure to use Clear-Jel, not cornstarch or flour, as a thickener as it can hold up to the high temperatures and is safe for canning.
4 – Peanut butter apple slices
It seems silly to even put this one on the list. It is so simple! But I think we each eat an apple with peanut butter a day during the fall. It is such a delicious, filling snack and one that you can always play with.
Cut the apples into discs, smear with peanut butter, and drop mini chocolate chips on top. Drizzle with honey or slivered almonds. Jeremiah is a big fan of a little toasted coconut on top!
5 – Chicken Waldorf salad
Fuss Fish has been eating this chicken Waldorf salad since he was 14-months-old. I'm not usually a fan of chicken salad, but I love that this recipe cuts the mayonnaise 50-50 with yogurt. Pull together some leftover chicken, apples, grapes, celery, and walnuts and you've got a delicious lunch! Fuss usually devours with his hands, but Jeremiah and I prefer it in lettuce wraps.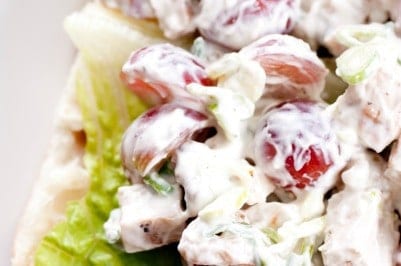 6 – Apple cake
All through college, my mom was famous among my hockey teammates for her incredible apple cake. Sometimes she would bring a batch to games so we could all pig out afterward and my teammates would beg her for the recipe. While hers still manages to be leagues better than mine (even though we're supposedly using the same recipe), a fall can't go by without me making one.
This recipe is pretty darn close to mom's, and the cinnamon sugar topping is awesome. Just don't chop the apples too fine, the soft pieces of apples in the cake are the best part.
7 – Caramel apples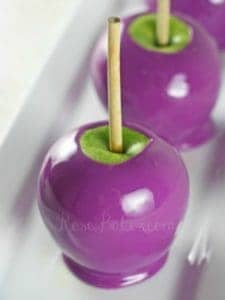 Confession: I've never made caramel apples. While I do enjoy apple slices and caramel sauce, the logistics of dipping and eating caramel apples has always seemed a bit daunting. Luckily, my friend Rose is a master.
Rose has awesome recipes and instructions for making your own caramel apples. It's a lot of fun seeing all the colors and designs she comes up with!
If dipping whole caramel apples is still overwhelming, consider chocolate or caramel dipped apple slices. These dark chocolate dipped apple slices are one of my favorite treats when I'm following the Paleo diet.
8 – Pork chops with apples
Okay, a quick break from the sugar frenzy. One of my family's go-to dinner recipes is pork chops with apples and garlic mashed potatoes. While we do tend to eat it year round, it is best with fresh apples in the fall and winter when the hearty meal does a lot to warm and fill you up.
Better yet, the pork chops are a one-pan dish that we can make in our cast iron skillet. It takes pork chops, red onion, apples, apple cider, buttermilk, sage, salt and pepper. Easy to assemble and clean up!
9 – Apple butter
Until last year, I had never heard of apple butter. But when I put out a call to my Twitter friends for their favorite uses of apples, I was told to try apple butter over and over. And it did not disappoint.
Apple butter is a concentrated form of applesauce that is cooked for a long time so that the sugar caramelizes. You can spread it on toast or muffins, incorporate it into recipes, or make caramel apple butter popcorn. We love spreading it on french toast and giving it away as cute gifts!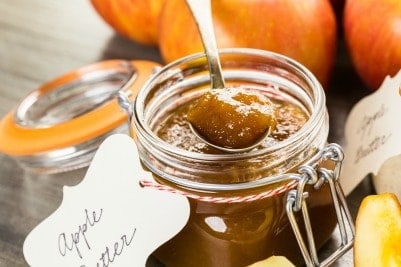 10 – Paleo caramel apple muffins
Each fall I usually end up committing a month or so to the Paleo diet. I don't think I'll ever surpass my record of over a year following the diet, but at the end of summer, I feel like I need to reset and stop the onslaught of ice cream and sugar. Yet, I don't want to give up all the yummy baked goods!
These paleo caramel apple muffins have seriously saved me from giving in to major cravings. There is even a low carb option for those following keto. The muffins are sweet without being loaded with sugars and are surprisingly fluffy. (A lot of paleo baked goods are pretty dense.
If you're searching for a slightly healthier apple treat, definitely try these muffins!
11 – Make fresh apple cider
Apple cider with crushed ice is possibly my absolute favorite juice drink. I get so excited every year when the local orchards open up and the grocery stores start stocking cider again. So, when I found out you can easily make your own non-alcoholic cider at home, I had to try it!
Making homemade apple cider is probably one of the few things on this list where making your own over buying isn't cost effective. But it is a fun activity and has great flavor. We like this easy recipe but usually use a bit less sugar so it keeps a bit of its bite.
12 – Apple chips
Fuss Fish loves chips. But lucky for us, he's indifferent to whether they are potato chips, plantain chips, or apple chips. So, we can skip the oily options and give him free rein with healthier choices.
Making apple chips is a low-and-slow process. You want to cook your thinly sliced apples at 225 degrees F for 45 minutes to an hour, whenever the edges start to curl up. We typically leave them plain, but you can sprinkle some cinnamon and sugar on the top.
If by some miracle you have leftover apple chips, you can pop them into a mason jar and use a vacuum sealer to preserve them for up to several months.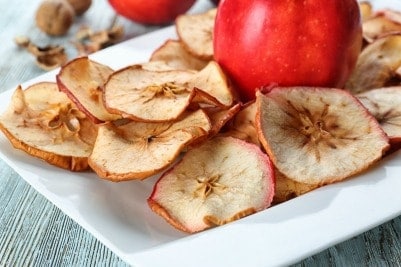 Make the Most of Your Harvest
Apple picking is a time-honored family activity. But you can make it a frugal activity that saves you money on groceries by price shopping orchards, comparing to grocery store prices, and preserving the apples you pick for months to come. At $0.58 a pound, compared to $1 to $2 a pound at the grocery store, sometimes even higher for Honeycrisps, the work of processing a bushel or more of apples is well worth the time for us.
What is your favorite way to use pick-your-own apples? Drop a note in the comments!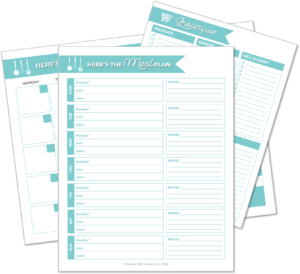 Grab Our Free Meal Planning Sheets!
Weekly & monthly meal planners and a simple grocery list to get a handle on your grocery budget.