Wondering where to put your emergency fund cash? Or whether there is a better place to keep your short-term savings? Today, we tackle your options.
While long-term returns of the stock market are 7%-10%, the volatility makes the market a poor choice for funds you need in the next few years. But there are places to save your money where its value can at least keep pace with inflation.
Here's what you need to know.
Where Most People Save Cash 
---
If you have an emergency fund, it probably lives in your regular checking or savings account. That's great for easy access, but the average interest rate at big bank savings accounts today is only 0.04%. Put $10,000 in your savings account and earn just $4 in interest this year. Ouch. The lack of return makes your savings account about as beneficial as burying your money in the backyard. And, over time, it's just going to diminish the value of your buffer. (Pesky inflation…)
When you're building a starter emergency fund of $500, $1,000, or one month of expenses, keeping your cash in an easy to access place is a fine option. You're more likely to need to draw on it and the 1%-3% interest you could earn elsewhere is small dollars.
However, once you've saved up three to six months of expenses, or you're building savings for a house down payment, major project, or mini-retirement, you want to make sure you're getting the best bang for your buck.
And that means finding a risk-free account that pays a little more interest.
Best Risk-Free Savings Options for Cash 
---
While you can get strong returns in the stock market or reasonable returns in the bond market, it isn't a smart idea to invest cash you might need soon. A badly timed recession could reduce the value of your savings at a time when you're most likely to need it.
Instead, we want to find accounts where your capital (the dollars you put in) aren't at risk. But you still earn a small return to help offset inflation pressures. Here are some top choices.
#1. High-Interest Savings Accounts
High-interest savings accounts, typically offered by online banks with reduced overhead costs, have much stronger rates than traditional banks.
Banks make money on these accounts by lending out a percentage of your funds to consumers, business owners, or other banks. They use the profits from this lending to pay your interest rates.
Don't worry though! Your money is safe! The Federal Reserve sets a percentage of assets banks need to keep in their coffers from all deposits, to ensure that money is there to service withdrawals. (And these banks have government insurance that protects deposits if everyone tries to withdraw at once – known as a bank run.)
High-interest savings accounts have regulatory limits on how often you can make withdrawals. The industry standard is up to six withdrawals in a billing cycle (one month). This should be plenty if you're saving for a specific purchase or emergencies. But keep it in mind if multiple emergencies are popping up in one month!
Top High-Interest Savings Account Providers
These rates change relatively often, both driven by increased competition between providers and fluctuations in market rates, but some top account offerings are listed below.
While Discover Bank appears bottom of the table in this top five roundup, it could be a good option for those who have a significant amount of cash in their savings or emergency fund. Discover often offers cash bonuses for new account holders, up to $200. A $150 bonus for a $15,000 deposit increases your two-year APY to over 2.25%!
#2. Money Market Funds & Money Market Accounts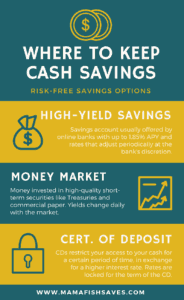 If you've ever opened an investment account, you've gotten the question "should dividends and coupon payments be reinvested or placed in a money market fund?" Typically, unless you're living on those dividends, you want your cash to reinvest. But what is a money market fund?
Money market funds and accounts invest your cash in short-term, super low-risk securities like U.S. Treasury bills, short-term municipal debt, and high-quality, short-term debt from companies.
While the goal of a traditional investment is to get capital appreciation (buy a stock worth $10, sell it for $15), money market funds only target picking up interest payments. Each dollar you save in this type of account is designed to be protected, so you won't see the fluctuations you would see in the stock or bond market.
What's the difference between money market funds and money market accounts?
The only difference between a money market fund and money market account is that a money market account is FDIC insured up to $250,000, meaning your dollars deposited are protected by a government insurance policy. Cash in a money market fund is treated as an investment and thus isn't secured.
Basically, if CIT Bank or Ally Bank ran into a crisis and were bankrupt, your deposits would be returned by the government. If Vanguard or Fidelity went bankrupt, you'd be out of luck.**
**These are all incredibly strong companies and I'm not suggesting anything will happen, just outlining the difference in protections.
The returns between money market accounts and funds are de minimus – they are investing in the same underlying securities, after all – so for most people, a money market account with the added insurance protection is the right call.
Top Money Market Accounts
Historically, the money market accounts were hard to access for the general public because traditional banks required very high deposits to qualify. But this is another arena where online banks have made major changes.
In many cases, money market accounts look very similar to their high-yield savings account cousins. (Especially in a low-interest rate environment.) You have a limited number of withdrawals per month and rates can be similar. However, with a money market account, initial deposit requirements may still be high but you may get access to a debit card or offer the ability to write checks.
CIT Bank Money Market Account – 1.85% APY – $100 minimum deposit – No transaction or monthly service fees, but no access to ATMs. Does offer People Pay, a free service to transfer money to anyone with a name and email address, and is rolling out a no-fee bill pay system.
Discover Bank Money Market Account – 1.60% APY – $2,500 minimum deposit – Monthly maintenance fee of $10 if your balance falls below $2,500. No transaction fees and access to 60,000 ATMs across the U.S.
Citizens Access – 2.00% APY – $5,000 minimum deposit – No transaction or monthly service fees, but no access to ATMs.
For those who already have investment accounts, and aren't worried about the lack of FDIC insurance, there are some money market funds at major providers with no minimum, or low minimum, investment requirements.
With today's low-interest rates, money market accounts and high-yield savings accounts aren't that different in many cases. Before opting for a money market account or fund with aggressive initial deposit restrictions, check whether you can't get a similar rate in an online savings account.
#3. CDs – Certificates of Deposit
A certificate of deposit is like a savings account, but it pays a higher rate because you promise the bank to not access that money for a certain period of time. With CDs, the longer you plan to leave the money in place and the more money you have to deposit, the higher the interest rate you get.
When deciding whether money-market funds or CDs are right for you, consider your time horizon. CDs are a good option when you're saving for a goal one to three years out and there is little chance that you'll need the money early. You know you won't need the money regularly like you would from an emergency fund, but you don't want to risk your savings in the market before you do need that money.
For instance, we used a CD ladder – staggering maturities to increase return, to save the cash for our homestead purchase in the next 2-3 years. We signed a two-year lease on our rental, and won't need that cash for at least two years, so tying the money up in a CD isn't a concern.
Note: You can still make emergency withdrawals from a CD, but you'll pay a penalty. Usually paying back a number of months of interest payments.
Best 12-month CDs
Best 36-month CDs
As you can see in the examples above, you aren't getting a significant boost from committing to a longer period. This is an example of the rate curve being flat in today's environment. Since rates are expected to rise, and CD rates are locked, you may be better off rolling sticking to 12-month CDs and rolling into new CDs as they mature.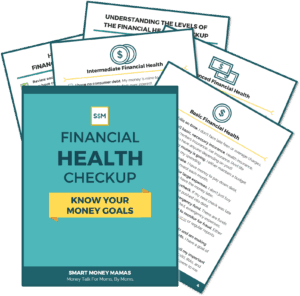 Wondering whether you're doing the right things with money or what you should focus on next? Download our quick financial health checklist and see where you stand!
Finding the Best Place for Your Savings
---
High-yield online savings accounts, money market funds and accounts, and CDs all offer superior interest rates to your standard checking or savings accounts. The return may not be life-changing, in fact, on small deposits it may still feel downright insignificant. But moving your cash savings to one of these accounts can help you protect its value from inflation over time. And with very low minimum deposits, if any, and no fee accounts – earning something is always better than nothing.
Where do you stash your emergency fund and other cash savings? Drop a note in the comments and let me know!
*Rates in this article last updated 8/22/2018.