How to Redefine Wealth and Stop Doing All the Things
Why You've Got to Listen to This Episode...
In today's episode I'm talking with author and founder of Redefining Wealth, Patrice Washington. She's passionate about helping women build the 6 pillars of wealth which she breaks down in her book Redefine Wealth For Yourself. Patrice's personal journey of having wealth, losing it, and rebuilding it again is a story of resilience we all need to hear.
We're talking about prioritizing your physical health as a mom, setting boundaries to protect what's most important, and how to tap into your network of support as you chase your big goals.
Moments You Don't Want to Miss
Ready to Set Meaningful Money Goals?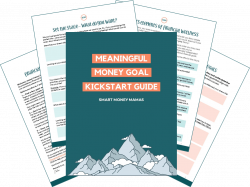 Grab our free Meaningful Money Goal Kickstart Guide and start setting goals you'll love and achieve!
Key Takeaways to Help You Redefine Wealth and Stop Doing All the Things
As always, we've rounded up our top three takeaways to summarize what we believe are the core points to remember from Patrice. 
1 - Your Physical & Mental Fitness Need to Be Your First Priority
What is the point of monetary wealth if you aren't able to enjoy it? So many of us say that we'll make time to do things like eat better, exercise, take time for mental health when we have more money. Or when we've reached that next stage of our career or when our kids go to school or get out of the house.
Those good intentions can limit our ability to keep that fitness. We get so sick or so unhealthy that then it's really hard to recover. It's not that we can't recover – it's just harder. Prioritizing our physical health first as our foundation makes it easier to work towards those goals that we're pausing health in the first place to get to. We want to make sure we have the ability to enjoy all the wealth and abundance that we're creating in our lives.
2 - We Can't Do This Alone
Cultivate relationships, build your network and pour into your community. This is important for the moments when you need support, but it's also be there to enjoy the wealth in abundance with you to be able to enjoy your goals and milestones with you is so so important and pick you up when things are difficult. This includes setting boundaries so you can also be present with your people. You have to intentionally set boundaries at work, with the people who maybe suck your energy or the mindset you want to embody. We have to make sure that we're protecting who we let in and out of our lives.
I always think about Glennon Doyle's island metaphor of you. Your family lives on an island and you determine who is allowed to come and visit you on that island. You need to set those boundaries. But this is also why we created the
Motivated Mama Society
, right?
We don't all have people in our lives who believe in our big goals and believe that we can build wealth and reach the next level. Having the moms in the
Motivated Mama Society
around you who are also doing big things and want to support you can really be a huge difference maker in getting you to the next level and getting you to that life that you want. If you're not in there already, make it a point to come join us today!
3 - Decide What Wealth Means to You
Wealth is a different number, a different feeling or vision for all of us. Instead of looking outward to find what wealth means for you, take the time to define it for yourself. Remember that that definition can change with the seasons of your life.
What wealth is for you today might be different when your kids are older or when you feel like your purpose has changed. You guys have to figure out at each stage what wealth means and what habits you're creating in your life. What are you doing to cultivate what wealth means for you?
Links & Resources Mentioned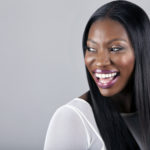 As host of The Redefining Wealth Podcast, Patrice has built a thriving international community of high-achieving women committed to creating a powerful life vision–in their careers, home, health, and personal finances. Featured on Forbes.com as one of "15 Inspiring Podcasts for Professionals of Every Stripe" and highlighted by Entrepreneur.com, the Redefining Wealth Podcast boasts over 5 million downloads and counting!
Other Ways to Enjoy This Podcast
Have You Subscribed Yet, Mama?
Are you subscribed to the Smart Money Mamas podcast? If you're not, I want to encourage you to head over to Apple Podcasts (or wherever you listen to your podcasts) and subscribe! I release episodes twice and week and as a subscriber, you'll be notified right away so you can take checking the feed for new content off your mental to-do list. 
Click here to subscribe on Apple Podcasts, Google Podcasts, or Spotify!