After budgeting with YNAB for 11 years, I'm now using Qube Money, a digital cash envelope budgeting and banking solution. Since switching to Qube this year, my husband and I have saved so much time and money. Plus, my husband – who typically isn't the money manager in our home – feels more in control of our budget than ever before.
Let me show you how it all works in this complete Qube Money review.
Click here to download the Qube Money app and get started budgeting with Qube for free!
Is YNAB still an incredible tool? Of course! For aspects of our money planning, we still use it and if you like the spreadsheet budget method it might be right for you. We've just found that personally Qube now saves us time and makes it easier to stay on the same page as a couple. Learn more about YNAB here.
What is Qube Money?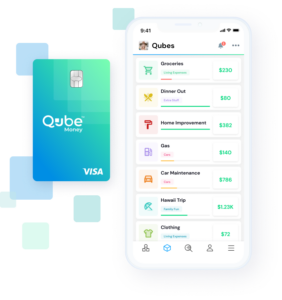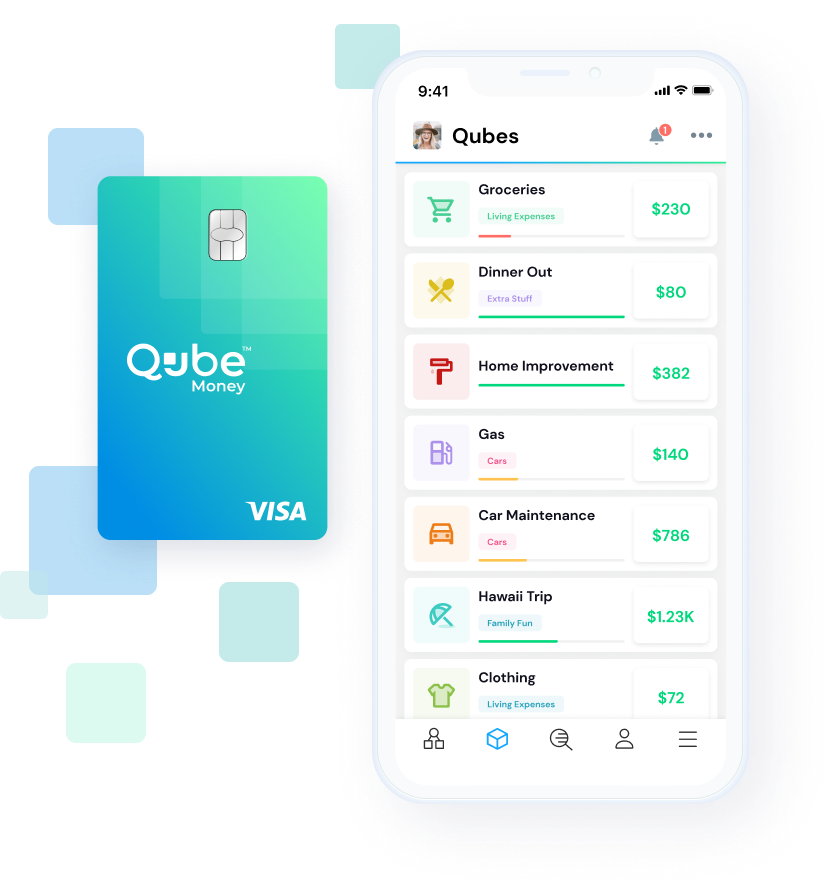 Qube Money is a digital cash envelope, budgeting and banking solution.
With Qube, you get an FDIC insured bank account, a Qube debit card, and the Qube Money app. Inside the app, you create Qubes ("envelopes") for the categories you most often spend on. My husband and I started with our 10 categories where we're most likely to be out and about spending money. And then you put money in those envelopes.
What's unique about Qube, is that as a default, your Qube debit card has no money on it. To be able to use your card, you go into the app and turn on the Qube you want to spend from. Then, the money from just that Qube is immediately funded to your card, you make a transaction and whatever is remaining is put back in your Qube.
You can only spend money you have and that you've actively chosen to spend from a certain category.
This makes budgeting so, so simple.
Why Do We Love Qube?
There are so many reasons my husband and I love using Qube Money, over and above it saving us time and money. But let's get into some specifics.
You're Budgeting Proactively Instead of Reactively
Anytime you're using a budgeting app or even just pen and paper, you are reconciling what you've spent and how much money you have left after the fact. This is why sometimes you sit down to do your budget on Friday and you realize, "Oh my goodness, again, I overspent on groceries or again!" And you're trying to fix it after the fact.
With Qube, you have to make a conscious choice to open a Qube before you spend in the moment. You know that that money is there. And if there's not money available, you either need to change your priorities and shift money from one Qube to another or just realize you can't make that expense. It stops the transaction before it happens. Preventing overspending and helping control impulse spending.
The benefits of these spending restrictions are the reason that cash envelopes have worked for so many people. But while cash envelopes are incredibly difficult to manage – especially with a partner – Qube makes things easy.
Qube Keeps You and Your Partner on the Same Page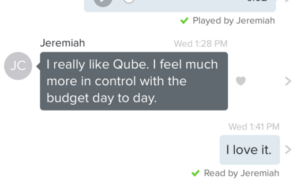 If your partner isn't the one that traditionally manages your budget, it may be hard to stay on the same page as a couple. While my husband and I have a habit of having regular budget meetings, day-to-day he wasn't always sure if what he was seeing in the budget was actually what was available. Especially for categories we didn't always talk about, like home maintenance.
With Qube, you and your partner are both seeing what is available – and how you've chosen to prioritize your money – in real time. And you are both limited to spending what is there.
At first, my husband was wary of Qube. He thought it might be a hassle to have to open a Qube every time he spent money. But he agreed to try it and a few weeks in, he sent me this text…
I really like Qube. I feel much more in control with the budget day to day. – Jeremiah
And that is a fantastic, beautiful thing.
Qube is More Secure Than Cash Envelopes & Debit Cards
With Qube, you don't have to worry about your cash envelopes being lost or stolen. And with more debit cards having Visa or Mastercard functionality (when you don't have to enter our pin) theft risk is high with those cards as well. Especially when you're spending online. But with Qube, since it's default is to have a $0 balance unless you open a Qube – and it doesn't have overdrafts – even if someone steals your card they can't spend your money.
You get the benefits of cash budgeting without the risk!
Your Qube Budget is Always Accurate
With a traditional budget, if you haven't updated it in a few days (or weeks) you don't know if they money you're seeing as "available" to spend hasn't actually already been spent.
Qube is not dependent on whether or not you've remembered to go in and update those transactions. It doesn't matter if you've been on vacation and have forgotten to reconcile your budget in a week or two. Your Qube account and budget is just up to date because it is immediately reconciling that expense in the moment you're spending.
Not having to spend 20 to 30 minutes each week, or a few minutes each day, entering transactions for your budget means you're more likely to stick to your spending plan!
You Are Making Conscious Choices About Your Spending
One of the things I always loved about YNAB – and why I budgeted with them for so long – was their zero-based budgeting method. You were expected to give every dollar a job. Which meant purposefully deciding how to use your money to achieve your goals.
With Qube, you do the same thing. Not only do you need to determine your money priorities when you allocate your funds from your Qube Cloud to your Qubes, but you also need to make that decision again at the point of purchase.
I believe that money is a tool to help us create lives we love. Which means being intentional about how we use our money and continually thinking about what we most want. Qube forces us to check in on our spending values and priorities every time we spend, which means getting more of what we want. And wasting less on the impulse purchases that pull us away from our dream life.
How Much Does Qube Cost?
Qube Money currently has three different service levels – Basic, Premium, and Family (to-be released). And you can get started completely for free.
Qube Basic Plan
Qube's Basic Plan is completely free (including the no-fee, FDIC insured bank account) and includes up to 10 Qubes, the ability to use Apple and Google Pay and peer-to-peer transfers. You'll also get things like subscription controls, payday up to 2 days early with direct deposit, and their Default Zero technology. This means that instead of a transaction overdrafting your account if there isn't enough money on your card, Qube will just deny the transaction. No overdrafts or overdraft fees.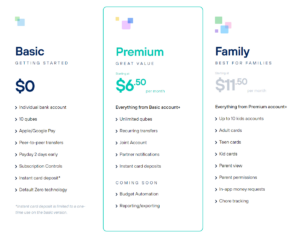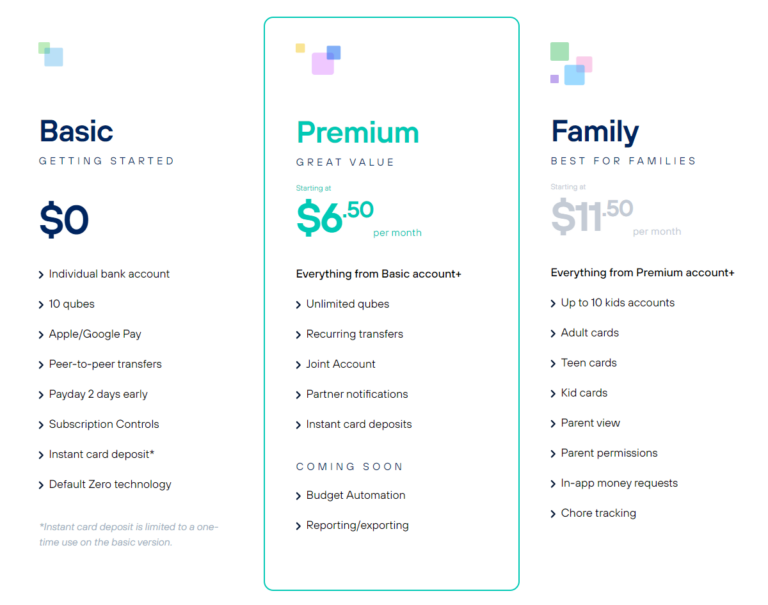 Qube Premium Plan
Qube Money also has a Premium Plan for $6.50. This is the plan my husband and I are currently on, as it offers everything from Basic plus unlimited Qubes, partner notifications, instant card deposits, and upcoming features like Bill Pay and Budget Automation.
If your budget is a little more complicated or your want to use Qube with your partner, the Premium Plan is a great option! At $6.50 a month, this is a great deal especially as Qube can replace any other budgeting tools you use, subscription control services like Truebill, and more.
Qube Family Plan
Finally, Qube will be rolling out a Qube Family Plan for $11.50 per month by the end of the summer. This will add the ability to have up to 10 kid accounts, where your kids get their own card and Qube budget. You'll be able to manage allowance, chores, and have oversight on their spending. In addition, Qube Family will have in-app money requests so kids can request money from their parents.
As Henry is approaching being ready for digital allowance, we plan to upgrade to the Family Plan when it's available. The extra $5 per month is comparable to other allowance cards like FamZoo and Greenlight, but with the added benefit of keeping the whole family on the same financial eco-system.
Is Qube Right for You?
What money management system is going to work for you and your family is going to depend on your personality, your values and your goals.
I can tell you that personally for me, in my household, Qube has saved us a ton of time updating budgeting transactions. We've saved a ton of money overspending when my spouse and I just didn't communicate quite perfectly. And now we can always see exactly what's happening in our budget.
I am so excited to use Qube for years to come, especially as their new features continue to roll out this summer. I'm looking forward to bringing our boys onto the Qube app as well, so we can have an all-in-one place where, as a family, we'll always be making conscious proactive choices with how we spend our money. That way, we can use money as a tool to continue to build the life we most want to live.
Ready to change your money life with Qube? Click here to download the app today and get started for free.