Have you ever dreamed of being a writer?
Emily did. She was a teacher and loved teaching but hated the bureaucracy (and grading) that went with it. So when she was home after the birth of her first child, she decided to try freelance writing.
Now, she's published four books and recently won "Best Freelancer/Contributor" at the Plutus Awards, which celebrates the best in personal finance.
But it wasn't always easy. Emily's husband craves financial security and certainty. Something freelance writing didn't align with in his mind. Growing her business meant some fights and powering through those early times without much support.
I love Emily's story (and her awesome cartoons!) and I hope you'll enjoy and learn from it too!
The Profitable Passion interview series will be a monthly segment on Mama Fish Saves where you can get an inside look at the entrepreneurial life. You'll hear how these individuals got motivated to make a change, actually took the leap, and what it meant for their lives.
Previously on Profitable Passion…
If you are interested in participating in the series, please email me at chelsea[@]smartmoneymamas.com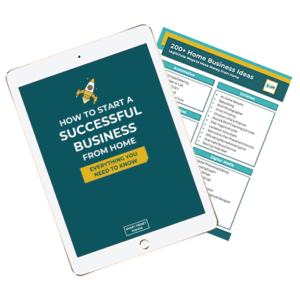 Grab Our How to Start a Business Guide + Over 200 At-Home Biz Ideas
Everything you need to choose and start a profitable business from your couch.
Profitable Passion Interview: Doing Work You Love
My questions are in heading form, Emily's answers (in her own words!) are below each question.
Tell us about yourself!
I make my home in Milwaukee, Wisconsin with a mechanical engineer husband, two Lego-obsessed boy-children, a retired greyhound, and a cat who likes to sit on my keyboard.
I am an avid reader, a movie quoter, and a (very) amateur cartoonist.
What were you doing for work before pursuing your passion? Why wasn't it fulfilling?
Prior to becoming a freelance writer, I taught high school English for four years. I like to tell people that I loved teaching but I didn't love being a teacher.
Working with students, planning lessons, being immersed in literature and language, and having an opportunity to bring playfulness to learning were all wonderfully fulfilling aspects of my teaching career. But the amount of grading I faced (I taught more 150 students each year), plus the precarity of my position as a teacher (I was in danger of being let go every single year because of budget concerns), the lack of any kind of support from my administration, and the difficult expectations from some parents made teaching an exercise in constant stress.
I did not realize just how overwhelmed I was until I stopped teaching.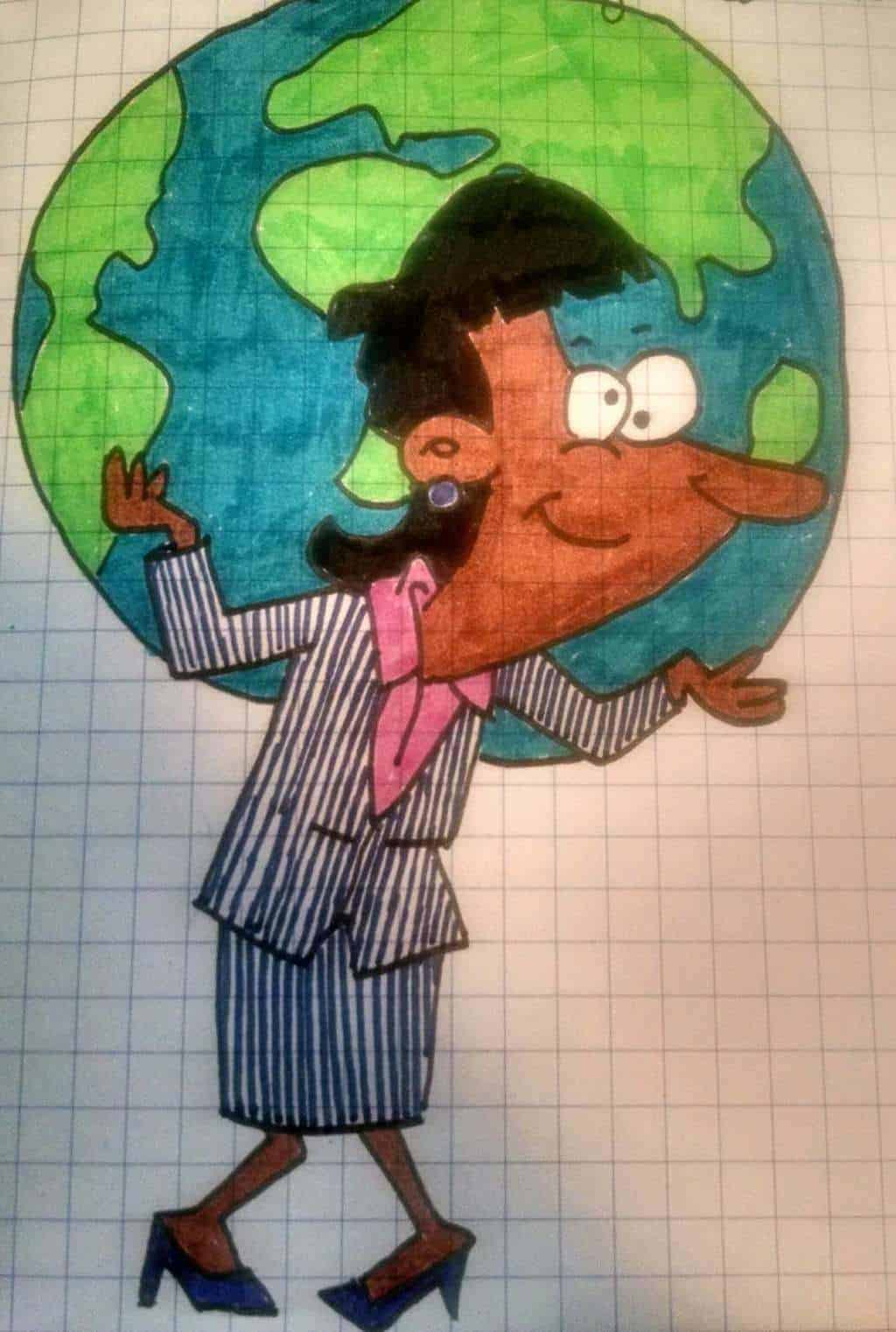 What finally made you realize something needed to change?
We moved after my fourth year of teaching when I was pregnant with my older son. He was due at the beginning of the following school year, so I knew I would not be teaching for at least a year.
It did not take long into being a new parent before I realized I simply could not go back to teaching now that I had a baby, as I simply did not have the personal resources to handle both. This wasn't even a situation of "I'd either be a good teacher or a good mother, but not both." I realized that I would parent and teach very badly if I tried to do both. Neither my family nor my students would get what they needed from me.
What is your current passion-based business and how did you decide on that business?
I am a freelance writer, specializing in personal finance. Since I was a child, I have always dreamed of being a writer, but this career was a happy accident. While I was staying home with my baby the first year, I wanted to bring in a little extra money, and so I sought out some freelance writing opportunities. One of the first clients I landed was for a personal finance website. The editor loved my work and passed my name along to his friends–and also invited me to a new conference he was putting together for financial bloggers and other financial media.
I totally fell into what I am doing and was actually even a little resistant to it early on. When all of my clients were personal finance websites, I worried about being pigeonholed, since I was interested in all kinds of freelance writing–not to mention my dream of writing fiction. I had been doing this work for about 8 or 9 months when I realized that people wanted to pay me to write, and it was ridiculous for me to quibble about the subject matter, considering the fact that I am fascinated by money and interested in researching it. I needed to recognize how lucky I was.
Did you start the business before leaving your prior job or did you save up to give yourself time to become profitable?
My transition from teaching to freelance writing occurred by accident rather than through careful planning, but my husband and I did unintentionally prepare for it in the two years prior to my career shift by living solely on his salary while using my teaching salary to pay off debt.
That decision allowed me to have more financial freedom to build my career over a couple of years, rather than require a full-time salary right away, which is what I would have needed if we hadn't paid off our debt.
What was the scariest part of making the transition?
I caused myself unnecessary heartburn by treating every opportunity as if it were a fluke. I was sure that I would be fired by my clients because I didn't have a degree in finance or economics.
It took me a long time to understand that my lack of a background was something of a boon (since I am a good researcher, too) because it allowed me to write to the layperson like another layperson because I didn't already speak the jargon.
Did you face any pushback from family or friends when you made the jump?
The biggest pushback I got was from my husband. He has some financial anxieties, and he could not understand how I could build a lucrative freelance writing career.
In part, this is just how he is wired as an engineer: he wants data before making a decision, and there was no way to show him data that I could make money as a freelancer without going ahead and doing it. (He said he would have been more comfortable with me starting a part-time freelancing career on the side while I was teaching, to make sure our finances only increased. The problem was that teaching left me no time or energy for a side hustle).
As an engineer, he also truly does not understand what I do. There is no way to break down the process of what writing is for him to understand how I do it and why I am good at it, although he does recognize my writing abilities. In his mind, writing success was like trying to photograph a rainbow–it might happen, but you can't make it happen. You just have to get lucky.
Because he can't wrap his head around the writing process (not to mention the invisible work of networking, pitching, reading about the industry I write in, self-promotion, promoting colleagues, etc), he felt like I was standing outside just waiting for a rainbow. He couldn't see that I had prisms set up all around myself–because he could not understand what I was doing.
We fought a lot about my freelancing in the first three years.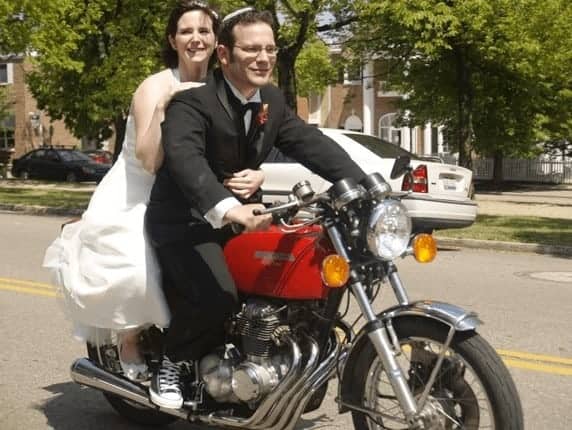 He wanted me to get my teaching license updated just in case the freelance work dried up, but I knew that I could not go back to the classroom. I kept asking him to trust that I would always do what was best for our family–including getting a traditional job if freelancing stopped working. Because of family trauma from his family of origin, it was very difficult for him to trust me and not overreact to calculated risks.
How long did it take for your business to become profitable? What did you learn about running a business in the process?
This is difficult to answer. Because this business required no startup costs, I'd say it was profitable as soon as I got my first check.
However, I did struggle early on with knowing whether or not to invest in my business, since that would eat up the little money I was bringing in. For instance, I started writing when my son was two months old. At that age, he slept enough that I could work around his nap schedule. As he got older, I had to start weighing the pros and cons of having him in drop-in daycare for a couple of hours a day so I could meet my deadlines. Since my husband and I were arguing about me writing at that stage, it was tough to rationalize the cost of daycare since I was, in theory, a stay at home parent.
I learned that it is a good idea to think carefully about business expenses, but not pinch pennies that keep you from growing. Once I did get my son in three hours of drop-in daycare a day, it revolutionized my ability to get work done and my productivity increased enough that I could take on more clients–and more than pay for the cost of daycare.
What has been your biggest accomplishment since pursuing your passion?
I've published four books since I started freelancing. When I was a kid, I dreamed about one day walking into a bookstore and seeing a book I had written on the shelf. To this day, l always take the time to look for my titles on the shelf anytime I am in a bookstore or a library. It still gives me a little thrill and makes me feel like my kid-self is proud of me, even though it's not exactly the kind of writing I dreamed about when I was young.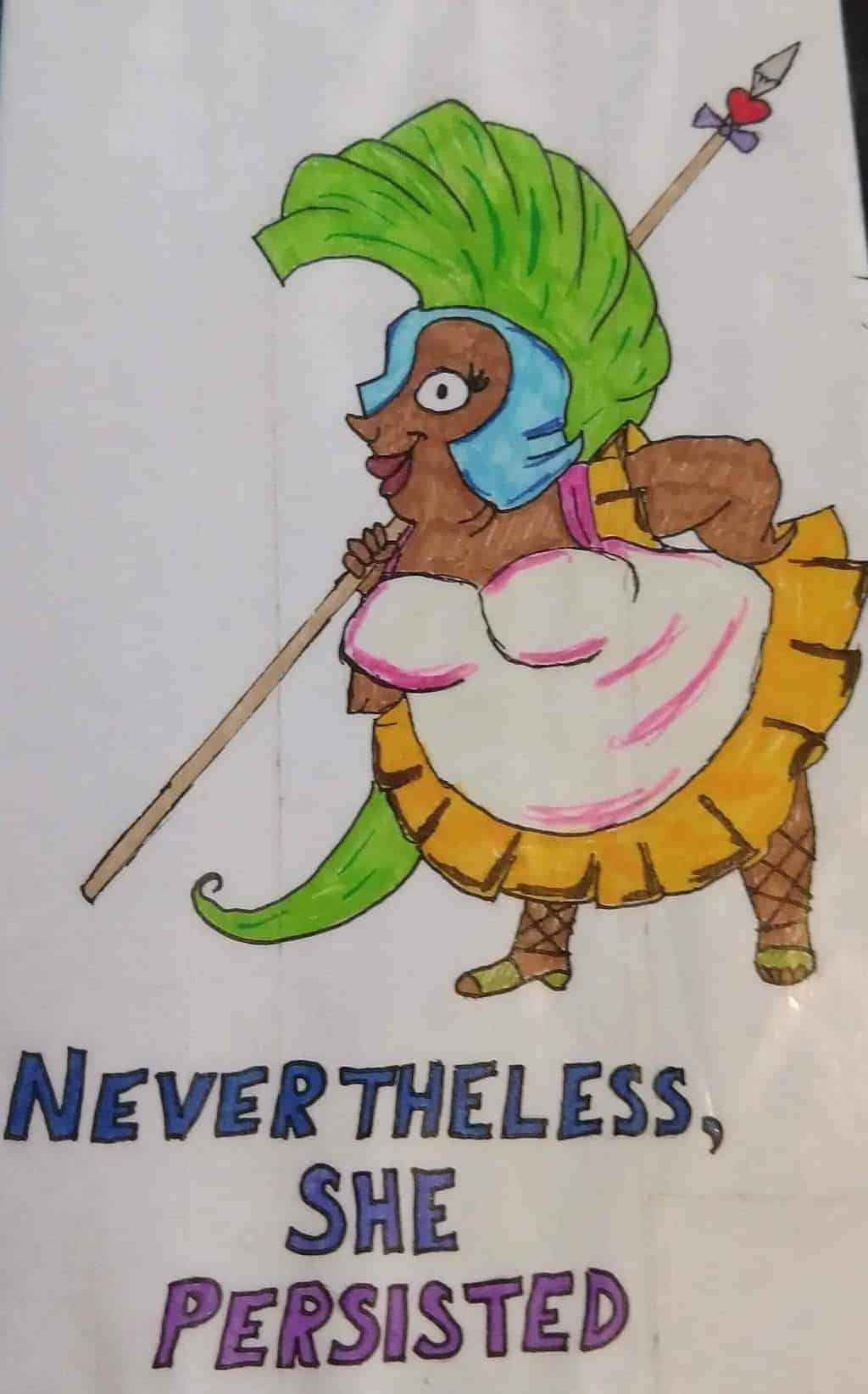 What do you wish you had known before making the jump?
I wish I had understood just how fraught the issue of income was for my husband.
I thought I knew, but it was still tough to see his anxiety up close and see how it manifested as frustration at me. Also, I wish I'd known I'd make it. I had to believe in myself because there was no other choice, but it would have been good to know that it would work out.
How does your work-life look today and what is your next big business goal?
It's been eight years since I started freelancing, and I still am working less than 40 hour weeks, which is perfect. It allows me to be the engaged parent I want to be, while still giving me a career that I love and time for myself.
I am hoping to start doing some more speaking engagements. There are aspects of teaching that I miss, and I think speaking engagements could give me a great outlet for my desire to interact with readers/students. It's also a great way to promote myself that I actually enjoy.
My big hairy audacious business goal is to out-earn my husband.
There's more than a little bit of "neener-neener" in that goal, but I also truly want to give him a reprieve from his financial anxiety. His concerns about money stem from a fear of getting laid off, and his anxiety spiked when he felt like there wasn't a viable second income to take care of us if that were to happen. If I could consistently out-earn him, his worries would ease somewhat (they'll never be completely gone) and he could treat his career as meaningful work rather than as a terrifyingly important necessity.
What advice do you have for people who are unhappy in their current job or feel like they can do more?
Building a business around your passion is a combination of luck, hard work, and open-mindedness. You only have control over the last two of those. Let the luck find you and don't worry about it. It will happen.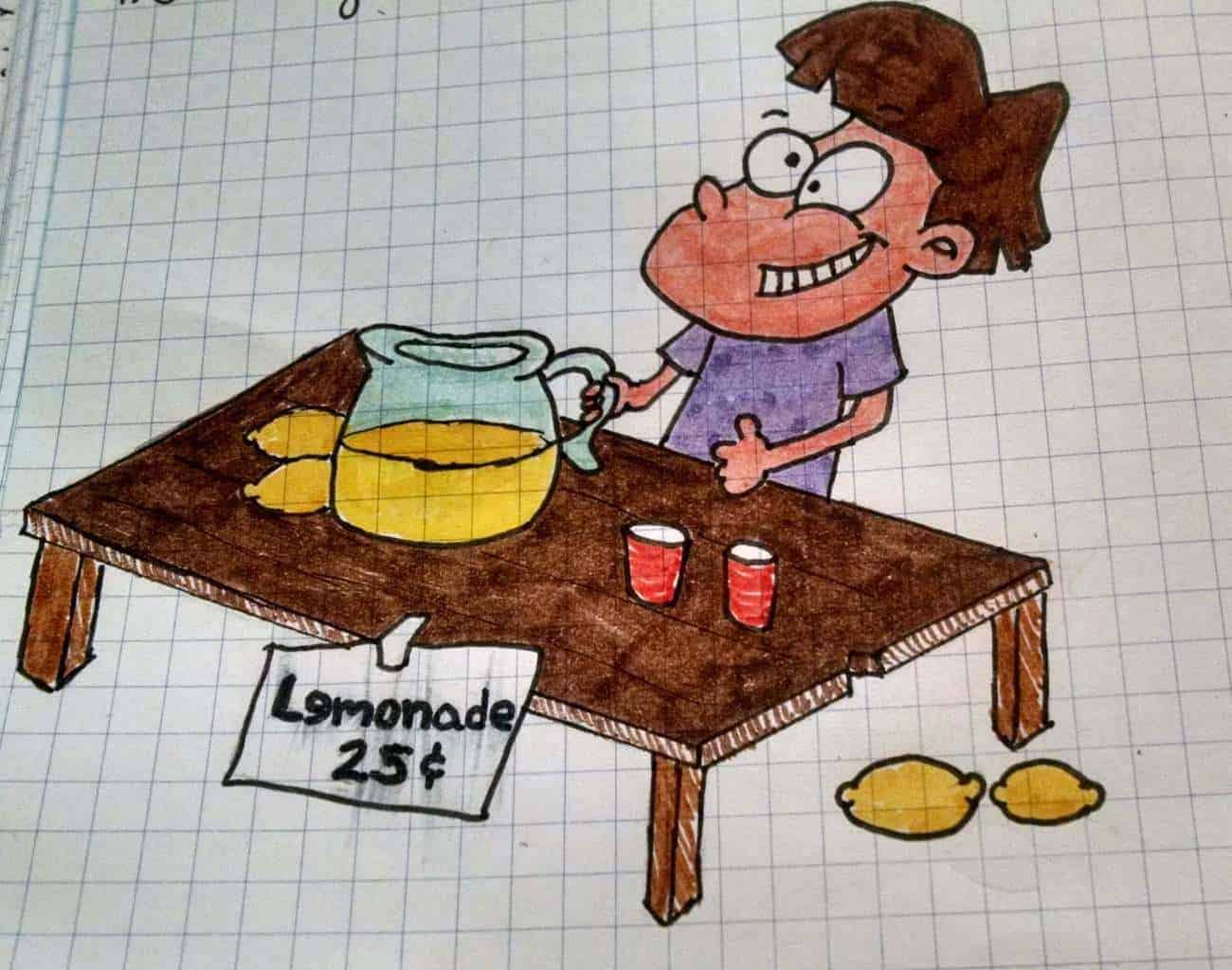 You already know how to work hard but make sure you also know where to best allot your hard work. As I said, I don't work more than 40 hours per week–but I give my writing, research, and editing my all. I am a hard worker, but not an overworker. Don't confuse the two or you will burn out.
Finally, open-mindedness is just as important as hard work. If I hadn't had the realization that I was lucky that people wanted to pay me to write about money, I would not still be a freelancer all these years later. In my head, I had an idea that I needed to write about "sexier" subjects (travel, food) or subjects I knew more about (education, parenting, literature) in order to build a career. I was actually poised to throw this career away because it wasn't exactly what I'd intended or expected. Your passion career won't look exactly the way you first envisioned it, and you need to be open to where it takes you.
Where can readers follow you?
You can visit my website or follow me on Twitter or Facebook. You can also find my published books on Amazon.
Smart Money Mamas' Thoughts
Thanks to Emily for sharing her amazing story of pursuing her long-time dream of becoming a writer!
Just like I do in the Aha! Moment Debt Interviews, I want to share some thoughts:
You're not always going to have the support you deserve. It would be amazing if your spouse, family, and friends were always 100% in your corner. But some people have less of a personality for freelancing or entrepreneurship than others – like Emily learned with her husband. Just remember that you don't have to give in to other's fears.
A passion is often built, not automatic. I doubt Emily would have guessed many years ago that she would be a full-time personal finance writer. But her first freelancing gig showed she had a talent for the space, and the more work she did the more she enjoyed it. Passion often comes with growing expertise. (It is more fun to do things we are good at!) Don't give up just because something isn't the exact dream you imagined, as long as you're enjoying growing and learning.
Make the kid inside you proud. I don't know many people who succeed at the goals they set as children. If you've always wanted to do something, try it. Hearing how Emily still looks for her books in bookstores gave me the biggest smile. Give yourself the chance to have that moment.
What did you think of Emily's story? Any thoughts you would add? Drop a note in the comments!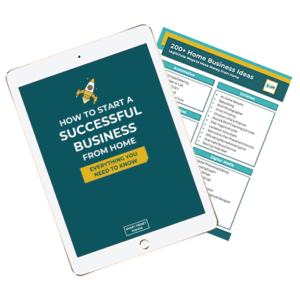 Want to Start a Business?
Download over 200 at-home business ideas with our complete guide on starting a profitable business!