Find yourself stuck wondering what to focus on in your business? Want to get start a business but can't decide what you want to do? A vision board might jumpstart your process!
Today, we have a guest post from Tonia, the entrepreneur behind Solopreneur Diaries. Check out how she uses vision boards and why they can be so impactful! 
---
Does creating a vision board for your business seem a little woo-woo?
It might feel that way at first, but visualization is a powerful exercise that can help you achieve your goals. It has been used by everyone from professional athletes to Hollywood celebrities to everyday people.
Creating a vision board for your business is a tangible form of visualization.
Maybe you have trouble achieving your business goals. Or maybe the lists of dates and to-do items that you often see in traditional goal-setting leave you feeling overwhelmed or uninspired.
A vision board – sometimes called a dream board – lets you approach goals creatively, with a big-picture mindset. When you visualize your ideal business, your dream work-life, or your biggest income goals, you are priming your mind to achieve them.
What Exactly is a Vision Board?
The most basic definition of a vision board is that it's a collection of images, quotes, and symbols that have meaning to you and that represent something you want to achieve.
A vision board is a tool that helps you see your goals. Using visual images can help you define your goals and focus on them in a different way than simply writing them out. It can help you see the big picture in your business.
The Power of a Vision Board
The act of creating a vision board helps you hone in on what you really want. Before making your board, you might have a general idea of your long-term goals. But in choosing the images and other pieces to include on your board, you'll develop a tangible image of your desired result.
When you look at your vision board, take a moment to visualize yourself having achieved all the goals and dreams that you put on your board. When you do that often enough, those images become embedded in your subconscious.
You're more likely to achieve your goals when they are top of mind. When you see your vision board every day, you will find yourself thinking about your goals on a regular basis.
Your vision board can help to keep you motivated through tough times. You can look at your vision board for an instant reminder of why you're working hard now and what you stand to gain from forging on through the struggles.
What Should I Put on My Vision Board?
The simple answer is anything that motivates and inspires you.
Most vision boards include a combination of images and inspirational words.
Images – Images are the most common item found on vision boards. These can be photos, drawings, mind maps, sketches, or anything else that has some meaning to you.
For example, if freedom to work from anywhere in the world is one of your goals, you might include pictures of someone typing on a laptop near the ocean in a tropical locale.
One of my long-term goals is to have an outdoor office. So, my vision board includes a photo of a poolside gazebo. It's not the exact gazebo that I want, but it represents the goal that I'm working toward.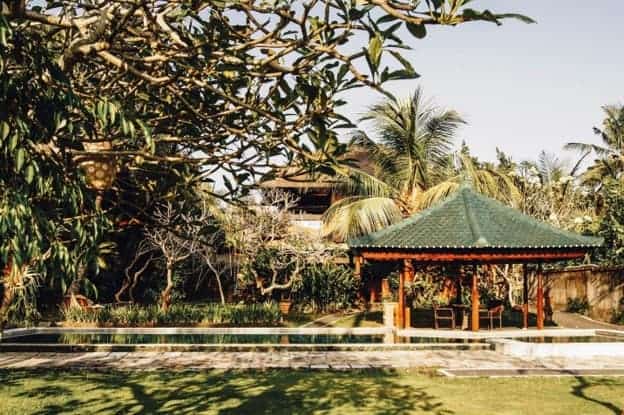 Inspiring quotes and messages – Inspiration is different for everyone. You might choose to include inspirational Bible verses or words of encouragement from industry leaders or historical figures. Motivational quotes you find on social media can be a great addition. Or how about testimonials or nice comments from clients or peers? You might also include affirmations and your "word of the year."
If you have vision, mission, or values statements for your business, write them out and include them on your board. Seeing those statements on a daily basis will help ensure that your goals stay in tune with your "why."
My vision board includes the phrases "Do It Scared" from Ruth Soukup and "Progress Over Perfection," both reminders to step out of my comfort zone and just do it.
Creating a Vision Board for Your Business
Business goals are one of the most common topics of vision boards. You probably started your business because you wanted to create a better life for yourself and your family. It's likely one of your driving motivations, which makes it the perfect focus for a vision board.
Know What You Want to Achieve
In order to achieve what you want, first, you have to know what you want.
When you're creating your vision board for your business, consider the following questions:
What does your ideal work day look like?
Who is your perfect client?
What kinds of products do you want to produce?
What projects do you love?
Where will your office be and what does it look like?
Look for images, words, and other items that represent your ideal business day, your perfect client, and your ultimate dream job.
Create a List of Long-Term Goals
If you don't have written goals, then grab a notebook or a large piece of paper and start brainstorming. List everything you want to do or accomplish in the next one to five years. Then narrow that list down to a few big things that you really want to focus on. Maybe you want to create a course or have a book traditionally published or be able to afford to join an expensive mastermind group.
Include Some Big Scary Goals
Don't limit yourself to what you think is possible. Think big!
Maybe you have a goal to make a few thousand dollars a month with a work-from-home business. But, in your heart, you know that you really to build a business that will support your family, so that your husband can retire from the job he hates. Embrace that big, scary goal.
Don't be afraid to look deep and express what you really want. When you look at your vision board filled with meaningful images, inspirational messages, and plenty of creativity, those big scary goals feel much more attainable.
What Do You Need to Make a Vision Board?
Now that you know what a vision board can do for your future goals and present state of mind, let's talk about the actual process of putting it together.
Your vision board can be digital or physical.
Digital Vision Boards
An advantage of digital boards is that they are portable, so they can motivate and inspire you wherever you are. Plus, they're easy to add to or edit as your goals and dreams change. Digital vision boards can be created with Canva, Photoshop, PowerPoint or some other image-editing tool.
Here's an example of one of my digital vision boards that I created in Canva.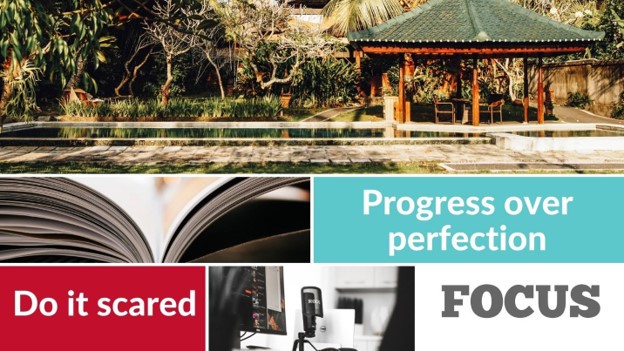 Physical Vision Boards
Physical vision boards might be made on poster board, bulletin boards, whiteboards, or even a wall in your office. You have endless creative options with a physical vision board, but it will obviously be less portable.
Vision Board Supplies
If you want to create a physical vision board, you'll need some supplies:
A background (i.e. something to attach your images to) – poster board, cork board, whiteboard, blank art book, etc.
Old magazines to cut up for pictures
Colored pencils & markers
Colorful paper
Scissors
A glue stick, tape, push pins, or magnets (depending on your background)
Stamps & ink pads
If you're making it on the computer, you can do it for free with online images. But you may want to print a copy to keep near your workspace.
5 Steps to Creating a Vision Board for Your Business
You'll follow the same steps to create a digital board or a physical board. The only difference will be if you are working with digital files or physical materials.
1. Find Your Meaningful Images
Look for images that capture your intention. You might be looking through old magazines or on Pinterest, Google Images, or stock photo sites. Don't let yourself get caught up reading articles.  Concentrate on the images and the feelings they evoke. Does it make you happy? Does it bring to mind a particular goal?
Remember, you're looking for images that represent your goal. Focus on the idea or feeling, rather than trying to find literal interpretations.
Cut out or save the images that capture the essence of your goals.
Tip: If you are working with digital images, save them all to a secret Pinterest board so that you have them in one place for easy reference.
2. Collect Your Inspirational Words
Find the quotes, Bible verses, or words that motivate and inspire you. You can print them off the web, write them on colorful paper, or make your own quote images in a tool like Canva.
Tip: Pinterest is a great source for inspirational words to include on your vision board.  Simply do a search on "business quotes" and go from there.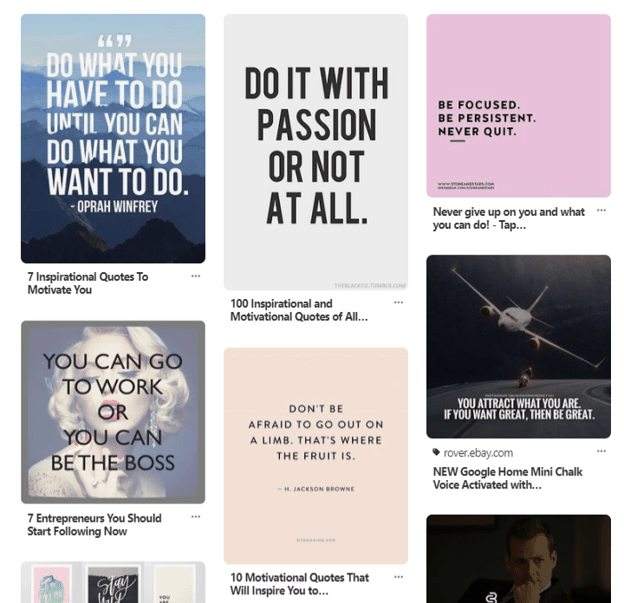 3. Add Your Images & Words to Your Vision Board
Make a collage out of your photos and words. Arrange them on your background. Keep moving them around until the layout is visually pleasing to you.
Tip: If you are making a physical board, don't glue or tape anything to your background until you have it just like you want it.
4. Add Decorative Elements to Your Board
Use pencils & markers or clip art to decorate your board. You can draw attention to certain images, add in dates and dollar figures, or just make it pretty.
5. Have Fun With It!
Don't worry about making your board perfect. Your vision board is for you, so have fun creating it!
Use Your Vision Board Daily
For your vision board to work, you need to use it. Place it somewhere that you can see it every day and spend a few minutes visualizing your goals.
I have my digital vision board set as desktop wallpaper on my computer. I see it every morning when I turn on my computer and every night when I shut the computer down.
And be sure to look at your vision board when you are doing any kind of business planning. It will help you stay on track with your high-level goals.
Achieving Your Goals With a Vision Board
Having a vision board as a tool in your toolbox increases the likelihood that you'll achieve your goals. Here are a few important things to remember:
It's your vision board. There is no right or wrong way to express your goals and dreams.
Think big! Your vision board should not be filled with things you can easily achieve next week or next month. Focus on goals that are one to five years out.
Your vision board will work better when you give it your attention for a few minutes every day.
It might seem like a small thing, but spending time creating your vision board can help you focus your efforts. It helps you make good long-term choices in where to invest time and money because you know where you want to go. And it's a lot of fun.
Are you ready to make your vision board? Drop the first thing you would put on it in the comments!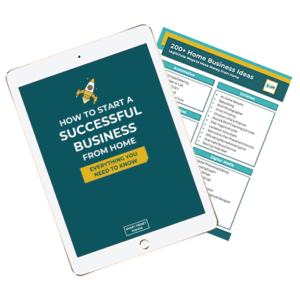 Want to Start a Business?
Download over 200 at-home business ideas with our complete guide on starting a profitable business!
Author Bio: Tonia Kendrick is an entrepreneur at SolopreneurDiaries.com, where she helps solopreneurs grow their side-hustle and startup businesses by teaching them how to create & execute strategies, hone their marketing skills, & level up their productivity.