How to Decide What Financial Independence Looks Like for You
Why You've Got to Listen to This Episode...
In today's episode, I'm talking with Liz Thames who is the creator of the award-winning personal finance blog, Frugalwoods, and author of the book Meet The Frugalwoods: Achieving Financial Independence Through Simple Living. At just 32 years old, Liz reached financial independence and left her successful career in Boston to live a more purpose-driven life on a 66-acre homestead in the woods of Vermont. We're talking about what financial freedom means to Liz, her journey from non-profit fundraiser to homesteader, and how her life changed as she pursued and achieved FIRE.
Moments You Don't Want to Miss
What Are Your Family Money Values?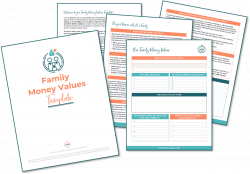 Grab our free Family Money Values Template and create a strong foundation for your family's healthy money habits!
Key Takeaways That You Can Think About As You Consider Your Own Financial Freedom Journey
As always, we've rounded up our top three takeaways to summarize what we believe are the core points to remember from Liz.
1 - You Have to Decide What Your Definition of Success & Fulfillment Is
This has to be our first takeaway because it's so crucial.
Liz and her husband lived in different cities, tried different levels of spending, different ways to find fulfillment. But for a long time, they were caught on the path of what they thought they were supposed to do—who they were supposed to be.
And getting out of that mental place isn't always easy, especially when you're trying to do it from the middle of your normal day. I love how Liz mentioned that she and her husband really needed to get out in the woods, away from what used to be their day-to-day, to find clarity and have big conversations.
Maybe you start to find the space to think about what success means to you on regular walks (in the woods or just at your local park.) Maybe you develop a meditation practice like Glennon Doyle did in her closet at home. Maybe you go for a long drive with your partner.
Whatever it is, you need to start finding at least the glimmers of what matters to you and the type of life you want. And start working towards that. Because if you keep trying to find fulfillment in someone else's life structure, you're just going to get stuck in a frustration loop.
Not to mention, changing your money habits will be a heck of a lot easier when you're moving towards a definition of success that holds value for you.
2 - Experimental Spending Can Help You Find the Right Level of Frugal - or Not Frugal - That Works for You
Liz and her husband sped up their financial independence journey by drastically cutting their expenses—DIYing anything they could, getting furniture from the side of the road, and generally being thrifty.
Yet, just jumping to that lifestyle is (a) likely to feel really uncomfortable at first and (b) isn't for everyone. Remember how you have to find your own definition of success? You have to find your own level of spending that works for you too.
I really appreciated Liz's suggestion of testing a week or month when you spend freely and weeks or months when you're super frugal. And taking good notes. Which expenses were worth it to you? When were you overall happier? When did you feel closer to your partner and kids?
It's money science. You have to test different scenarios to find what works.
There is no perfect, right way to budget or spend your money. Let yourself do the trial and error to figure out what you value and how you want to best use your money.
3 - Financial Independence Isn't All or Nothing
Sometimes people hear about the idea of FIRE and write it off as some crazy thing only very few can achieve. And in the most literal way it's often portrayed—someone saving 70% of their income and retiring in their 30s—that's true.
Pursuing FIRE is more than that version of the story.
You're still retiring early if you stop working at 55 or 60 instead of 65 or 70.
You're benefiting from financial independence if you can build up a big enough cash cushion to speak up when something unjust is happening at work or when you can walk away from a job with a toxic boss or schedule, without another job lined up yet. Or to start a business!
Or simply the freedom and independence to go through your day not wondering how you're going to make ends meet.
Whether your goal is to retire to a rural homestead like Liz or you simply want money to have less control over your life, pursuing financial independence is a worthy goal that can bring you more peace.
Links & Resources Mentioned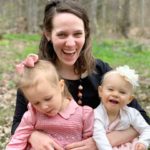 Elizabeth Willard Thames, better known as Mrs. Frugalwoods, is the creator of the award-winning personal finance blog, Frugalwoods.com and author of the book, Meet The Frugalwoods: Achieving Financial Independence Through Simple Living. In 2016, at age 32, she reached financial independence and left a successful career in Boston to create a more meaningful, purpose-driven life on a 66-acre homestead in the woods of Vermont with her husband and their two young daughters. Thames has been featured on The Today Show, PBS, NPR, in the New York Times, Forbes, Parents Magazine, and more.
Prior to following her calling as a writer and homesteader, she worked for ten years in the non-profit sector as a fundraiser and communications manager. Thames received a BA from the University of Kansas and an MA from American University.
Other Ways to Enjoy This Podcast
Have You Subscribed Yet, Mama?
Are you subscribed to the Smart Money Mamas podcast? If you're not, I want to encourage you to head over to Apple Podcasts (or wherever you listen to your podcasts) and subscribe! I release episodes twice and week and as a subscriber, you'll be notified right away so you can take checking the feed for new content off your mental to-do list. 
Click here to subscribe on Apple Podcasts, Google Podcasts, or Spotify!