Ladies, it is about time we stepped up our retirement game. (Men, if you're reading this, be sure to pause and pass it along to your wives, girlfriends, sisters, and friends!) As a breadwinning, feminist mom, I'm worried about the wage gap. I'm worried about a system that makes women fall behind in their career just because childbearing years fall during traditional promotion trajectories. And I hate that we live in the only developed country in the world without real maternity care. But recently I discovered something new to be fired up about. The retirement gender gap.
Working women are saving significantly less towards their retirement than men, even though, statistically, they will live longer! Women are also less likely to understand their investments and have set retirement goals than men. The craziest part, according to the U.S. Census Bureau, is that women are more educated today than men! Somehow, we're just not getting the financial literacy message. So, to start the battle of closing the gap, I want to discuss where we stand today, why it matters, and what we can do today to make improvements.
The Retirement Gender Gap
It is no secret that adults as a whole aren't prepared for retirement. We aren't saving enough across the board. But there are numerous concerning gaps between retirement preparation of working men and women. In the 2016 annual survey from the Transamerica Center for Retirement Studies on the status of retirement savings and plans for U.S. workers, there were some shocking statistics.
Here's where things stand…
Current retirement statistics
Women have less than one-third the household savings of men. The median savings for women is $34,000 compared to $115,000 for men.
Only 55% of women are confident they will be able to retire comfortably, compared to 68% of men. Not totally surprising, given women are 40% more likely to have "guessed" their retirement needs when compared to men.
Of workers who participate in a 401k plan or similar, women contribute 6% of their pay to the plan, compared to 10% for men.
When asked how their retirement savings was invested, a shocking 32% of women said they were "not sure" compared to only 14% of men.
46% of women have no mental or written retirement strategy, compared to 29% of men.
As a group, women don't have a retirement plan, we aren't taking a vested interest in our investments, and our wealth is lagging because of it. Only 51% of women cited retirement as a current financial priority in the Transamerica survey. But the financial realities for women are different than men, and we really should be more focused on savings and retirement than our male counterparts.
Why This Gap is of Crucial Importance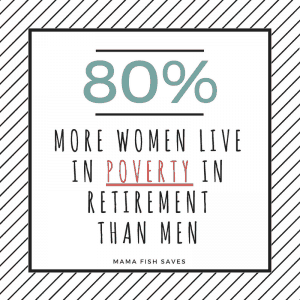 On average, women live longer than men and we continue to expect to do so. In the Transamerica survey, 42% of women expect to live to age 90 or above, compared to only 35% of men. But with one-third the savings and a total lack of retirement plan, or a plan based on guessing, what will that retired life look like? Sadly, if things stay the way they are today, it won't be pretty.
Women are 80% more likely than men to live in poverty at age 65 and older, according to research by the National Institute of Retirement Security. For individuals aged 75-79, women are three times more likely to be impoverished. Whether they didn't have appropriate savings to begin with or funds were mismanaged, it is difficult to say. But the older women get, the wider the poverty gap between men and women.
Most women depend on Social Security for retirement but their payouts are less than their male counterparts because of lower aggregate pay and years spent out of the workforce for caring for children and family members. On average, working women are out of the workforce for 14.7% of working years compared to only 1.6% for men, according to the Bureau of Labor Statistics. In addition, as of 2014, the wage gap still stood at 21.4%, as determined by BLS. As women are more likely today to expect Social Security to be their main source of retirement income, this is concerning.
How all this impacts the outlook today
In 2015, 42% of mothers were the sole or primary breadwinners for their families. This means these women brought in more than half their families' income. Ladies, we are making more money, gaining more education, and living longer than ever before. But if can't fight through the financial literacy barriers and plan for our own futures, it will all be for naught. We will sit in our homes at 75 with the same difficulties our grandmothers faced. We will be struggling with money and will be scared and confused.
Well over 80% of women will be solely responsible for their financial decisions at some point in their lives. Whether they get divorced, or a spouse passes away, the decisions will fall to them. How do you want that to look for you? Do you want to have the answers, or feel totally lost? If we want things to be different for our generation, we need to jump start women's financial literacy and retirement savings today.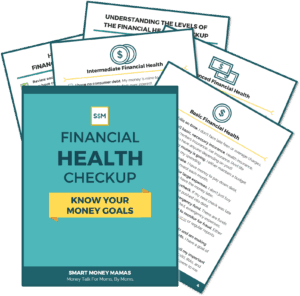 Wondering whether you're doing the right things with money or what you should focus on next? Download our quick financial health checklist and see where you stand!
How We Can Close the Gap
We need to spread the word. Most women don't know that they are behind in retirement and place too much emphasis on Social Security. They need to know the difficulties they are setting themselves up for when they still have time to change course. As much as it feels out of the dark ages, many women still view finances and investing as male territory. Many married women have their finances and investments fully managed by their spouse and unmarried female householders still know less than their male counterparts. These women need to know that no matter their family situation today, they are more than likely to face financial decisions alone someday in the future.
Our goal for so long was to break the glass ceiling and close the wage gap. That fight is still on. But we missed a crucial point along the way. Financial security isn't about a stable or successful career. It is about spending responsibly, saving and investing consciously and actively. It is about having a cushion for the unexpected and a plan for the future. If we want that, if we want financial security and an independent retirement, we have to change how we think about money. Chase financial education the same way we chased traditional education. The information is out there, we just need to want to understand.
What you can do today
Closing the retirement gender gap requires men and women working together. The information is out there but finding it and implementing it are things that can't be done overnight. We just need to take the first step and start the conversation. Here are some ideas to get started.
Ladies, if you don't have a retirement plan or don't understand your investments, start asking questions.
If your husband has always handled the investments (and men, if you know your wife is in the dark), get involved. Find out how your family is really doing and have say in the family plans. Two heads are better than one.
If you've had a mother, grandmother or another family member that has ever been divorced or widowed, don't be afraid to ask them how they handled things financially when they found themselves on their own. They can tell you better than anyone what caught them most off-guard and what they wish they had learned when they were young.
If you are a parent, discuss money the same way with your daughters that you do with your sons. You may think you treat them the same, but there are some inherent biases that create the financial literacy gap we face today and we have to address them.
Finally, don't be afraid to talk about money. Share your growing knowledge with friends. Send interesting and compelling money articles to the women in your life. You can't change anyone else's habits or priorities, but often it is only one sentence or one article that lights a fire.
The last thing I want is for women who have fought to be breadwinners, executives, and entrepreneurs see their success and stability slip away as they age. We've continued the work of our mothers and grandmothers to challenge gender roles and become major income providers for our families. Now let's take the next step and learn to turn that income into lasting assets.
Ladies, do you have a retirement plan? Do you have questions you can't find the answers to? Let me know in the comments and we'll start making strides today!