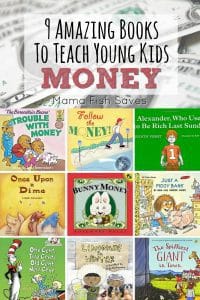 Our kids have books about barnyard animals, colors, cows that type, little blue trucks and a million other silly things. Why not get them some books to teach them early concepts of money and giving? Most kids can understand basic money concepts by the time they are 3, and many base habits are set by age seven! So to help jumpstart child's learning library, I rounded up my favorite books to teach young kids about money! These books will introduce your 3- to 8-year olds to the concepts of spending, saving, money identification, basic money math, and more. And of course, they are fun!
Before we dive in, I wanted to give a major shout out to Park Street Books, our local bookstore where we stock up on all the titles in Fuss Fish's library. Not only is it amazing to have a place for Fuss to choose books of his very own, but your local bookstore owner is also a wealth of knowledge when looking for the perfect book for your youngster. The amazing owner at Park Street even helped me pick out some of the titles on this list! Thank you!
This post contains Amazon affiliate links. I always prefer buying children's books at our local bookstore, but if the convenient two-day shipping appeals to you, purchasing through the links below will send Mama Fish Saves a few cents to keep the lights on! For more information, see my disclosure.
The Berenstain Bears' Trouble with Money by Stan and Jan Berenstain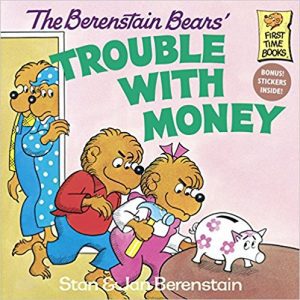 What children's series teaches morals better than the Berenstain Bears? In Trouble with Money, Brother and Sister Bear find ways to work for money to play a video game. They learn what happens when you spend too quickly on things you don't really need and the lessons of saving. The book also introduces the basic concepts of banks and interest. Best for kids aged 3 to 7.
This is a great book to get your kids when you are ready to introduce the concept of allowance. The ties very well into getting started with the spend, save, give method of allowance.
Buy on Amazon: The Berenstain Bears' Trouble with Money
Once Upon a Dime: A Math Adventure by Nancy Kelly Allen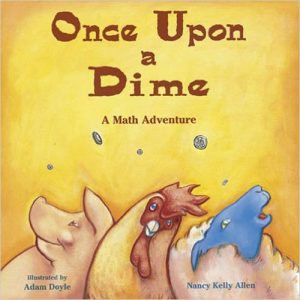 Once Upon a Dime is a cute story to teach kids (aged 5-9) about different coins and their values, as well as the purpose of money. In the story, an organic farmer discovers a new tree on his farm that grows money! He then finds that the type of fertilizer he uses effects the kind of money his tree grows. Through the book, readers calculate the changing value of the crop with the farmer's young helper.
The best part of this story is the message of determining what is enough and achieving contentment with money.
Buy on Amazon: Once Upon a Dime: A Math Adventure
 Just a Piggy Bank by Gina and Mercer Mayer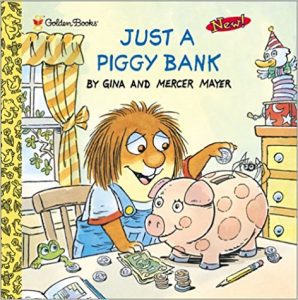 The Mercer Mayer books were some of my brother and my favorites growing up! Targeted for kids 3 through 8, Just a Piggy Bank is an awesome addition to the series to show kids why you need to save first. Little Critter tries to spend first, and save later, only to find he has no money left to put in his piggy bank! Then he doesn't put his money in his piggy bank right away and loses it! A great story on saving and responsibility with money.
This book does highlight chores for cash, so if you view chores a family responsibility, be ready to explain!
Buy on Amazon: Just a Piggy Bank
Alexander, Who Used to be Rich Last Sunday by Judith Viorst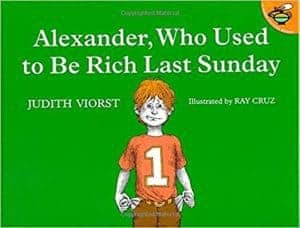 In this mopey tale, Alexander explains how he went from being rich last Sunday to only having bus tokens today. Aimed at kids aged 4 through 7, Alexander and his brothers each get a dollar from their grandparents. Alexander is supposed to save his dollar for the walkie talkie he wants, but instead, he spends his money on lots of silly things he doesn't need (or actually even want). While this story doesn't have a happy ending for Alexander, it is a solid reminder to spend wisely if you don't want to be broke next week!
Buy on Amazon: Alexander, Who Used to be Rich Last Sunday
Lemonade in Winter by Emily Jenkins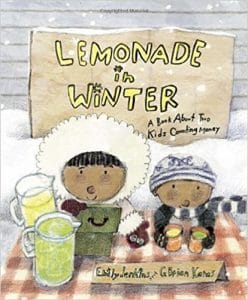 What happens when you open a lemonade stand in winter? You lose money. Even when you advertise, have a sale, offer entertainment and more. In Lemonade in Winter, two entrepreneurial young siblings try to hold a lemonade stand in the snow. The book walks through their journey buying the supplies, setting up the stand, and making changes to their plan to sell more lemonade and limeade. Targeted at kids aged 3-7, this is an excellent story for learning about money, business, and how profit isn't the same as revenue.
Check out the end of the book for a great breakdown of the different types of money and how to identify them!
Buy on Amazon: Lemonade in Winter
Follow the Money by Loreen Leedy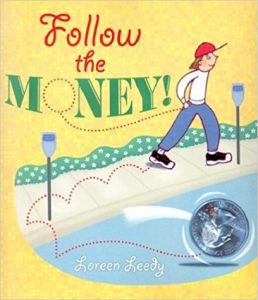 Ever wondered how money gets into circulation? Follow the Money introduces the concept of the Federal Reserve and newly minted money, following the path a new quarter on its first day in existence! From the Federal Reserve, to a local bank, into the hands of a grocer and on, your kids will learn the many places money can travel. Told from the perspective of George Washington, the new quarter, the story is fun and inviting for children aged 4 through 8.
This book includes lots of little asides and puns, to make the story valuable time and time again. Plus, it includes some fantastic math challenges for your child's developing math skills!
Buy on Amazon: Follow the Money
One Cent, Two Cents, Old Cent, New Cent: All About Money by Bonnie Worth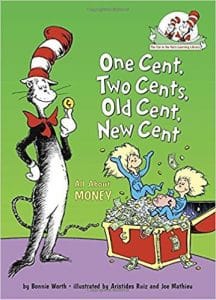 Who doesn't love a good Cat in the Hat book? Bonnie Worth's fun, rhyming book is a comprehensive introduction to the history money for kids aged 4 through 8. It talks about bartering, the early forms of money, how money doesn't grow on trees, interest and the basics of the banking system. While your kids won't necessarily learn coin and money identification under the current system, they will learn invaluable lessons about the purpose of money.
Are you a coin or currency collector? This is an awesome book to introduce your kids to your hobby!
Buy on Amazon: One Cent, Two Cents, Old Cent, New Cent: All About Money
Bunny Money by Rosemary Wells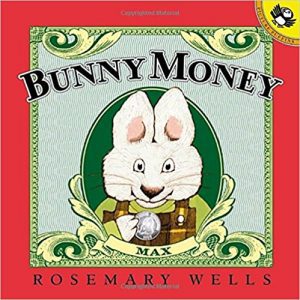 Bunny Money is a cute story of brother and sister, Max and Ruby, going into town to buy their grandma a gift with the money Ruby has saved up. It explains spending money and how fast your money can disappear. If your kids love the Max and Ruby stories, this is a great book for you! Though, I would have liked to see the kids have some negative consequence for Max spending their last dollar and leaving them no way to get home.
Bunny Money is an excellent introduction to spending money for kids aged 3 to 5.
Buy on Amazon: Bunny Money
The Spiffiest Giant in Town by Julia Donaldson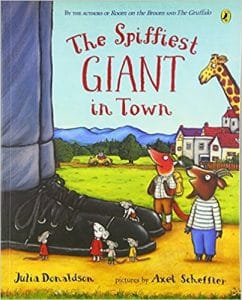 Now, my last book in your preschool money library isn't actually about money at all. But what money lesson could be complete without a strong message on giving? Julia Donaldson, the author of The Gruffalo (one of our favorites!), tells an adorable story of a giving giant for kids aged 3-7. The giant is sad about being the scruffiest giant in town. So he buys himself a fancy outfit to be spiffier! But when he learns about the needs of other villagers in his travels, he happily gives up his fancy possessions to help out and makes some great friends along the way. A great reminder for our little ones that sometimes the biggest happiness is not to have fancy things, but to be kind.
Buy on Amazon: The Spiffiest Giant in Town
I hope you and your children learn from these incredible books! Tying a money lesson into reading time is a great way to jumpstart your child's financial education. And it is never too early to get started?
Do you have any favorite money books for young kids? Share with other families in the comments!