What You Need to Know to Become an Authentic Influencer
Why You've Got to Listen to This Episode...
In today's episode, I'm talking with the full-time content creator and authentic influencer, Mattie James. Mattie stays busy creating content for her blog, Youtube, and podcast and collaborates with some really big brands like Samsung and TJ Maxx. 
She's sharing how her current six-figure income all started with a blog and the inside scoop on what it's really like to be an influencer, all while being a mom of three kids.
Moments You Don't Want to Miss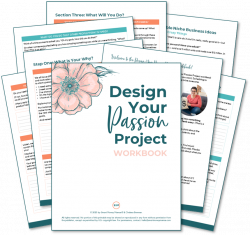 Ready to Discover Your Perfect Passion Project?
Take action on your dreams now by downloading our free guide!
Key Takeaways to Help You to Become an Authentic Influencer
As always, we've rounded up our top three takeaways to summarize what we believe are the core points to remember from Mattie. 
1 - Your Story Is Your Ultimate Niche
When you're a new entrepreneur, there's so much discussion about niching down. And as Mattie said, it's important to have a core thing that you talk about. But when you try to be unique and authentic, the only thing that is truly unique is your story and your perspective. That's the element that is going to help people connect with you. That's where they can really feel like they can see themselves in pieces of your story.
So when you're wondering what to share, learn how to tell your story. Practice storytelling, and let people learn through what you've experienced and what you've learned. It's a very powerful thing.
2 - Set Your Boundaries Early and Stick to Them
Mattie said you have to work backwards from the future you. So think about the person you want to be as a mom, as a partner, and as a business owner. Then design your business or your career to fit with that narrative.
This will look a little different for everyone. But figure out what is most important to you. And then make sure that you're protecting those things. In those early days of building a business, we get so caught up in the hustle culture and in making every minute the most productive it can possibly be that sometimes, we forget why we do that work in the first place.
So if you're making any kind of career transition, I want you to ask yourself how much time you can realistically commit to it on a regular basis. That might start with just a couple of hours a week. Start small and consistent, and then grow from there.
The bonus is that generally having boundaries makes us more productive and makes us focus on the work that is truly the most important. So make sure you set those boundaries early on.
Whether you're trying to be an authentic influencer, an entrepreneur, changing careers or just trying to level up in your current career, when we do new things, we suck at them. It's just kind of the way that it goes. We all have to start at square one.
So instead of waiting for the perfect moment when you've taken all the right classes and done all the right things and feel like an expert, just get started. Do the work. Chase your passions now. You will never, never magically feel "ready". You can only get better if you've started.
Links & Resources Mentioned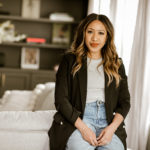 Mattie James is a full time content creator and the influencer behind MattieJames.com. She creates lifestyle content for her blog, podcast and YouTube channel while working with brands like Samsung, TJ MAXX and J. Crew. After being crowned Miss Liberia USA in 2009, Mattie started her blog as a hobby and grew it into the six figure business it is today. She's taught over 1000 content creators and influencers how to grow their following, pitch brands & create content for profit with her online courses and masterclasses. Mattie currently resides in Atlanta with her husband, Christopher and their 3 children, Maizah, Caliana and Christian.
Other Ways to Enjoy This Podcast
Have You Subscribed Yet, Mama?
Are you subscribed to the Smart Money Mamas podcast? If you're not, I want to encourage you to head over to Apple Podcasts (or wherever you listen to your podcasts) and subscribe! I release episodes twice and week and as a subscriber, you'll be notified right away so you can take checking the feed for new content off your mental to-do list. 
Click here to subscribe on Apple Podcasts, Google Podcasts, or Spotify!