We are back with another installment of the Aha! Moment debt series! This month we meet Dr. Jenn MD, who has paid off more debt than everyone else in our series combined. She and her husband started with $1.9 million in debt! Now debt-free except for their mortgage, and pursuing financial independence, Dr. Jenn is here to share her story.
A double-board certified surgeon, Dr. Jenn's story is an example of how financial literacy is important at every income level. Taxes, insurance, and lifestyle creep are tough cookies for everyone!
Check out Dr. Jenn's story and discover the wake-up call that finally led them to find a cure for their mountain of debt!
If you would like to be considered for an interview, drop me a note!
Previously on the Aha! Moment Debt Series:
Let's get started…
Aha Moment Interview: How Real People Get Out of Debt

Tell us about yourself!
I am Dr. Jenn MD and I am a 40-year-old surgeon who lives on the East Coast. I work full time as a surgeon, I am married to a wonderful and patient man (for 19 years) who coaches NCAA basketball. We have 3 children and a labradoodle who keep us busy. We love sports (of course), food and traveling as a family.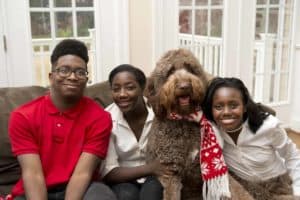 How much debt do you have today and where did you start?
We started with $1.9 million in debt. That included 400k in student loans, 5 credit cards, 3 mortgages, 2 car loans and a family loan. We have sold or paid off everything except our current home. We are debt free except our home.
What was your "aha" moment that made you realize you had to get out of debt?
My "aha" moment was a $14,000 tax bill that I couldn't pay. I had a great salary but I was paying bills all. the. time. There was nothing left over at the end of the month. When the tax bill came, I was scared. You don't mess with the IRS, I had to figure out a better way.
What lifestyle changes did you make while paying down debt?
We eliminated the "extras". We limited the number of times we ate out, shopped at Goodwill and other thrift stores, we got rid of expensive cars and bought used cars from eBay and Craigslist!
Did you have a side hustle (side job) to help you pay down debt faster?
Yes. I learned to become a consultant in my "free" time.  The extra money from the consulting jobs went directly to debt.
What was the biggest setback you've faced while tackling your debt?
The biggest setback was again, taxes.
As a physician partner and consultant with a 1099, I was responsible for putting aside 40% of my income in order to pay taxes quarterly. It is just like a huge bill would come in every 3 months and wipe out my account. I set up a system where half of my paycheck went to one bank, the other another. We basically tried to live off of half of my salary in order to have the cash to pay the quarterly taxes. Some months we would have to "borrow" from the other account, but it ended up being a system that worked for us.  
Did you and your spouse have any differences of opinion on how to get out of debt? How did you get through it?
My husband and I had very different ideas about a plan to get out of debt. He was comfortable just paying minimum payments forever. The debt did not bother him initially. I wanted to be debt free yesterday.  
We decided the middle ground was communication. If I could set a budget where he was able to do many (but not all) of the things he enjoyed, I would then be able to use the savings to aggressively pay off debt. In the end, we both got what we really wanted.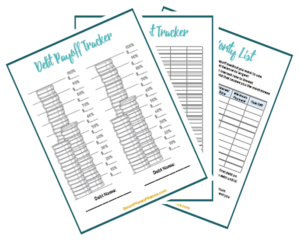 Grab Our Free Debt Payoff Trackers!
Creating a plan for debt freedom is the first step!
Did you use a debt snowball or avalanche?
For those of you who don't know, you can read about both methods here. But the short story is that a debt snowball means paying off your debts from the smallest balance to the largest. An avalanche is paying off your highest interest debts first.
The debt snowball saved us!
What financial mistakes did you make while getting out of debt that other families can learn from?
A few times I was too aggressive with debt repayment. I was just so anxious to get rid of it, I would pay just a little bit more than we budgeted. It backfired one time when I was out to eat with other physicians and my debit card was declined.
I would recommend that you create a realistic debt repayment budget and do not try to do too many things at once.
Now that you are debt-free, do you have a new financial goal you are working towards?
Our new goal is to save and invest to be able to retire (if we want) by 50.
Note from Chelsea: Yay! Almost $2 million in debt to pursuing FI/RE! Love it.
Finally, where can readers find you and follow your story?
You can find more information about my story and how I can help others get out of debt, invest and build wealth at Dr. Jenn MD. I also post and live stream about financial topics on my Facebook page, Dr. Jenn MD.
---
Smart Money Mamas' Thoughts
Dr. Jenn, thank you so much for sharing your huge accomplishment with us! Paying off over $1 million in debt to be left with only a mortgage is amazing.
As I always do in these interviews, I want to share some thoughts:
Debt management is an issue that crosses income lines. We can all benefit from lessons in financial literacy and frugal living. While Dr. Jenn being a double-board certified surgeon and her husband also working means their shovel is larger than most, their debt pile started at a level that would make most of us break out in a cold sweat just thinking about.
Spouses won't always be on the same page, but that doesn't mean you can't succeed. Dr. Jenn's husband was unconcerned about their debt. When you've been living a certain way for a while, it isn't surprising when at least one party is adverse to change. The key for Dr. Jenn and her husband was communication. Finding a comfortable compromise allowed them to both remain happy.
Financial independence is reachable from any starting point. Recently, a reader sent me an email saying she and her husband weren't anywhere near financial independence or even a path towards it. But they were paying off debt and building an emergency fund. Which sounds like the first step to me! Making decisions to get even a little bit better with money can move you towards financial independence. It might not happen as quickly as it does for Dr. Jenn and her husband, but it is possible!
Thank you again, Jenn!
What did you think of Dr. Jenn's story? Any thoughts you would add?