Making choices that are good for the environment and your health doesn't have to be expensive. In fact, it can save you money! My husband and I have found that many of the "green" products in our home actually cost us less than their traditional counterparts.
Keeping chemicals away from our boys and reducing the amount of plastic that ends up in the oceans is important to my husband and me. Luckily, most of the time, our green choices are exactly in line with our frugal living philosophy. So, today I wanted to share seven of our favorite environmentally-friendly products that save us money!
7 Green Products that Cost Less
Choosing the right environmentally-friendly products does usually mean paying a bit more up front. But by finding products that last longer and work more effectively, you save money long-term.
Nest Thermostat vs. Standard Thermostats
We upgraded to Nest thermostats in the first year we moved into our home. The over $200 sticker price per unit, when we needed two, made us a bit reluctant at first. But our local natural gas provider offered a $100 rebate for up to two units, cutting the price almost in half!
We have had the units for over two years now and recommend them to everyone. We love how it adjusts the temperature when it senses we aren't home and learns our schedule. But most of all, we love that we can change the temperature from afar when we aren't home. Can't remember if you turned the AC off? Just check it on your phone. Want to warm the house back up for the kiddos before you get home from a trip? Flip it on during your drive home from the app. Easy peasy.
Installing the units was simple with the step-by-step guide, so we didn't pay for professional installation. After the rebates, we paid just under $240 to change over both our thermostats. Two independent studies have found that Nest thermostats save the average household $131-$145 in energy costs a year. That is a less than two-year payback!
Buy a Nest Thermostat on Amazon!
(You can find out what rebates are available for your area here.)
Branch Basics Cleaning Products vs. Standard Cleaning Supplies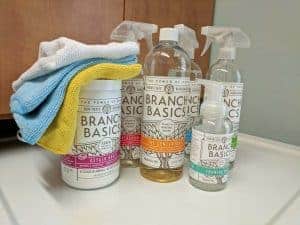 When we were simplifying our home cleaning routine, I finally made an effort to minimize our cleaning product cabinet. I had been trying to reduce chemicals in our cleaning products for a long time. (Did you know recent research has shown that using standard cleaning products can have the same long-term health impact as smoking a pack of cigarettes a day? Ew.) Many of the "green" products I ordered didn't work as I would have hoped, and making our own was tedious and just never felt as clean. So our cabinet was overwhelming and crowded with unused bottles.
After some research, I discovered the beauty and simplicity of Branch Basics. Branch Basics sells a plant & mineral based, biodegradable, and preservative free cleaning concentrate that actually gets your house sparkling clean! Branch has a complete guide to using the concentrate by diluting it different amounts for every cleaning need under the sun. The best part is, the starter kit comes with bottles for each of your most common cleaning needs – bathroom, all-purpose, hand-wash, and glass cleaner. You can also add in their Oxygen Boost powder, which we love to use for stain removal and cleaning toilets.
One $49 bottle of the Branch Basics concentrate lasts us about nine months and covers all of our cleaning needs. Admittedly, I haven't bought standard cleaning products in a long time. But based on the volume of other products we have used in the past and Amazon prices, it would cost us over $80 to replace what we use Branch for. That includes hand soap, OxiClean to pretreat stains, all-purpose cleaner, Windex, floor cleaner, and toilet bowl and bathroom products.
Even the purchase of the $69 starter kit, which includes all the bottles you need, more than paid itself back. With no harmful chemicals, reusable plastic bottles, and a truly clean result the savings are only a bonus.
Buy your Branch Basics Starter Kit here!
Microfiber Cleaning Cloths vs. Paper Towels
Paper towels drive me nuts. They are so expensive and you could go through two whole rolls a week just cleaning your house. I hated putting handfuls of paper towels in the trash. So, we got a 36-pack of microfiber cleaning cloths from Amazon for $15. That is less than one case of Bounty paper towels on Boxed. We now use them for everything.
Wiping down counters, cleaning windows without streaks, cleaning bathrooms (we have a set color we keep for that). You name it, we use microfibers for it. They wash well without pilling and last a long time.
Want to save even more? You can turn old t-shirts or beach towels into cleaning rags as well.
Buy microfiber cleaning cloths from Amazon!
Cloth Napkins vs. Paper Napkins
Cloth napkins fall in the same category as paper towels for me. Such a waste!
Personally, we just decided to start using our "fancy" white cotton napkins we got when we got married on a daily basis. But you can get a set of 12 napkins for $12 on Amazon. Or you could make them from cheap fabric from Jo-Ann Fabrics or another craft store. I love the fabric scrap bins there! (Check out this free tutorial on sewing your own napkins.)
Napkins take a bit longer than paper towels to pay themselves back because you can find them so cheap. But, depending on your usage, the upfront cost will likely become cheaper after three to four months.
Buy cloth napkins from Amazon!
Wool Dryer Balls vs. Dryer Sheets
These wool dryer balls are my favorite new addition to our home. They are so cute, have cut the time it takes to dry our clothes significantly, and with a drop or two lavender essential oil on one or two of the balls our clothes smell amazing. (Not to mention Fuss Fish loves helping me find them in the clothes!)
A set of six balls costs $23.95 and lasts about 1,000 wash cycles. 1,000 Bounce dryer sheets costs $34, using the best price I found. So, you're saving money even before the energy savings.
Wool dryer balls cut drying time by 20%-40%, something we noticed immediately when we bought them. Our HE dryer "senses" when the clothes were dry and it often took what felt like forever for the cycle to end. Now the dryer is rarely on for more than half an hour. In addition, dryer sheets leave a residue in your dryer and on the lint sheet that impacts the operating efficiency over time. Dryer balls keep your dryer in tip-top shape!
Buy wool dryer balls from Amazon!
CFL Light Bulbs vs. Standard Incandescent Light Bulbs
Everyone knows the benefits of compact fluorescent light bulbs. Yet, amazingly, not everyone is using them yet. If that is you, let me drop some crazy facts.
A single 18 watt CFL light bulb, used in place of a standard incandescent bulb, saves about $45 in energy costs in its lifetime. Given that the price difference between CFL and incandescent bulbs is less than $3, this is a no-brainer.
CFL light bulbs last 10 times longer than incandescent bulbs. This, along with using 75% less energy, is why they can save you so much money.
Oh, and if you need more motivation? If everyone in the U.S. used CFL light bulbs instead of incandescents we could close 90 average-sized power plants! 90! If you're still using standard light bulbs, it is seriously time to switch.
Buy CFL light bulbs from Amazon!
Tupperware vs. Ziploc Bags & Saran Wrap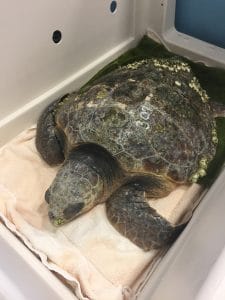 There isn't much that gets my husband into rant mode. He's really a pretty laid back guy. But if you want to see him lose his head, ask him about plastic and the oceans. You may not be able to get away from him for half an hour.
Plastic bags, plastic wrap, and straws were one of the first things to go in our home. Jeremiah loves the ocean. He's volunteered with the New England Aquarium to rehabilitate cold-shocked sea turtles that get stranded on Cape Cod in the winter. He's seen what wasted plastic can do to sea life, and he has had enough.
A big part of cutting our grocery budget 50% was reducing food waste. But instead of using Ziploc bags or Saran wrapped bowls to store leftovers, we use Snapware and mason jars. Both are freezer-friendly and easy to clean. And they are also cheaper because they last close to forever.
A good set of Snapware and some mason jars might cost you $40. But with a case of Ziploc bags running you $15-$16, the payback is fast. And Jeremiah's turtle friends thank you!
Buy Snapware Food Storage Set from Amazon!
Taking Care of the Environment Doesn't Have to Cost More
Being "green" has become a marketers dream. Similar to expensive organic foods that aren't actually much healthier (looking at you organic Oreos), there are many expensive "green" products that either don't work or aren't much better for the environment than their lower cost counterparts. But you can make a huge impact on the planet and for your wallet by making choices that reduce waste.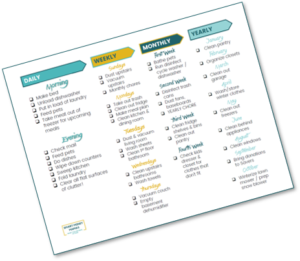 Get Control of Your Home with Our Free Cleaning Schedule!
Cleaning is a never ending battle (especially with kids) but you can break it down into small daily steps with this schedule!
Are green products important to you? How do you make it work with your budget? Share in the comments! We are always looking for ways to reduce chemicals and waste at home!