Whether you are looking for some quick cash to help you reach your money goals, or are looking to start a long-term online business, there are dozens of ways to make real money online.
A few years ago, I thought making money online wasn't possible, at least for all but the very lucky. I never imagined I would leave my job to freelance write and blog full time. But technology and a high-demand for productive, skilled workers has created many profitable opportunities to make real money from your computer.
If you're looking for the perfect opportunity, I've compiled 23 of my favorite online business ideas that require minimal start-up costs and allow you to use your talents on your own schedule. All you need is a high-speed internet connection, a computer, and the motivation to put in the work. Discover your new side hustle or business today!
Note: This list is in alphabetical order, not ranked by the earnings potential of the job. A virtual assistant makes a lot more than someone doing online surveys.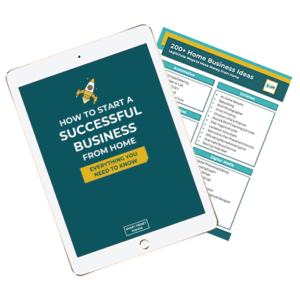 Grab Our How to Start a Business Guide + Over 200 At-Home Biz Ideas
Everything you need to choose and start a profitable business from your couch.
Online Business Ideas to Start Today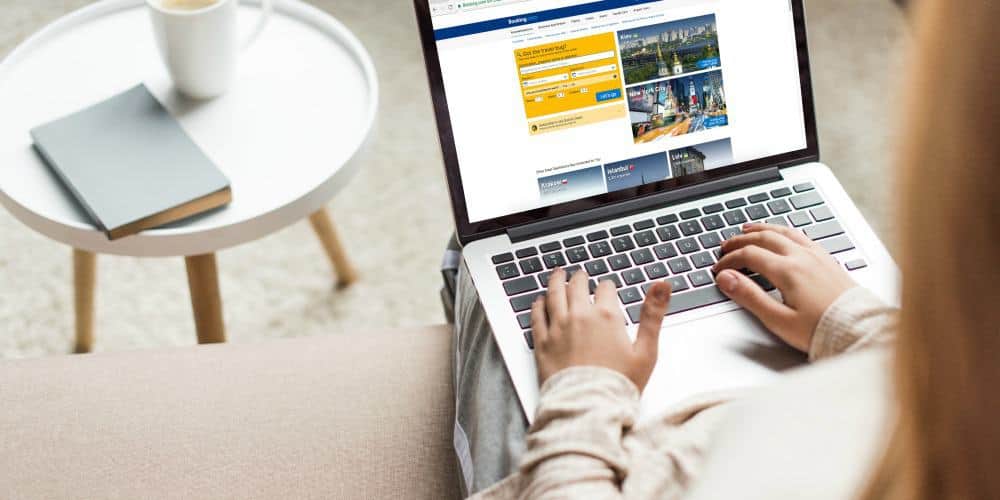 1 – App Creator
Have a great idea for an app everyone needs? Or the design skills to help bring the perfect app to fruition for others? The mobile app market is hopping right now, and you can start designing apps even if you aren't a programmer. Appy Pie lets you build and monetize an app with zero coding.
Let's just hope it's better than Jeremiah's 'Steak With Friends' app idea…
2 – Blogging
Blogs can make money through display advertising, affiliate sales, consulting services and selling their own products. But while blogging is possibly the most discussed "make money online" idea out there, it definitely not the most profitable.
Most blogs never make money (possibly because people give up too soon) and it can take time to grow your traffic. However, if you love to write and are willing to be really patient, blogging might be for you. If you're interested, check out this post on how to start a blog.
3 – Custom Branding
Do you have a knack for coming up with color schemes, logo designs, and business taglines? Sell custom branding packages to businesses to help them represent their goals and personality while attracting new customers.
You can start offering your services on sites like Fiverr or create your own website and kick off your portfolio by pitching local businesses.
4 – Data Analysis
Love numbers? There are many companies looking for contractors with the right credentials to help them slice and dice data. Freelancers can pick up extra work as a side hustle or to replace a full-time job.
Start with platforms like Upwork and Digiserved, then use customer testimonials and referrals to up your pay and find new clients.
5 – Dropshipping
If you love figuring out what products are popular and writing compelling sales descriptions, you can start selling on Amazon or Shopify without ever having to create a product or organize inventory and shipping. You'll need some start-up capital to purchase your first round of inventory, but this can be a very profitable business.
If you are interested in learning more about selling on Amazon, I highly recommend checking out Jessica from The Selling Family's free webinar on 6 Steps To Starting a Profitable Amazon FBA business!
6 – Facebook Ads Manager
With Facebook changing their Newsfeed algorithm, businesses have to rely on ads more than ever to make their posts and products seen. But managing Facebook ads is a skill, and not one most business owners have the time to develop. Last year, business owners spent $88 million, per day, in Facebook ads.
Check out this course on running effective, profitable Facebook ads for local businesses to start pitching companies in your area today! And if you learn a thing or two, send me some tips. I can't figure out the witchcraft behind Facebook ads…
7 – Freelance Writing
Freelance writing is one of the best ways to make money online. You don't need an English or Journalism degree to do it, and the demand for freelance writers is sky high. Every business needs written content in the form of blog posts, newsletters, sales copy, and more.
If you love writing, are willing to improve your skills, and can hit deadlines, you can make money as a freelance writer.
I knew nothing about freelance writing when I started. In fact, I thought it probably didn't pay all that well. But after hearing that Holly Johnson makes over $200,000 a year writing, I bought her course,
Earn More Writing.
Using the methods she taught I booked my first client, which more than paid for the course, in just 2 days. I highly recommend the class to anyone who wants to make money writing.
8 – Graphic Design
Excellent graphic design skills can earn you money in a variety of ways. Design logos, Pinterest images, social media headers, ebook covers and more for businesses. Or, spend your time making beautiful quote designs and printable art to sell on Etsy.
A background in graphic design might help, but learning the skills you need has never been easier. Adobe Illustrator gets more user-friendly each year and services like Stencil and Canva are all drag-and-drop and only require a good eye.
Want to learn more? There are tons of free YouTube videos, like this one, that can help you develop your design skills.
9 – Teach English Online
Do you love working with young kids? Are you creative and high-energy, even early in the morning or late at night? You can earn $20 to $25 an hour, from home, by teaching online with VIPKID.
VIPKID allows you to teach English and elementary education online to children in China ranging from ages 4 – 12. You don't need to know a word of Mandarin; you can work from anywhere you please, set your own teaching hours, and never have to grade papers or create a lesson plan!
Forbes ranked VIPKID #1 on their 2018 list of top work-from-home jobs. VIPKID teachers can work as much or as little as they want, but teachers frequently earn over $1,500 a month working 15-20 hours a week.
10 – Medical Transcription
To save time, many doctors make notes during the day with a voice recorder. Medical transcriptionists type out a doctor's recorded notes for them. This is usually a part-time job but can be done remotely. And if you pick up multiple doctors or doctors offices, you can make this a full-time gig.
While you don't need a college degree, but you do need to be a fast and accurate typer and have a Certificate in Medical Transcription. Find an approved program here.
11 – Online Course Creator
Have a skill you want to share with the world? More people are learning online than ever before. And if you have skills others might desire and have a clear, concise way of teaching others, you can make money with an online course.
Consider what you want to teach, break it into a step-by-step process, and create slides, worksheets or a high-quality video for each segment. You can then sell your course easily through platforms like Udemy and Teachable.
Learn how to create and sell an excellent online course for only $10.99 with this Udemy course from Miguel Hernandez.
12 – Online Surveys
Make money for giving your opinion on sites like Swagbucks, i-Say, and Opinion Outpost. Note: This is not a way to replace a full-time income or even earn a decent hourly rate. You're going to spend time looking for surveys and some surveys you start you won't be the right fit for, so won't be able to complete them and receive payment. But commit to answering surveys in your spare time and you could bring in a couple of hundred bucks each month.
13 – Pinterest Pin Designer
Pinterest has become one of the largest search engines on the web. It can drive massive traffic to websites and businesses, but it requires an extra layer beyond good SEO. Pinterest is a visual search engine, which means you need engaging images to connect users to your website and services. Design pin templates or one-off designs for bloggers and businesses to help them drive the most traffic possible to their sites.
14 – Podcasting
A great podcast can make money from sponsorships, ads, and affiliate marketing. But similar to blogs, it can take time to make good money with a podcast. You need to build a following, pitch brands, and record high-quality audio.
Luckily, you can get started with very minor costs. Pick a niche, define your show's mission, and start recording. Read up on how to start a podcast, so you don't get distracted by all the little decisions.
15 – Proofreading
Are you a stickler for grammar? Proofreaders make over $17 an hour, on average, and can set their schedules and work from home. You are paid per page, so you have to stay focused and move through the content, but if you've got the eye for catching errors, this can be a fantastic at home business.
My friend Caitlin created a full-time, six-figure business as a proofreader and now teaches others how to do the same. Check out her free workshop at ProofreadingAnywhere.com to learn the skills you need to start a proofreading business today!
16 – Recipe Videographer
Do you love cooking and enjoy watching those quick recipe videos in your Facebook newsfeed? Recipe bloggers know video can take their content to the next level, but don't always have the time or skill to make videos themselves.
All you need to get started is a smartphone and some video editing skills. This article from Hatchbuck will show you how to get started. Then you can make some sample videos and start advertising in Facebook groups for food bloggers.
17 – Reviewing Websites
Companies and brands are always looking for feedback on their websites, and hire testing companies to get insight from real users. You can become a paid tester with a company like UserTesting and earn up to $24 an hour.
Now, UserTesting is the first to admit that this is meant to be a source of extra income, not a full-time job. Based on your demographics and client needs, you may only match with a few tests a day. But it is a great, easy way to earn $50 to $100 a week.
18 – Social Media Manager
Whether you're a blogger, local business, or significant brand, staying active on social media is a must for creating raving fans. The problem is, it takes a lot of time away from actually running your business. Which is why social media manager is a growing, and often well paying, position.
If you love Facebook, Twitter, Instagram, or Pinterest, do some research on what makes a successful social media profile, and start helping businesses grow their following. Offer packages to get social media profiles set up for companies, create unique posts for their pages, or manage customer comments and questions.
This article from Post Planner, a social media scheduling service, can give you the simple steps to get started.
19 – Transcription Services
General and legal transcription, similar to medical transcription discussed above, requires listening to audio files and typing out what you hear. You'll only need a high-speed internet connection and a computer to get started, along with fast and accurate typing skills.
Companies like TranscribeMe, Quicktate, and Rev hire newbie transcriptionists that can pass short tests. Pay starts around $45 to $50 per audio hour, but it could take you two or more hours to transcribe all the content. Experienced transcriptionists, especially specialists, can earn a lot more.
To start you off on the right foot and increase your chances of passing beginner transcription tests, sign-up for this free, 7-day course mini-course with beginner tips from experts from Janet at Transcribe Anywhere.
20 – Translator
Speak more than one language? Freelance translators make money by translating from their second or third language back into their mother tongue. Average full-time, freelance translators earn over $60,000 a year. Even more if you are American Translators Association certified.
Keep in mind, speaking a language well does not necessarily mean you will be a good translator. You also need to be a good writer, as you'll be producing written content that needs to flow well.
If you're ready to get started, Gengo, VerbalizeIt, and Translate.com connect freelance translators with available projects.
21 – Virtual Assistant
Most business owners waste hours managing their email inboxes, scheduling meetings, bookkeeping, and all the other little tasks that pile up. While they all can't afford full-time assistants, they can hire part-time or contract based virtual assistants.
The average virtual assistant in the US makes $35 to $50 an hour, regardless of whether they work full- or part-time. All you need is a high-speed internet connection, computer, and excellent organizational skills.
And if managing someone's calendar doesn't sound fun to you, my friend Gina has created a list of over 150 services you can offer as a virtual assistant. If you want to make money online, there is sure to be at least one idea on Gina's list that speaks to your skill set.
Related post: How to Become a Virtual Assistant: Behind the Scenes
22 – Voice-Over Talent
All those people you hear on the radio and TV, in audiobooks, on product videos, and in video games are voice actors. They get paid to talk. In fact, voice acting is one of the most lucrative freelance jobs, with gigs regularly paying over $100 an hour. (Do you think they hire 2-year-olds?)
Becoming a professional voice actor no longer requires going to an expensive studio or acquiring costly equipment. All you need is a good mic, a quiet room, and a strong voice. You can start auditioning for jobs at Voices.com, the largest voice-over actor community, for free today.
23 – Host a Youtube Channel
While Youtube tightened its monetization program early this year, it is still the third most visited website in the world. If you can hit YouTube's requirements to join their partner program (1,000 subscribers and 4,000 hours of view time in the last 12 months), it is a great way to make money.
Similar to starting a blog or podcast, decide on your channel's mission. Are you going to provide educational content? Comedy sketches? Video game walkthroughs? Then regularly produce and market your content.
Don't be discouraged if your first videos don't get a lot of views. You'll improve with practice as you find your voice!
Want to know how to get started? Watch this Youtube video. 🙂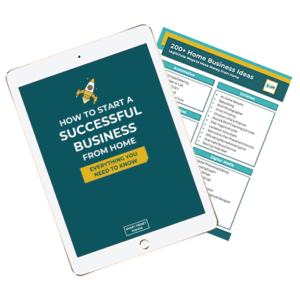 Want to Start a Business?
Download over 200 at-home business ideas with our complete guide on starting a profitable business!
What's Holding You Back?
With just an hour or two a day, you can start building a small online business. There are no get-rich-quick schemes, but controlling your own income is a powerful feeling. And if you put in the time, you never know what it could grow to be.
What is your favorite way to make money online? What methods have you tried? Drop a note in the comments and let me know!