I always pictured myself as one of those moms who would make her kids Halloween costumes. The ones sold in stores are so overpriced and, especially at their young age, the boys aren't super invested in how fancy their costumes are.
But while I love to sew, I only have a short time to actually make their costumes. Which means pulling out the sewing machine ends up eating much of my precious time. So, instead, I look for fun, no-sew costumes that can make use of the clothes and fabric scraps I already have in the house. (If you aren't a fabric hoarder like me, you can get felt for super cheap.)
Fuss Fish hasn't decided what he wants to be for Halloween this year (darn 2-year-olds, why can't they plan weeks in advance!?) but I've already been compiling cute options. If you mastered scissors and glue in kindergarten, you can make these costumes! Which one is your favorite?
Not ready for Halloween yet? Pin this post for later!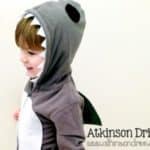 This costume is so cute and can easily cost you less than $10. (If you don't have a grey hoodie and pants, check out your local thrift store.) All you need is some white, black, and grey felt and your child can be chomping up candy. Hilariously, they sell sweatshirts like this at the New England Aquarium for $40.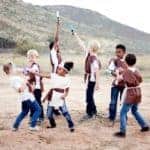 With the new Star Wars movies bringing more young fans into the Force, these Jedi costumes are sure to delight. They are incredibly fast and easy to make – and with a fun lightsaber, your Padawan has all they need! Be sure to check out Mom Endeavor's DIY BB-8 costume as well!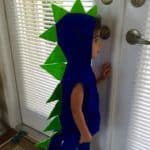 Fuss Fish has never seen The Good Dinosaur. But he is obsessed with dinosaurs, especially these hand puppets that he loves chasing us around with. With this costume's awesome tail and spikes, I better fit my exercise in before having to run from his scary RAWRRRRs.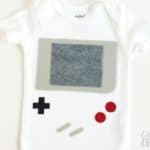 This Game Boy costume for baby is perfect for the nerd in all of us. I remember playing the first Pokemon game for hours on my Game Boy!
Cutesy Crafts uses felt and Heat n Bond, but I've always been partial to printable iron ons for cute custom onesies! (It's how I make all the "hockey jersey" onesies and shirts for the boys to support their uncle!) Since I loved this costume so much, I created a printable iron-on for a Game Boy onesie. You can grab it for free in the Freebie Library!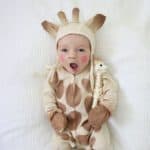 Shockingly, neither Fuss Fish or Baby Minnow were big on their Sophie the Giraffe. They were more the "chew on everything that is not a teether" variety. But if Sophie was cute, this costume is heart-meltingly adorable.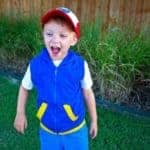 This has to be the easiest costume on the list (and no less awesome for it). All you need is a blue hoodie vest, some yellow tape, and a red and white hat. You can even make a Pokeball for Ash to carry with a Styrofoam ball and permanent markers.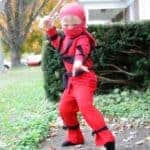 You can throw this no-sew costume together in minutes (win!). Keep it frugal by choosing whatever color your child has in both a long sleeve shirt and sweatpants. Since my brother played hockey for College of the Holy Cross, aka the Crusaders, we have some foam swords lying around the house that would be perfect for this!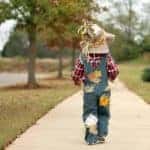 Birds might not be flocking to your little one in this scarecrow costume, but they are sure to get a lot of compliments! Admittedly, this costume isn't the most frugal option, since you'll have to glue decorations to overalls – which are not always cheap. But if you have a set your kiddo is about to grow out of or can find a set at a local thrift store, this is an excellent choice.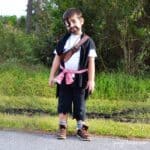 An old pair of sweatpants, a white t-shirt, one yard of black jersey knit, and a ¼ yard of white and red striped fabric is all that makes up this costume. You can add little touches, like daddy's belt, an eye patch, or fun face paint to become the perfect pirate.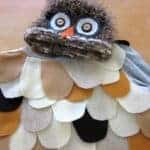 Fuss Fish's favorite show is Daniel Tiger, and he LOVES O the Owl. I've been considering trying this costume with a range of blue felts to make it O, instead of a generic owl. But, we love owls either way and love Moneywise Mom's use of a $1 thrift store hat.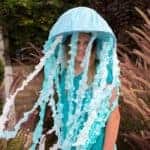 Chock this up as something I would never have thought of. Cutting plastic tablecloths into strips and stretching them in places to get that perfect jellyfish tentacle look is sheer brilliance. They even installed LED lights in the hat, so the jellyfish glows while you're out trick-or-treating.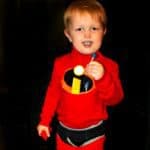 "No capes!" We haven't seen the new Incredibles movie yet – but with a working mom and stay-at-home dad, we should probably rent it soon. However, we thought the original was hilarious and their simple costumes make them perfect for DIY. The pattern calls for iron-on vinyl, but printable iron-ons, like in the Game Boy costume, would work as well.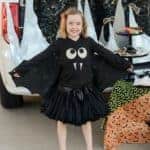 Whether paired with a black skirt, leggings, or pants, this bat costume takes 30 minutes or less to put together and is super cute. Those little fangs! You can use a yard of black felt or black fabric for the wings, though I recommend using a coupon at Joann's for the lowest price. (I've gotten a yard of fleece for $3.50.)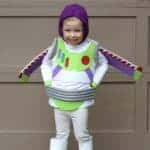 "To infinity, and beyond!" This costume primarily uses foam sheets to create Buzz Lightyear's awesome space suit and jetpack, with your child wearing white leggings and a white turtleneck underneath. I love how the foam makes the wings stand out on their own!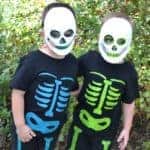 Had to end with a frugal take on the Halloween classic, a DIY skeleton costume! Poofy Cheeks even includes a printable template for the bone cut-outs. You can use glow-in-the-dark spray paint or neon duct tape to make the bones. Spray paint = faster. Tape = less messy.
Enjoy a Frugal Halloween with Your Kiddos
Halloween was never my favorite holiday. Scary movies aren't my jam – looking at you, nightmares – and I always eat too much candy. But since having kids, I savor every second.
There are only so many years where they will clamor to dress up in adorable costumes and walk the neighborhood with us. So, find a fun costume for your kiddos, take lots of cute pictures, and savor these memories. They're sweeter than the candy.