Thanksgiving is my favorite holiday. It has all the warm fuzzies of the holiday season without the financial pressure of buying gifts. Instead we're focusing on family and gratitude.
But there is the cost of Thanksgiving dinner to think about.
After getting married, my in-laws suggested that we host the meal at our house. I've never been much of a cook, so imagine my surprise when my husband whole-heartedly said, "Yes!"
Because I'm a personal finance nerd, my mind instantly jumped to the cost of hosting 14 people for the holiday. I immediately went to work to discover the best ways to save money on Thanksgiving dinner.
Over the years, I've learned how to host Thanksgiving dinner without sacrificing our budget. Here's how you do it.
This post is sponsored by Ibotta, a free cash back app that lets you easily earn actual cash rewards – not points or mysterious codes – on almost all of the things you buy. Get a free $20 bonus when you try the app with our special code, MAMA2020! As always, the opinions expressed are entirely my own.
How to Save Money on Thanksgiving Dinner
1 – Start Planning Early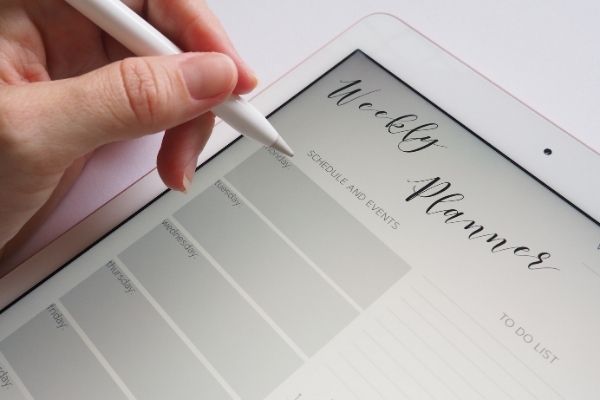 Planning ahead is the number one tip to cut costs on just about everything, and Thanksgiving dinner is no exception.
Think about who is coming to get an idea of how much food you'll need. You want to have enough, without having too many leftovers. (Unless you have a great plan to actually eat them!) This is especially important to think about this year, when your holiday is likely to be much smaller than past years as we continue to social distance.
Consider how you'll prepare and serve the meal. Do you have enough platters and serving dishes? How about a meat thermometer?
Whether you need serving dishes or extra seating, the smart solution is to borrow from family, friends, and neighbors instead of buying for this one-meal event. You can also check thrift stores to score great deals on plates, wine glasses, and chairs.
2 – Don't Be Afraid to Delegate
You might be tempted to put on your cape and tackle Thanksgiving dinner like the supermom you are. Plus, if you're like me, you might enjoy planning every detail of the appetizers, entrees, and desserts.
Depending on the number of people you're expecting, doing it all yourself can be a drain on your wallet. (And your enjoyment of the day if you're trying to do 72 things.) A big part of the holiday is sharing family recipes, and guests are usually more than willing to bring something for the meal.
If you're hosting, it's probably easiest if you prepare the main dish. But consider delegating appetizers, side dishes, and desserts to family and friends.
It will help you financially, and you'll feel less stressed by not having to worry about every little detail.
3 – Watch for Special Offers and Big Sales (Free Dinner, Anyone?)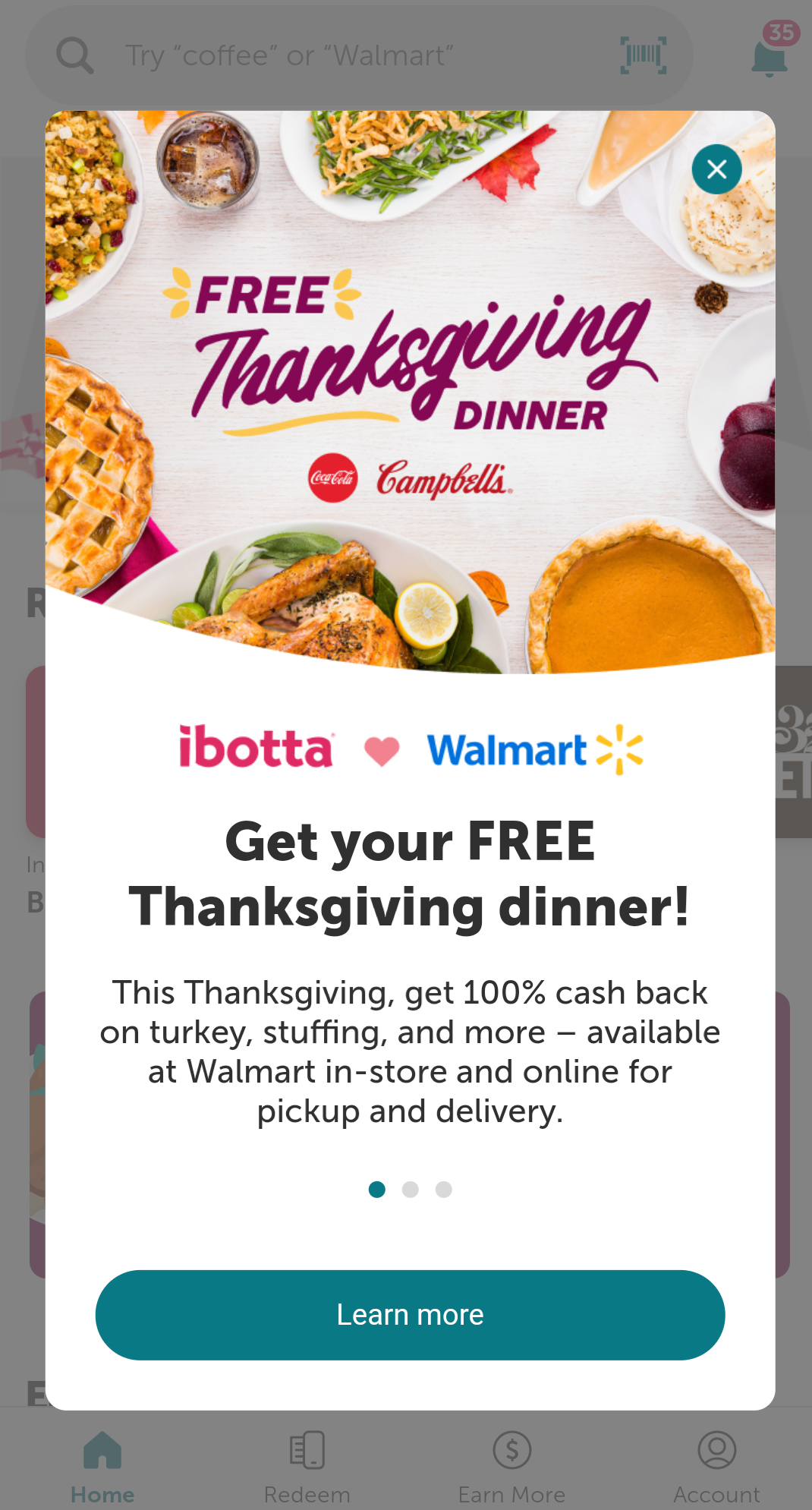 You're a Smart Money Mama, so you already know to watch store flyers to find sales and save money on groceries. But around Thanksgiving, many grocery stores do special offers and incredible sales to save on your holiday meal.
You might get a free turkey for spending a certain amount at a grocery store leading up to the holiday or see fantastic coupons and special offers.
Or you could get a whole free dinner!
This year, Ibotta is partnering with Walmart and Feeding America to give away free Thanksgiving dinners to Americans for the holiday. That's right, if you use the Ibotta app or browser extension, you can receive 100% cash back on everything you need for a Thanksgiving dinner (which feeds a family of 5.) And, as part of the campaign, Ibotta is donating to Feeding America which will help provide food across their network of food banks and pantries.
But this offer is only while supplies last, so download the app and get your free holiday meal now!
4 – Serve Seasonal Produce
I love strawberry desserts. I have a recipe for a killer strawberry trifle, and it's a favorite at summer parties. But strawberry season in Michigan is in June. And after July, the price of those sweet red berries goes up, up, and up.
The price of out-of-season produce can be astronomical.
That's why you can save money by sticking with seasonal produce for your Thanksgiving meal.
Seasonal fruits and vegetables for November include apples, chard, artichokes, acorn squash, cranberries, beets, oranges, pears, fennel, Brussels sprouts, and turnips.
Our Thanksgiving dinner always includes cranberry relish and apple pie. The ingredients are easy to get and affordable because they are in season.
Another option to cut down costs is to check your local farmers market. In Michigan, the cold weather shuts down most farmers markets by mid-September. If you're in a warmer climate, you could get high-quality produce for prices lower than what you'd pay in the grocery store.
5 – Buy Only What You Need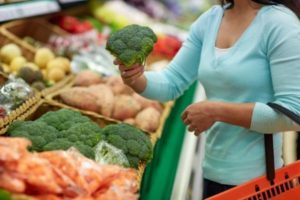 Because you want your Thanksgiving to be memorable, it's easy to get carried away when shopping for your meal. The trick is to buy only what you need.
Easier said than done, right? A little prep work can make it a reality.
Plan your menu early and list the items needed to prepare the meal.
Then, it's time to take stock of what you have. For instance, if a can of pumpkin puree is already in your pantry, you don't need to buy another one.
Go through your cupboards and check off the items you have. You'll buy less, which cuts down on your grocery bill.
6 – Save Even More With Cashback Apps Like Ibotta
Earning cashback is a smart and simple way to put money back in your pocket. You're buying the items anyway – you might as well get something out of it, right?
Cashback apps have grown in popularity, but Ibotta is my go-to every time I shop. I find it to be the most user-friendly and it has a ton of features to save in-store and online.
Since the pandemic began, I've been ordering most of my groceries online. Because I live in a small town, my only option is Walmart. Luckily, I can link my Walmart Grocery account to Ibotta to automate the process and get cashback even when I'm not shopping in the store.
Here's how to get the most value from using Ibotta to help save on Thanksgiving dinner:
Before you head to the store, open Ibotta and tap Grocery to shop by category (if you shop online, grab the Chrome Extension!)
Find your local grocery store to browse and add offers to your list
Drive to the store to shop or order groceries online
After you have the items, tap Redeem to scan your receipt or wait for your linked store loyalty account to match qualifying offers automatically
Connecting your store loyalty account can save you time. It also helps if you're prone to losing receipts like I am.
To maximize your savings, check out the "gift card" option. You could earn up to 10% cashback by linking your debit card. It's a quick and secure way to lower your bill for Thanksgiving dinner – and it works whether you're shopping online or in-store.
7 – Keep Pricey Decorations to a Minimum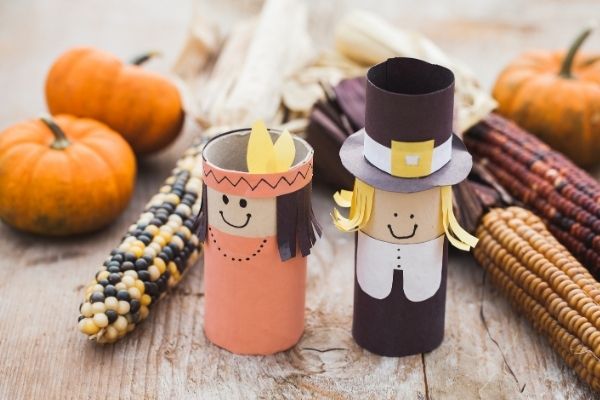 I'm a sucker for fall decorations. I love the deep oranges, browns, yellows, and reds. It doesn't matter if it's a wreath, candleholder, tablecloth, or floral centerpiece; I'd redecorate my home from top to bottom for Thanksgiving if my budget allowed it.
But we're trying to save money, so blowing your cash on decorations is out of the question.
Instead, put your kiddos to work with inexpensive, creative crafts. Ask them to collect colorful leaves to spice up your place settings. Or, glue colorful rhinestones and gems to gourds for a bedazzled look.
Above all, remember that Thanksgiving dinner doesn't have to be perfect. Instead of stressing over the perfect menu or place setting, focus on what really matters: family. Take time to count your blessings and create meaningful family memories.
Enjoy a Gratitude and Family Filled Thanksgiving, No Matter Your Budget
Thanksgiving is such a joyful holiday because we aren't focused on gifts or consumerism, but on all the wonderful things we have, our families, and giving back to our communities. It's about coming closer together.
Set your Thanksgiving budget and use these tips to create a beautiful, memorable day without the stress of overstretching yourself. Download the Ibotta app to put more money back in your pocket when you purchase what you need. Maybe you even save enough to donate some food to your local food pantry or a family in your community in need!
This has been a hard year for so many families but there is still much to be thankful for. Have a wonderful holiday!
How are you saving on Thanksgiving dinner this year? Share your tips in the comments!