In our family, grilling is a year-round activity. It doesn't matter that we live in New England, we will dig our Weber out of 2 feet of snow to make the perfect ribs. But in the summer, outdoor cooking becomes our go-to.
Since burgers and hot dogs would certainly get boring after a few days, we found many cheap and easy recipes to whip up on the grill. Here are 5 of our favorites.
To help you rein in your food budget, I've included the cost per serving for each recipe based on prices from our local grocery store in the Boston suburbs. It may be more or less depending on where you live.
Grilled Kielbasa Dinner Foil Packets – $2.65 per serving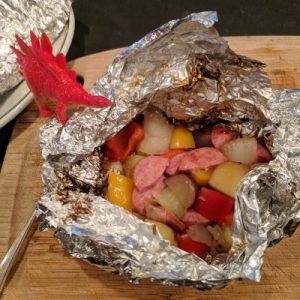 Kielbasa is one of my favorite foods. When I was young, it was a special treat we always had on Easter Sunday, grilled with mustard. Now, my husband and I bring it out as a regular meal.
This grilled kielbasa foil packet dinner is so easy. Slice up a kielbasa, 2 red potatoes, a medium onion, and two bell peppers. Toss with some olive oil, salt, and pepper and then seal in a foil packet. Make sure to fold the packet tight, keeping the heat and moist air in helps the potatoes, onions, and peppers get nice and soft.
Steakhouse Kebabs – $3.60 per serving
Beef is expensive. But if you choose the right cuts, you all get all the same flavor for the right price. We learned this lesson when we started buying our meat in bulk, receiving a variety of different cuts that we had to learn how to cook.
Sirloin steak is a low-cost option that is readily available in grocery stores. It is used in these marinated steakhouse kebabs and has tons of flavor. My favorite is wrapping some potatoes in foil and enjoying a baked potato with our kebabs for a full steakhouse experience. Yum!
Hawaiian Teriyaki Chicken Skewers – $2.04 per serving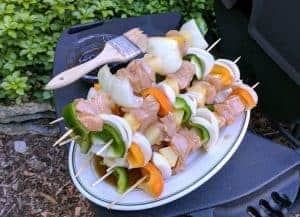 Grilled fruit is always delicious. Especially when paired with the right protein. These Hawaiian Teriyaki Chicken Skewers, served with rice, are a go-to meal in our house. My toddler who sometimes has trouble (read: is a diva) about dry chicken loves this dish because the pineapple and marinade keep the chicken nice and juicy.
Pro tip: Soak the bamboo skewers in water for 10 to 15 minutes before making the kebabs and putting them on the grill. This keeps them from burning.
Grilled Chili Cilantro Lime Chicken – $1.65 per serving
When we're stuck for dinner plans, marinated chicken usually floats to the top of the list. We almost always have chicken breast available, it doesn't take long to marinate (minimum 30 minutes) and can take on so many great flavors.
Chili cilantro lime chicken is fantastic with rice or served over a salad of fresh greens. The red chili flakes can make it a little spicy for young kids, however, so adjust that part of the recipe to fit your needs.
Balsamic-Marinated Pork Chops with Grilled Peaches – $2.63 per serving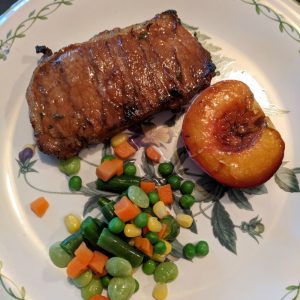 Doubling down on the grilled fruit, we always make this dish a few times during peach season. Balsamic-marinated pork chops is a cheap, healthy meal that still feels like a fancy meal. If you're short for time, the pork chops only need to marinate for an hour. But we like to mix up the marinade in the morning and let the pork pick up the extra flavor all day
This recipe calls for one peach to pair with each pork chop, but if your family is anything like mine, you might want to make a few extra. Especially as topping a grilled peach with a small scoop of vanilla ice cream is a top-notch dessert.
Use Your Grill to Cook at Home Without Busting Your Budget
Grilling in the summer doesn't have to mean burgers and dogs every weekend. By thinking outside the box, you can get flavorful, quick, and delicious meals that you can enjoy as a family without all the dishes or extravagant costs.
What is your favorite grill recipe that goes beyond burgers and hot dogs? Drop a note (and recipe link) in the comments!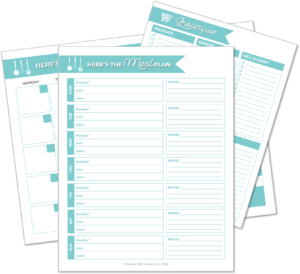 Grab Our Free Meal Planning Sheets!
Weekly & monthly meal planners and a simple grocery list to get a handle on your grocery budget.