How to Have "The Talk" with Your Parents About Aging & Money
Why You've Got to Listen to This Episode...
Remember when your parents had the birds and the bees conversation with you? Well, now it's your turn to sit down with your parents for "the talk". Talking about aging and money with our parents can be scary – but it is so necessary in order to avoid harder situations in the future.
In this episode, I'm talking with Cameron Huddleston, author of Mom and Dad, We Need to Talk: How to Have Essential Conversations With Your Parents About Their Finances. She is going to walk us through how to start these conversations with our parents, why it's so important, how to make the situation a little easier for both us and our siblings, and what to do if your parents just don't want to have this talk with you. This episode is eye-opening and will definitely have you thinking about your parents' future—and your own.
Moments You Don't Want to Miss
What Are Your Family Money Values?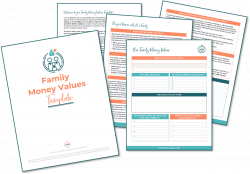 Grab our free Family Money Values Template and create a strong foundation for your family's healthy money habits!
Key Takeaways to Help You Make a Solid Plan For The Future With Your Parents
As always, we've rounded up our top three takeaways to summarize what we learned from Cameron and what you need to know to make a solid plan for the future with your parents.
1 - These Conversations with Your Parents Will Be Harder If You Wait Until There's a Problem
Cameron was lucky that she was able to get important estate planning documents completed with her mom before her memory got worse. But even then, Cameron had to play detective. She had to figure out which accounts her mom had, how the bills were paid, and make sure things didn't fall through the cracks because her mom wasn't always capable of helping her.
We don't know when our parents will need our help. Cameron's dad died at 61 and her mom got sick at 65. The sooner we can start these conversations, the better. Especially because our parents typically have more options if they're addressing the situation before it's a problem. They can consider what they want, get guidance, and make a plan.
Don't put this conversation off because your parents are young and healthy today. Start talking. Share this podcast episode with your siblings and discuss which role you're each willing to play as your parents age. Get on the same page.
When something happens in the future, you won't be dealing with emotional turmoil, lawyers, financial confusion, and family arguments.
2 - Make Sure You Know Where Your Parents Envision Living as They Age
Do they want to stay in their home? Move to an apartment or an over 50 community? Move in with you?
What if they need more help—like long-term nursing care?
Most people hate the idea of "being sent to a home," and who can blame them? But whether your parents would expect you to take time off work to care for them, hire an in-home nurse, or would go to a nursing or assisted living facility—there are real financial costs there.
Discuss with your parents what the different options cost and how they plan to pay for it.
And outside long-term care, encourage them to really consider whether staying in their home as they age is the right choice. Could downsizing give them more money to travel? If you and your siblings have moved away, would they prefer being closer to you? Or could an apartment in a community allow them to meet new friends? Often, people don't realize the burden of maintaining a home until they're out of it. And they may not even recognize that there are other high-quality options.
3 - If Your Parents Are Reluctant to Talk, Don't Give Up
We don't like to think about our parents or in-laws getting older. But they don't like to think about it either. Coming from a generation where talking about money was completely taboo, they may be reluctant to talk to their kids about money at all. They may not want to even consider reaching a point where you have to take care of them. It goes against all our beliefs about what it means to be a parent.
Yet, having the conversation is still important. Don't hound them, but leave the door open. Let your parents know about the scams out there and how to identify them, offer to help with filing their taxes or getting set up with online banking or bill pay. Maybe recommend they connect with a professional—an estate attorney or a financial advisor that specializes in estate or Medicare planning—and offer to go with them.
But if in your efforts you can only find out one thing, ask if they at least have estate planning documents. Namely, who they've chosen as power of attorney, health care proxy, and executor. At least knowing those documents are in order and what everyone's roles are will provide some clarity.
It may take time for your parents to come around. That's okay, you can't force them to talk. But you can be the one who has a little courage to bring it up and let them know you're there for them.
Links & Resources Mentioned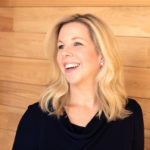 Cameron Huddleston is the author of "Mom and Dad, We Need to Talk: How to Have Essential Conversations With Your Parents About Their Finances." She also is an award-winning journalist with more than 18 years of experience writing about personal finance. Her work has appeared in Kiplinger's Personal Finance, Business Insider, Chicago Tribune, Forbes, MSN, Yahoo and many more print and online publications. Cameron also is a mom of three kids and a caregiver for her mom, who has Alzheimer's disease.
Other Ways to Enjoy This Podcast
Have You Subscribed Yet, Mama?
Are you subscribed to the Smart Money Mamas podcast? If you're not, I want to encourage you to head over to Apple Podcasts (or wherever you listen to your podcasts) and subscribe! I release episodes twice and week and as a subscriber, you'll be notified right away so you can take checking the feed for new content off your mental to-do list. 
Click here to subscribe on Apple Podcasts, Google Podcasts, or Spotify!