If there is one major financial mistake I have made over the years, I'd have to say it's that I have purchased too many cars.
Looking back I just kick myself.
These financial blunders had multiple levels. First, I would purchase the wrong car for my needs. I didn't do enough research or I came across a car that wasn't on my list but I fell in love with it on the lot.
Then, I would overpay. With the exception of my last car purchase, I simply had no idea how to buy a car. Negotiating wasn't even attempted because I didn't know how and I felt like I was being rude.
Lastly, I often traded in my old car for less than its value.
So, so frustrating.
But now I know better.
Here's a full rundown of what I've learned and how you can successfully purchase a used car without getting taken advantage of. You can buy your next care with confidence!
Find the Right Car for Your Needs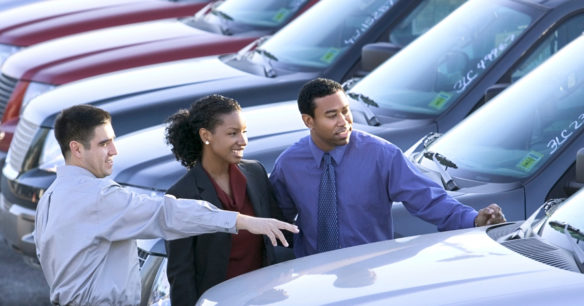 The first step to any car buying process is determining which make and model you want. Your process can start with an internet search for consumer reports and reviews based on what your main needs are.
Some helpful questions to consider include:
How many passengers will you need room for?  
Do you plan to the mom that drives for all the school field trips and can fit 20 kids in the car?  Or do you want a smaller, more fuel efficient 5 passenger car?
How much driving will you be doing?
Is this a commuter car that you will put 20,000+ miles on every year?  Or is this an errand-running car?
Consider gas mileage, desired comfort, maintenance costs and resale value.
How long do you plan on keeping this car?
If you plan on having this car until it's time to pass it down to your 1st grader, you'll be looking for cars that hold up the longest, have high safety ratings and have the lowest maintenance costs.
Alternatively, if you're looking to trade your car for a newer version every 5 years, you'll be looking at cars with the best reviews and resale value.
Are all the bells and whistles important to you?
This can be a difficult question to answer. There's a reason consumers continue to purchase brand new cars, even though they lose thousands of dollars just by driving it off the lot. We want all the latest and greatest features.
Here's how I handle this temptation: I think back 5 years and imagine all the features I wished I had in my used car. I remember when having an auxiliary and USB plugins and integrated hands-free Bluetooth phone connection with a decent microphone would have been an absolute luxury. Today, it would be adaptive cruise control and a smart fuel saving mode.
The thing is, all of these features are now available in used cars!  There will always be something newer and more improved. So what did you dream of having in your car 5 years ago? All those features, and then some, are available to you now in a used car. What would have made you happy then will still make you happy now.
Narrowing Down Your Choices
Start with safety rating, highest resale value, and excellent consumer reports. If everyone else loves a certain type of car, and they have for a long time, you probably will too. Additionally, when you are ready to sell it, people will still want your car.
Then, narrow your choices down to just two or three. With those options in hand, you can dig around on car forums specific to the make, model and year that you are interested in. See what owners are actually saying about their car, what issues seem to be common and at what mileage they tend to occur.
This is really valuable information when it comes to determining whether to buy under warranty or a certified used program.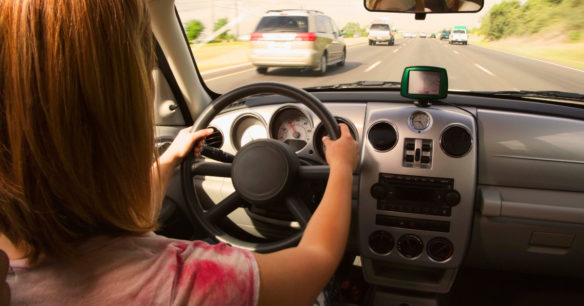 The Test Drive
Once you narrow down your search to two or three options, it's time for the fun part. The test drive! Bring someone with you to discuss ideas, comments, questions and concerns with.
Here's my #1 tip for test driving cars: Go to multiple dealerships and do not, under any circumstances, go into this process ready to make a purchase.
You will not be purchasing your car today!
No matter how insistent or persuasive the sales associate is, no matter how much you fall in love with a car you drive. Be strong!
Go into the test drive with a list of the cars you want to drive and stick to it. You already did your research, you already spent days and hours thinking this through. All you need to do is drive these different options back-to-back so that you narrow down your choices.
Do all your test driving at new or used car dealerships. Only when you narrow down your choice and price range, and are ready to buy a specific car, should you test drive from a private seller. It saves your time and the time of the person trying to sell their car. (And makes it easier to stick to your decision not to buy a car the day you test drive!)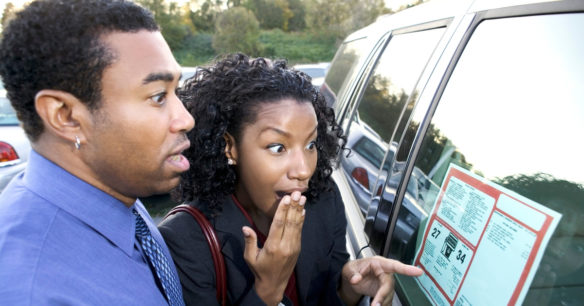 Running the Price Comparison
After driving different cars, and getting to know a few different sales associates and letting them know what you might be interested in, it's time to sit back and make sure you are happy with your decision. Be sure to allow some time for all the hype and excitement to die down.
Remember, it's easy to get caught up in the excitement of this big purchase. You'll see cars you like and you may become convinced that they are offered at a great price. But then there's the pressure and urgency to make that purchase right away for fear that someone else will find out about this great car or that the price will go up.
Reminder: There are always more cars like the one you're considering and every dealer wants to make a sale right away, during the initial period of excitement, because it's when you're most likely to overpay.
Take the time to think about your options and research the right price range you should expect. I use Kelly Blue Book and Edmunds to research the expected value given the condition and mileage that you want. The more you search, the more clear that price range will be.
Next, look on Craigslist for local cars in your area. You'll see a range of cars for sale listed under both dealer and private seller. Private sellers will still be marked up a bit, but not as much as dealer prices. (Dealers leave themselves more room to negotiate.)
If a car you love is listed privately and has already sold, call or email the contact and ask how much it sold for. This gives you a true idea of what people are actually spending in your area.
How to Choose the Right Seller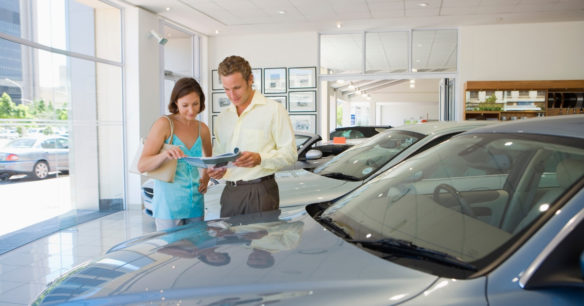 Dealership
Now that you know which car you want and how much you should expect to pay, you are ready to go back to the dealership, this time armed with a set price range and ready to negotiate.
I prefer to start at the dealership, particularly if I'm looking for a car that is only two to four years old. Newer cars still have great maintenance plans and factory warranties that provide some extra peace of mind.
When you visit the dealership, tell them exactly what you want and what price range you expect. They may tell you it isn't possible and offer you more expensive options, but if they do, reach out to other dealerships.
Last time I bought a car, my local dealership could only offer me older or more expensive cars. But calling a dealership 45 minutes north of my home let me find the exact car I wanted at the price I wanted. Be willing to be clear about your needs and face a little inconvenience to avoid overpaying.
Start at the location you liked most during the test driving stage, especially if you actually liked one of the sales associates. Then, if they don't have the price you want, walk away and try another dealership.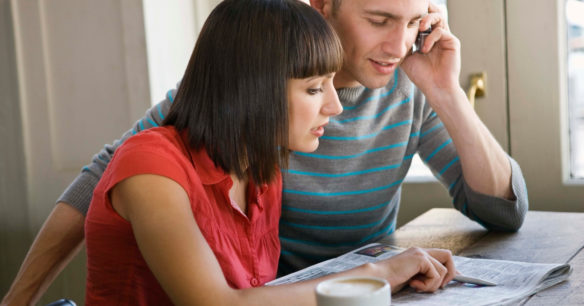 Private Seller
If you are looking for an older car that isn't going to be under warranty or a certified used program, buying privately can be an inexpensive and easy option.
Look for sellers that purchased their car new, have kept meticulous maintenance records, and are willing to provide a full Carfax report before you see the car. These sellers often own their car outright, which makes the paperwork and purchasing process very easy.
When test driving a car from a private seller, bring a friend or family member with you. Not only is it safer, but having two opinions can be helpful. Your copilot might think of additional questions to ask the seller.
If you don't know much about cars and you believe you'll want to move forward with the purchase, you can also arrange with the seller for the car to be inspected quickly by a mechanic you trust. You'll have to pay the cost, but it could give you comfort that you won't land with a lemon.
Before meeting up with the seller, have your payment method straightened out beforehand. This way, the buying process can go as quickly and easily as possible.
Make sure you have your payment method straightened out beforehand, again, you want the buying process to go as quickly and easily as possible.
Getting the Right Price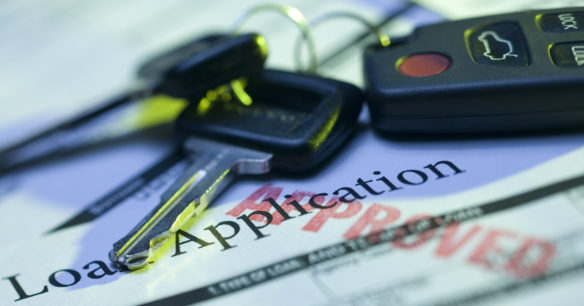 Save money on financing
If you aren't paying cash for your car, know that financing is another place you can and should negotiate. Always request pre-financing from one or two sources before negotiating at the dealership. This way, you know what interest rate to expect based on the market and your credit history.
If the interest rate is higher than expected, be sure to ask why. It could be that there is an error on your credit report that you could have fixed beforehand.
While dealerships almost always offer better interest rates than private lenders, it helps to enter the negotiating process knowing exactly what to expect.
Negotiating
When it comes to negotiating, always remember this:
You are there to give them the sale
There will be someone else selling the same car
You get to walk away at any time
Know your numbers and don't become pressured to change them (you already did the research)
Ask for more than you want and accept the expected (For example, I asked on a whim if the dealership would include a custom $800 bike rack for free, I didn't expect them to say yes, but they actually did)
It's up to the sales associate to make sure you don't walk away, they want to work with you to find a mutually acceptable offer for both parties.
Hopefully, during the test driving stage you came across a sales associate you liked and want to work with. I believe you have a little extra leverage negotiating with someone you already have a rapport with because you are demonstrating loyalty and a desire to give them the sales commission. They will work harder for you out of appreciation that you came back. (If not, I'd find another person to buy from).
Regardless of what the car is listed at, provide an offer on the low end of your expected price range. Feel free to mention that you have done your homework and feel confident that you are asking for a reasonable price.
Then, as you narrow in on an appropriate price for both parties, if purchasing from a dealership, remember that they can offer different perks than a private seller to sweeten the deal. Whether it's a bike rake or weatherproof mats, have something small you can ask for. They might say no, but it's worth asking!
Negotiation Example:
You determine that you want a Honda Pilot with around 20,000 miles that is two years old. After researching local listing and national averages, you expect the price to fall between $24,000 – $27,000. A similar car at your local Honda dealership is advertised for $30,000. When you begin the negotiating process, start by telling your sales associate that you expect to pay around $24,000 and mention that you've reviewed national and local averages.
What to Do With Your Old Car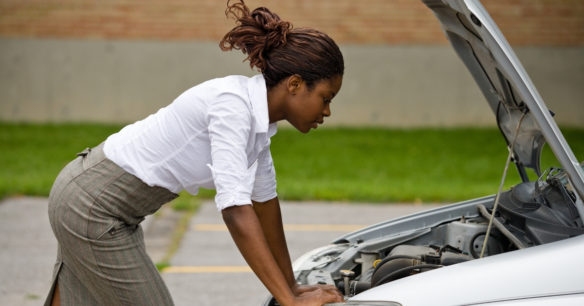 I think it's important to make the connection that the price you get for your old car is related to the overall price you have to pay for your new car. The more you can get, the more you can apply to your next purchase.
Getting a good deal on your new (to you) car begins by selling your old car for the highest price possible. However, selling privately is time-consuming and frustrating.
To save yourself time, find dealerships that will purchase used cars. You get a little more than trade-in value, and less than selling privately, but the process is easy. This works particularly well if you have a car in high demand with a solid resale value.
Choosing to purchase your car at the same dealership where you can sell a used car is powerful negotiating move. To use your existing car as a negotiating tool for your new purchase, begin the process at the dealership with the understanding that you don't want to trade your car in and plan to sell it privately later.
Then, ask your sales associate to provide a trade-in value, just to see how far away it is from what you expect to sell it for. As the negotiating progresses, and the price is still higher than you want to pay (because they won't sell it at the bottom of your researched range) ask if you can accept the offer so long as they give you more for your trade-in.
It's a great way to meet in the middle. You get more value for your used car and they get to sell their car at a price they are comfortable with.
How I Purchased My Last Car
Dealerships in smaller towns tend to have less traffic and can sometimes offer better pricing. So my first move was to drive to a nearby dealership in a smaller town, which started me off with the list price $3,000 lower than comparable cars near my home.
When I arrived at the dealership, I test drove a used car that was similar to what I wanted, but a year newer and out of my price range. After I found I enjoyed the model, I didn't decide to reach outside my price range. Instead, I asked the dealer if they had the car in the year I wanted at another dealership and whether they could transfer it over.
Luckily, they found a perfect car that was already in transit but hadn't yet arrived on their lot. Since it hadn't been through inspection, it hadn't been listed for sale. But I was able to go through all the information they had on the car. It was coming from out of state and was a single-owner car with all factory maintenance current. I also checked the Carfax report, which was clean.
Deciding the car would be a good fit for my needs, I negotiated a price within my price range. Then, I adjusted further by requesting a higher trade-in value for my old car. (I ended up getting a trade-in close for what I could have sold it for privately.)
Finally, I requested to have the custom bike rack included. I didn't expect them to say yes, it was an $800 bike rack, but they did! It helped that I saved the dealer money because they never had to list or advertise the car. They sold it before it even arrived on the lot!
However, I was still purchasing a car sight unseen. So, I included the full warranty and maintenance package, up to 80,000 miles, for additional peace of mind. This is standard on a certified used car, but since the car had not yet completed its certification process, I was allowed to purchase the warranty at the non-certified lower price.
I got the car I wanted, at the perfect price, with the comfort of a warranty. So much better than all my previous car buying experiences!
Save Money & Buy Your Next Car Like a Pro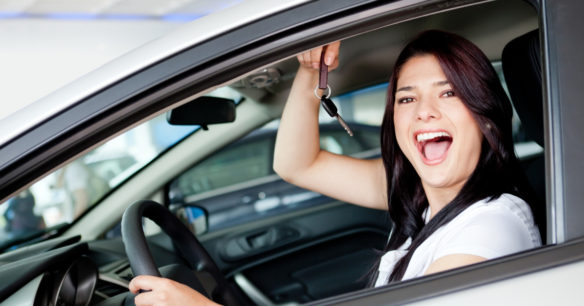 The most important thing to remember when it comes time to buy your new (used) car, is to be prepared. Do your homework ahead of time and know exactly what you want before you go to the dealership, armed with your checkbook. Do not be tempted to start negotiating on the first car you test drive!  Take your time to learn exactly how much you should expect to pay beforehand.
Once you know your numbers, you have negotiating power.
Stay strong and be ready to walk away if your price can't be met. There will be another car that fits your needs, from a dealership that is ready to make that sale.
Lastly, don't feel intimidated to ask for what you want. If your exact price can't be achieved, perhaps there are additional products or features that would make it worthwhile. Ask to include that handy trunk organizer and the all-weather floor mats you wouldn't normally splurge on. The worst that can happen is they say no, and that's okay. Again, you'll find the right car and sale somewhere else. Or, maybe the car you wanted won't sell and you can renegotiate again in a week or two when the dealership is more motivated.
Have fun with the process and stick to what you believe is fair. The dealership won't sell a car at a loss so your job is to negotiate until both parties reach a number that is mutually acceptable. Be strong, you won't hurt anyone's feelings!
We want to hear from you! What experiences – positive or negative – have you had purchasing used cars?