When you look for ways to make money from home, flipping products from around your house, thrift stores, or clearance racks are always on the list. It's something almost anyone can do without much start-up money, especially if you love looking for deals. But how do you actually get started flipping items for profit? I knew we had to bring in an expert on this.
Today, I've invited my good friend Melissa from Flea Market Flipper to share her tips for beginners. Melissa and her husband make a full-time income flipping and have taught many others how to do the same with their fantastic course, Flipper University. Take it away, Melissa!
My husband, Rob, and I spend our time treasure hunting and then finding those treasures a new home where they will be loved and used again. 
This process is known as flipping. You find an undervalued item—usually at a yard sale, flea market, thrift store, local app, etc.—and sell it for a profit in another market. (We mostly use eBay, Facebook Marketplace & OfferUp.)
With an eye for a deal and little practice, you can make a great profit flipping!
How We Became Flippers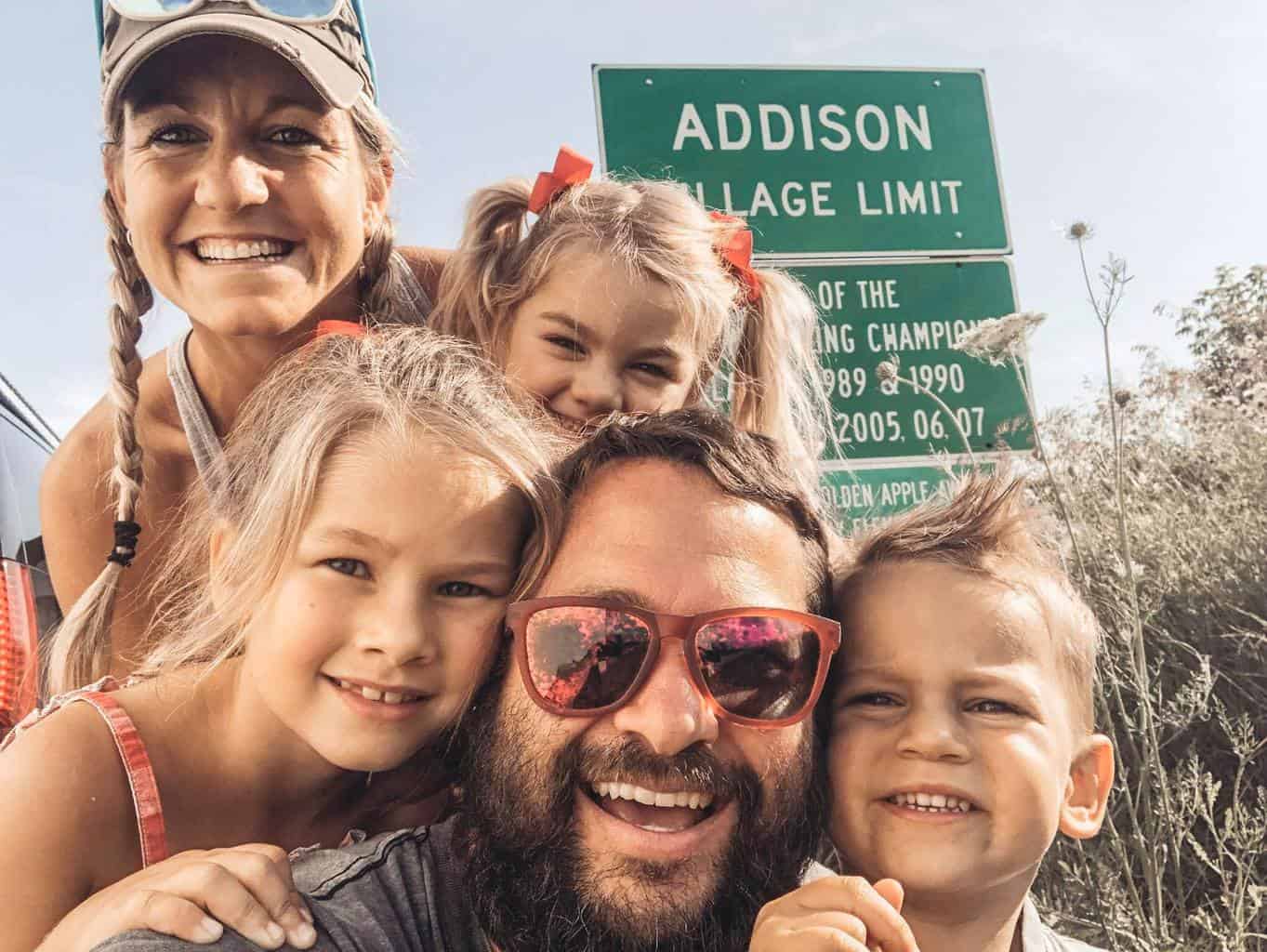 Flipping items on the side is something Rob has been doing ever since I met him 14 years ago. He had always provided our "extra money" for vacations, gifts, & unexpected bills with flipping.
It wasn't until I found myself at home with a newborn and a toddler that I took up an interest in flipping items to make some extra money. At the time, I was a personal trainer at a large gym, and while I loved what I did, they didn't provide paid maternity leave. I planned to take 6 unpaid weeks off before going back and training clients again. But by week 4, we were starting to feel the financial strain of checks not coming in.
So, I decided to start selling some of our stuff on Facebook Marketplace and eBay.
I opened my own eBay account and started taking pictures and listing things. I could even make listings while rocking the baby. (And this baby never let me put her down!) I ended up making an extra couple hundred dollars to help us until I started training again.
And to my surprise, I actually enjoyed it! I always laughed at Rob for his excitement over finding items to sell, but once I got a taste of it, I totally understood. Flipping items is a simple way to make some extra cash – and it's kinda fun too!
Now Rob and I flip items full-time and help others get started making money from flipping.
Here are 5 simple steps to get started flipping items for profit.
1 – Declutter your space
The BEST place to find your first items to flip is your own home.
First off, it allows you to organize your space. A cluttered living space is shown to increase stress, decrease productivity, increase body weight (due to increased stress hormones & other factors), and increase anxiety.
Second, it allows you to start getting experience flipping items without any additional investment. (And when you start on eBay, you want to build that feedback as quickly as possible before you start putting money into purchasing items to flip. It helps attract customers more quickly to your shop.)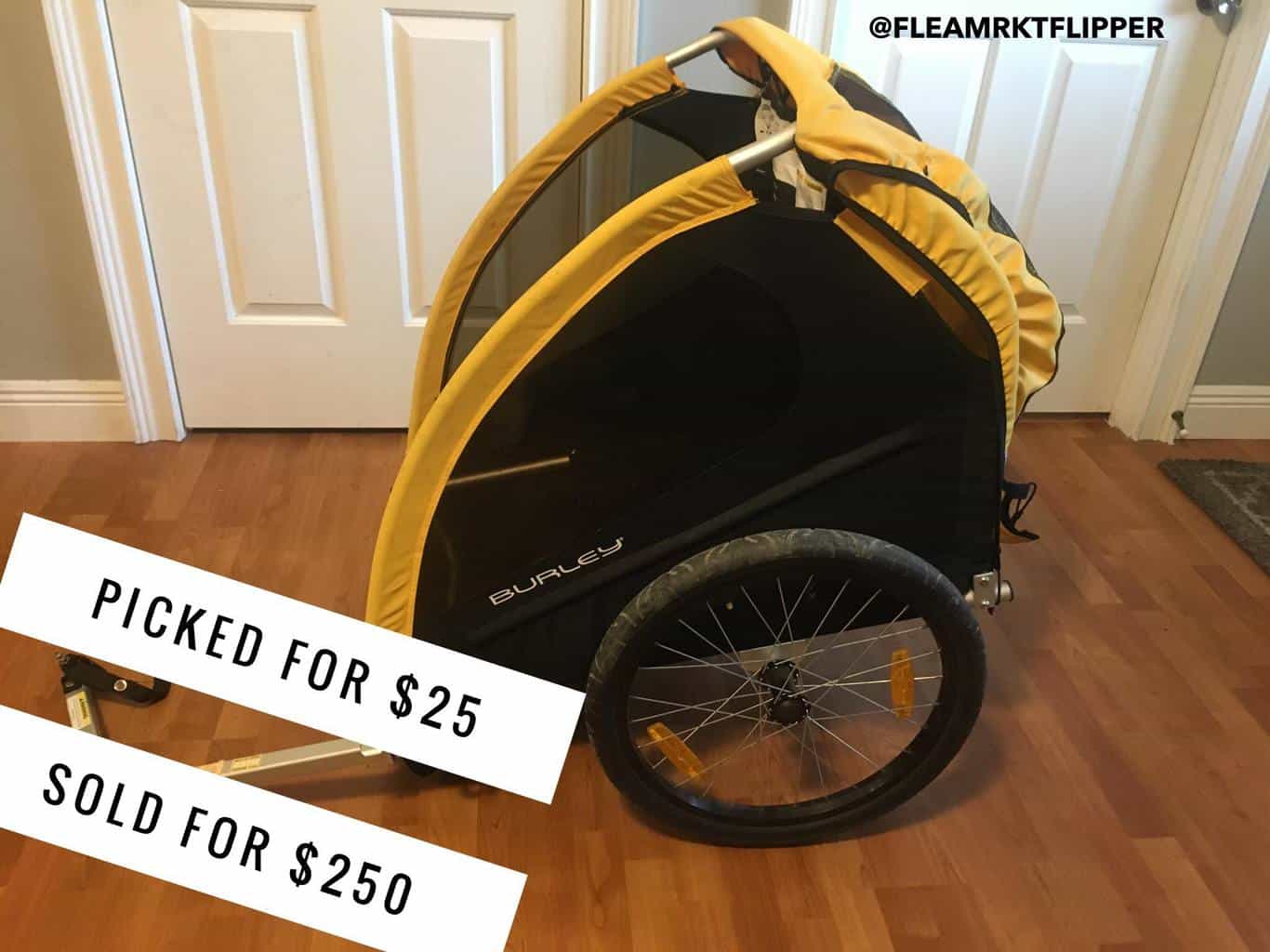 Third, it allows you to make money from 'stuff' that was just sitting around your house not doing anything!
One of the Easiest Ways to Get Started Decluttering Your Space:
Get 4 boxes and label them Yard Sale, Donate, eBay, and Trash.
Pick ONE area to start with (a closet, bedroom, office, garage), and touch everything in that space. You have to put it in one of the boxes or in a place where it belongs. It can't go in another pile to be sorted later.
Throw the trash items away, donate the box you don't think you can sell, and list the items worth $10 or more on eBay, Facebook Marketplace & Offer UP.
Once you've completed the process for one area, including getting rid of the trash and donation items, move on to a new area of your home.
2 – Take Pictures of the Items in Your "Sell" Box
Once you have a box of items to list and sell, you will need to take pictures of them. You don't need a fancy camera, background, or lighting to get started. Don't let the highlight reel of social media make you think you need perfect pictures.
All you need is a smartphone, a clean light-colored background (a plain wall in your house will work), and maybe an extra lamp if you don't have natural light.
You want to take pictures of every side of the item, the branding, labels, and any imperfections the item may have. You can use your phone editor or editing app to brighten the pictures, but make sure you don't alter the color of the item.
3 – List Your Items for Sale
We like to cross-post most of our items, which means they are listed for sale on more than one platform. We typically sell 85% on eBay and 15% on Facebook Marketplace.  You can also sell on OfferUp, LetGo, Poshmark, Mercari and more.
All of these resources to sell your items are simple to download in your app store to get started. You really can do this whole side hustle from your smartphone.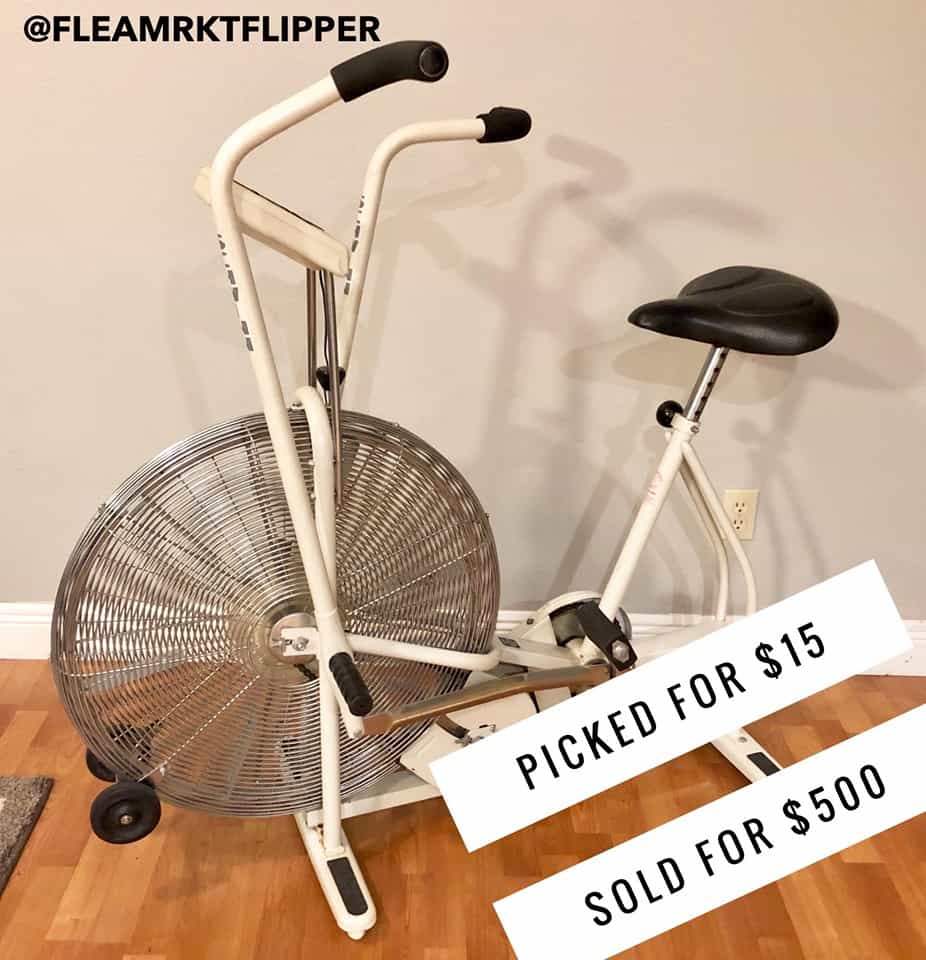 Now, when you're getting ready to list an item for sale, be sure to do at least a few minutes of research. What are similar items listed for? What have similar items sold for recently? (You can sort by "sold" items on eBay, sometimes the list prices are higher than what the product will ultimately sell for.)
Try to list your product at a competitive price, but don't undersell yourself!
4 – Sell Items and Ship Them Out
This is where it gets exciting! That cha-ching of an eBay sale or cash-in-hand from a Facebook Marketplace sale is thrilling and also slightly addicting. Once you start seeing the money come in, it makes you want to keep going!
If you sold the item on eBay, Poshmark or Mercari, you will have to ship it out.
This step makes some people a little nervous, but honestly, it's not as bad as most people think. I even used to be intimidated by shipping stuff out. (And I'm married to the king of shipping!) But once I packed and shipped a few boxes myself, I realized it was not all that scary. I just had to do it.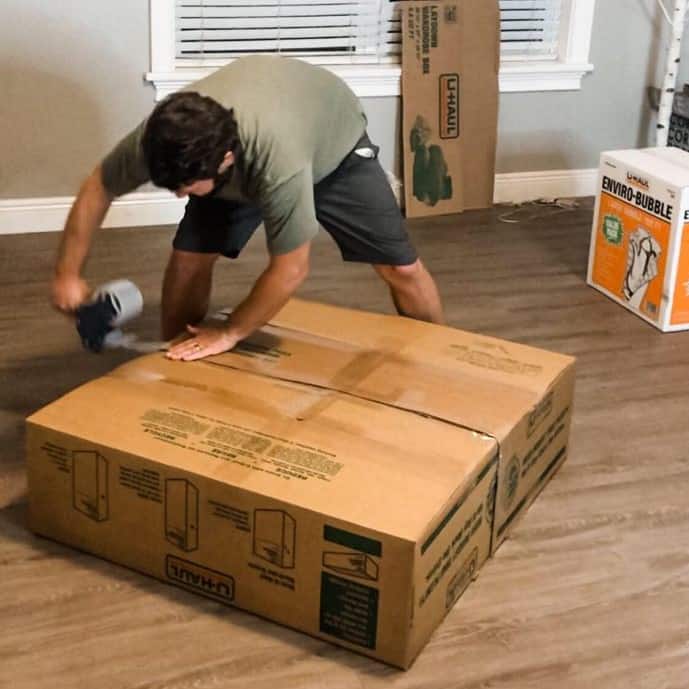 If you are just starting out shipping items, we recommend using the calculated shipping tool within eBay's platform.
You can enter the dimensions and weight of your box when you are listing the item, and eBay will charge the buyer the appropriate amount.
Pro Tip: Make your shipping boxes as small as possible. You can reuse Amazon or other boxes that have been sent to you, but cut along the sides to fold the box down to exactly the size you need. This makes shipping cheaper and means your item is less likely to bounce around in the box.
We now charge a flat rate for shipping and estimate it to the farthest state away from us. We will either charge the flat rate in addition to the cost of the item, or we will build it into the price and list the item with free shipping. (Items with free shipping often do better!)
5 – Repeat
Now it's time to declutter another space or start browsing thrift stores, yard sales, flea markets, or online apps to find more treasures!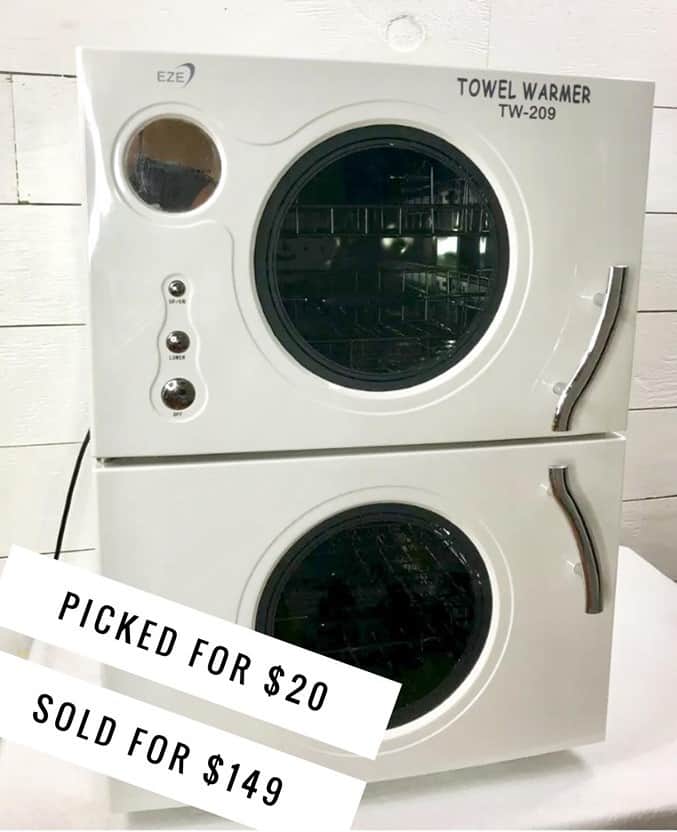 There are SO MANY treasures to be found. You would be amazed what people donate and even throw away. We find $20, $50, and even $100+ in items thrown away on a regular basis.
Just recently we found a Dyson vacuum and a hard golf travel case in someone's trash. We rescued them from the landfill, took some pictures, and posted them on eBay.
In a few weeks, the vacuum sold for $90, and the golf case sold for $70! That's $160 for about 45-minutes of work.
My advice for anyone getting started with this side hustle is to not let the fear of the unknown stop you. It might feel intimidating at first, but like anything, once you get started and gain some hands-on experience, it gets easier to do.
And don't say I didn't warn you about the cha-ching being addictive!
We want to know what you're going to flip first?! What item do you have around the house that isn't being used that you could list for sale?