What is a fiduciary and why does any financial advisor you trust need to be one? Well, most Americans believe that financial advisors are required to have your back.  You seek them out to give you advice on investing, financial planning, insurance, and other money topics you may not know well.  It is fair that you assume they are actually there to help you.  The truth is, the vast majority of these advisors aren't required to put your interests ahead of their own.  Using a financial advisor that isn't a fiduciary is a guaranteed way to pay more fees.  So what makes a fiduciary better and how can you tell if your advisor is one?
What is a Fiduciary?
A fiduciary is a person that is obligated to act in ways that they believe, in good faith, best benefits their clients.  A fiduciary is ethically bound to serve the interest of their clients ahead of their own.
If you have ever sought the advice of a financial advisor, independent broker, or insurance agent you may have assumed that these individuals would naturally look to serve your best interest.  The reality is that only 6.4% of financial advisors in the U.S. are actually fiduciaries.  Their only requirement to you under the law today is that they recommend products and investment vehicles that are "roughly suitable" for your needs.  While these advisors may choose to work in your best interest, they can also recommend the products that most help their bottom line.
For instance, term life insurance is cheaper than whole life insurance and serves the needs of 95% of the population.  So why is whole life recommended to almost everyone who speaks to an insurance salesperson?  Well, a whole life insurance policy is one of the highest commission products on the market.  Whole life pays a 90%-105% commission rate, on a higher value product, versus term which pays the salesperson 30%-70% commission.
What are the fiduciary rules?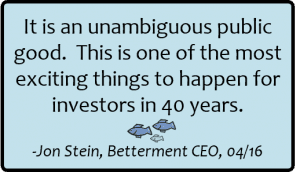 The Labor Department estimates that Americans spend $17 billion a year in exorbitant fees driven by investment professionals that serve their own bottom line instead of their client's. The Fiduciary Rules, released in their final form by the Labor Department in April of 2016, would require all providers of the over 6 million private-sector employee benefit plans to act as fiduciaries for their investors.  This law aims to protect the over 150 million investors in these benefit plans from bad investment advice as well as lowering fees so investors keep more money in their pockets.  The Fiduciary Rule went into effect on June 2017, but with very little actual meaning. The rule is supposed to have full implementation by Jan 1, 2018; but it is currently expected to be delayed at least until 2019, with a push to move implementation until 2020.
This law has been hard fought by many investment professionals who claim its implementation would be complicated and lead to increased lawsuits.  Because of this push back, the current Fiduciary Rule has already had many aspects removed from the original law proposed by the Labor Department in 2010.  However, some low fee advisors, such as Betterment have been supporters of the new law since its announcement.
Why Does Wall Street Want the Labor Department to rescind the law?
The fiduciary rule seems like a no-brainer from an investor perspective.  Everyone wants lower fees and better investment advice, and no one wants to worry about their 401(k) manager robbing them blind.  However, the financial services industry continues to fight the rule because they certainly don't want to see a drop in their profits.  Here is what they are arguing:
The law in its current form would be expensive to implement and maintain.  With an estimated cost for implementation pegged at $5 billion in the first year, and $1.1 billion a year to maintain from then on.

The law would limit investment options for retirement investors, as advisors would have to stop offering higher cost mutual funds even if they could potentially offer higher returns.

The law would increase costs to investment professionals from lawsuits, necessitating an increase in management fees to cover the burden.
Wall Street and the majority of the financial sector believes that the actual benefit of lower fees that will flow through from the law would be offset by reduced options and wants to maintain the status quo. Oh, and there is that thing about liking high fees.
What does all this mean for you?
In the near-term, the delay or removal of the fiduciary rule won't significantly impact you or investment professionals. Things will just continue on as they were and Americans will continue paying absurd fees in their 401(k)s and other employee benefit plans.  The law was only ever for tax-exempt retirement accounts as written anyway, not post-tax investment accounts.  The biggest impact this could have on you is making you aware of the issues around your advisors' lack of fiduciary duty. 
In general, I do not believe the average investor needs a personal financial advisor.  The fees, even when reasonable, eat at your returns.  Unless you have more than $3-$5 million in investments, broad-based, low-cost index and mutual funds will serve your purposes.  Learn about asset allocation and find funds that fit your goals.  If you need to speak to an advisor in connection with purchasing life insurance or estate planning, they will likely ask you about your financial plan as these individuals are often also financial planners.  In these cases, I encourage everyone to ask lots of questions to any investment advisor you encounter, pay close attention to fees, and think about whether you can buy the types of assets they are recommending to you on your own.
Questions to ask any financial advisor or money coach
Do you operate with a fiduciary standard? Some advisors may have made the switch over already, in anticipation of the new rules.  If they are a fiduciary, feel free to ask them how long they have operated that way and why.
What is your fee structure? 

Many advisors who are not fiduciaries create complicated fee structures, where the individual fees look small but you are charged many times in ways that drastically impact your long-term returns.  A good advisor will be able to provide you with a detailed estimate of your total fees in the first year.

What certifications or training do you have?  Some financial advisors are Certified Financial Planners (CFPs) and these individuals went through extensive training, had required on-the-job experience, and had to pass a rigorous exam.  However, there are over 150 designations for investment professionals and some only require basic tests and a high school diploma.  Be sure to understand your advisor's background.
Do you offer actively managed mutual funds?  Actively managed mutual funds usually have high commissions for advisors.  However, these funds can also charge you when you buy or sell, in an amount of 4% or more, as well as charge an annual management fee (in addition to what your advisor charges).  Note, if they offer these funds you should be very wary as there are few situations where those funds are best for you.
Can I see a sample financial plan? Financial planners often offer to develop a written plan for your family with an evaluation of your current financial state, what savings they think you need to generate to meet your goals, and what they think you should be invested in.  If you are thinking of purchasing such a plan, even if you aren't going to sign on as a full-time client with the advisor, ask for a sample.  These plans range in length, complexity, and value so make sure you are going to receive something you can understand and answers the questions you have.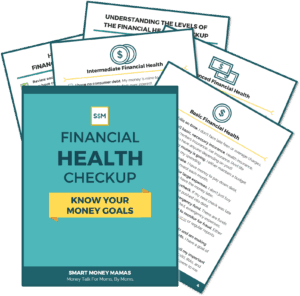 Wondering whether you're doing the right things with money or what you should focus on next? Download our quick financial health checklist and see where you stand!
Do you know how much you pay in fees in your 401(k)?  Have you ever spoken to an investment advisor?  Let us know!