With the holiday season looking so different in 2020, we're receiving a number of questions about special ways to celebrate from home. (We actually talked about it in the November mailbag episode.) So, in this post, I'm sharing my book lover Christmas tradition along with 25 of my favorite holiday books for kids.
I love books and love the holidays. Our house has bookcases in every room and the Christmas tree goes up the day after Thanksgiving. So it's no surprise that my favorite holiday tradition is centered around incredible Christmas books for the kids.
The Christmas Book Basket
Since I was little, my mom has had a tradition. On December 1st, she would put a basket of 25 wrapped Christmas books under our tree. Each night, my brother and I would take turns choosing a book from the basket to unwrap. Then, we'd read it as a family.
It was a cozy family moment each night leading up to the holiday and gave us a chance to read special holiday books that were tucked away with our decorations during the year. My brother and I would try to remember the shapes of our favorites to pick them out and get an extra dose of joy when we found the right one.
Now, as a mom, I've brought this tradition into my own home with my boys. Our basket includes some of the classics, some books I loved from reading with my mom, and new books the boys enjoy.
Collecting 25 Christmas Books
Purchasing 25 new kids books can get expensive. However, there are ways to get more affordable books. Focus your new purchases on books that are special to you and your child. Then consider some of these options to round out your collection.
First off, you probably have some Christmas books already in your home collection. Pull together all holiday and winter-themed books.
Then, check thrift stores for secondhand books. Websites like ThriftBooks and AbeBooks may also have good deals on secondhand books, especially the classics.
Finally, family members would likely love to gift your child books and play a part in your annual tradition. Ask for books not yet in your collection to build your basket.
The 25 Books in Our Christmas Book Basket
Some of the children's books in our Christmas Book Basket rotate year to year while a number of classics and our favorite stay the same. This is a complete list of what is included in our basket in 2020.
You'll probably note that two major classics aren't on the list. Polar Express by Chris Van Allsburg and The Night Before Christmas by Clement Clarke Moore. Don't worry, those great books aren't forgotten! A family tradition from my husband's side of the family is to read those two books together on Christmas Eve.
In years when we can't be together, or there's a global pandemic, we still read those books together on video chat. We take turns reading pages and then all go to bed to wait for Santa. Since this is a special tradition of it's own, we separate those books out of our book basket.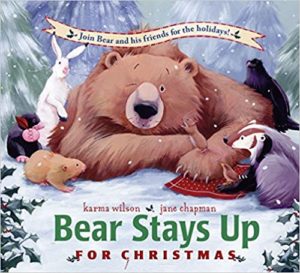 We love this adorable story of a bear's woodland friends trying to help him stay away for Christmas, despite needing to hibernate. Together they get a Christmas tree, decorate, bake cookies, and sing songs.
Through the story bear learns that the joy of Christmas comes from giving and time with friends.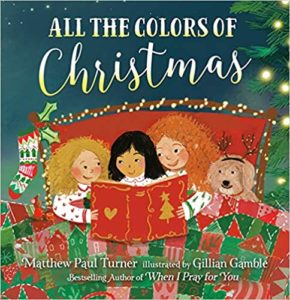 This is a brand new book we added to our book basket this year (it just came out in September 2020!) It has a beautiful, musical story and emphasizes the importance of our loved ones in the celebration of the holiday. You'll see different scenes on every page to emphasize the different colors you see in Christmas scenes and experiences.
I love the diversity represented in this book and the illustrations are amazing. I can't wait to read it to the boys and let them explore the images on each page.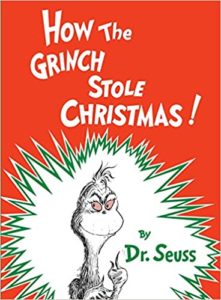 Obviously, we can't have a collection of Christmas books without the Grinch. We all know the story and have watched the different movies come out over the years. But it's always a joy to come back to the original.
While the boys have heard this story every year, in the past it's been a little too long and over their heads. But after decorating our tree this year, we watched the most recent Grinch movie together and they absolutely loved it. I'm looking forward to re-introducing them to the book when they open it this year!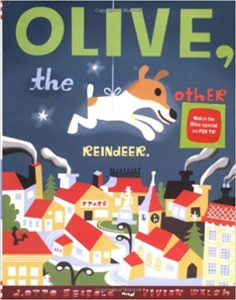 I love this book and wish it was more well known. My mom bought it for our book basket when it first came out and I found the adorable play on words so fun.
In this story, Olive – a dog – hears a Rudolf the Red Nose Reindeer but when the song says "all of the other reindeer" he hears "Olive the other reindeer" and thinks he must be wrong about being a dog. He must be a reindeer! He takes the polar express to the North Pole and joins Santa's team. This is a zany and heartwarming story.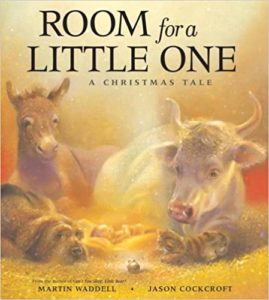 Our family isn't particularly religious so our book basket doesn't include a lot of stories of Jesus' birth. Instead, we focus more on stories that emphasize the Christmas values of giving and family. But Room for a Little One is one of our exceptions.
This is a beautifully illustrated, sweet story of a kind ox making room for any animals who need a safe space on a cold night. The animals cuddle together and ultimately make a warm, safe space for baby Jesus.
Stick Man by Julia Donaldson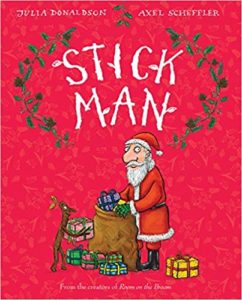 I am an absolute sucker for any book by Julia Donaldson. I love the rhythmic, rhyming narratives she writes in – it always gets the kids interested in involved in the story – and the lessons she teaches in her books. Plus, the illustrations by Axel Scheffler are so fun!
Stick Man is Donaldson's Christmas story, Stick Man is carried off far from home by a naughty dog. Things keep getting worse and Stick Man just wants to be home with his family for the holidays. Then, he runs into Santa, who needs a help from the Stick Man!
If you're curious for a taste of Donaldson's writing style and humor, Stick Man lives in the Family Tree. That gives me a chuckle every time.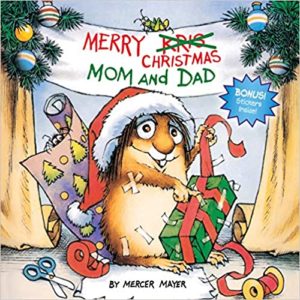 My kids have always loved the Little Critter books, with my younger son particularly enjoying how what Little Critter plans to do always not going quite as he expects. This book has the same theme, with Little Critter wanting to be a great helper for Christmas but running into little kid problems along the way.
The tape is too sticky, he gets tangled in the Christmas lights, and more! It's a sweet story and gives us the opportunity to remind the kids that we love when they do their best and try to be big helpers, even if they can't do exactly what they meant to.
Plus, the kids love finding the grasshopper and spider on every page.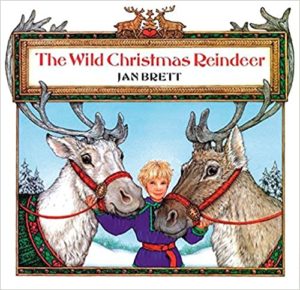 Jan Brett is one of the top children's authors out there. Most families own at least one Brett book, and this is only the first of two Brett books in our Christmas Book Basket.
The Wild Christmas Reindeer tells the story of a child helping to prepare reindeer for the important flight with Santa. They try to keep a stern hand with the reindeer, thinking bossing them around will get the animals ready for their big responsibility. But the reindeer have other thoughts.
Her illustrations are, as always, gorgeous. My kids enjoy any book where we can stop on a page and play I Spy, which makes Brett's books extra popular with them.
Note: I do have a slight issue with this book, but we keep it for the illustrations. The main character is a girl who needs to learn to be less bossy to get the reindeer to cooperate. In our culture, stories that identify girls as "bossy" and frame those behaviors as negative are problematic. However, we use it as an opportunity to talk about effective leadership, regardless of gender.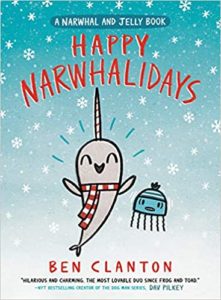 My boys absolutely adore the Narwhal and Jelly graphic novel series. Not only are narwals a favorite animal, but Narwhal's endless optimism and devoted friendship in the stories are so endearing.
When Happy Narwhalidays came out this year (September 2020) I knew I had to add it to our Christmas Book Basket. I can't wait for them to open this new book and enjoy three new holiday stories.
This isn't holiday related, but I also want to note that I love graphic novels for early readers. My 4-year-old loves to tell stories and is starting to read. He loves to sit with a book on his own and a graphic novel lets him look at the images and create a story that goes with the pictures even when he can't quite read the words.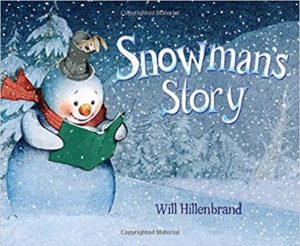 This is a wordless picture book that allows kids to come up with their own story based on the illustrations. We love wordless books as they give the boys an opportunity to participate more in story time with us. Plus, they get to practice their storytelling.
The adorable characters tell a vibrant story on their own and you'll enjoy seeing what your children come up with to develop the narrative!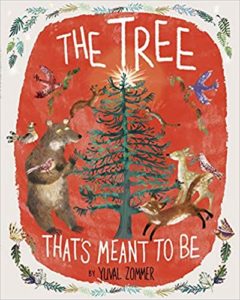 We added The Tree That's Meant to Be to our collection in 2019 when it was first released and fell in love with the story. It has a lyrical, cute rhythm to the story about a tree who's a little different from the rest. The tree just wants to be taken home for Christmas by a family, but is left behind as other straighter, taller trees are chosen.
As the tree is sad to be left behind, its woodland friends surround it to celebrate together. Not only is this story enjoyable to read with beautiful pictures, it emphasizes the importance of celebrating our differences and supporting our friends.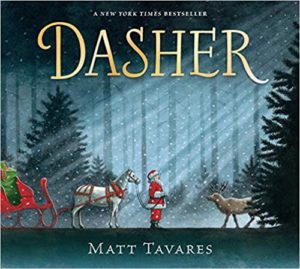 This is such a sweet story about how Santa got his reindeer and how they started pulling his sleigh.
It features a family of reindeer that want to escape the traveling circus they're part of. One night, Dasher escapes and heads north in search of snow and a cooler, happier place to live. On the way, she meets a man in a red suit with a horse-drawn sleigh. But when his horses can no longer pull the sleigh, a Christmas wish changes everything for Dasher and her family.
The boys love to read this one on repeat!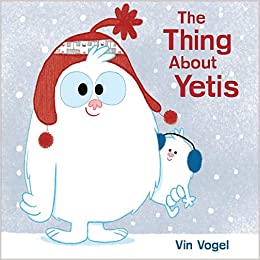 A simple, cute story about all the things yetis love. But they have a secret. Even though they love winter and all the things it brings, sometimes they get cold too.
The yeti shares how it brings parts of summer into its life when winter gets long, cold, and lonely.
This book is particularly fun on days when we're all tired of being cooped up inside!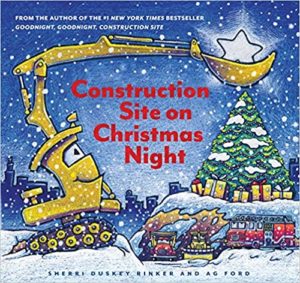 Goodnight, Goodnight Construction Site is one of our family's favorite bedtime stories. So when we saw that the author had released a Christmas book we just had to get it. It's an instant classic!
All the trucks are working hard to build a special home before Christmas day. Their project turns out to be a new home for the fire engines and all the trucks get gifts of new parts.
Just like the original, this story has wonderful rhymes and highlights many different trucks. The boys love calling them out and what the work those trucks do.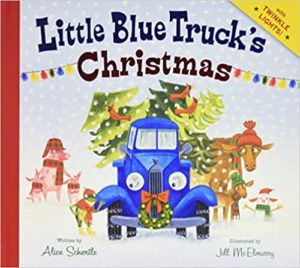 Similar to Goodnight, Goodnight Construction Site, Little Blue Truck is a favorite in our house. This Christmas edition of the series features Little Blue delivering Christmas trees to his animal friends before the holiday.
We enjoy that this story includes counting and numbers, in addition to the Christmas story, so the kids can get involved counting down the trees as Little Blue collects them and makes the deliveries.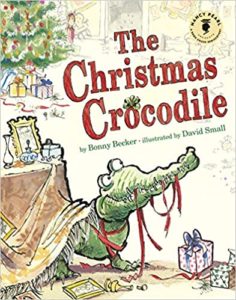 What could be better for family story time than some giggles? The Christmas Crocodile is a story of a girl who finds a crocodile under her tree on Christmas Eve. It gets into all kinds of antics, eating the holiday dinner, decorations, and even the tree!
The whole family tries to decide what to do with the crocodile and protect their Christmas in the process. The humor will likely go over the heads of young kids, and it is a little dark (an aunt wants to send the crocodile to an orphanage). For now, my boys mostly laugh at the crocodile doing naughty things. But we expect them to appreciate more of the humor as they get older!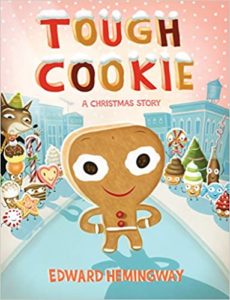 This story starts out similar to the gingerbread man, with a sugar cookie escaping fresh from the oven and running away. But when this Tough Cookie runs into a fox, he discovers he's not so tasty after all. The fox doesn't even want to eat him!
Cookie is disappointed about not being tasty (what kind of cookie isn't delicious!) but he makes friends with the fox, comes to terms with who he is, and finds his purpose in Christmastown.
It's a cute story with a wonderful moral about friendship and finding where you fit in as you are.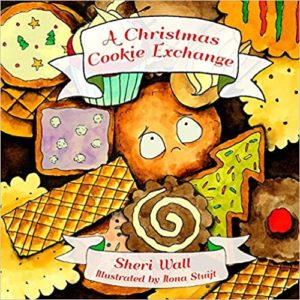 Our whole family enjoys this sweet story about a Christmas cookie that feels shy because it's not as well decorated and fancy as the other cookies at the Christmas cookie swap! The cookie has a hidden sweet filling, but it's worried no one will think it's as good as the other cookies.
Like many stories in our book basket, it has excellent morals about kindness, caring, and friendship that celebrates our differences.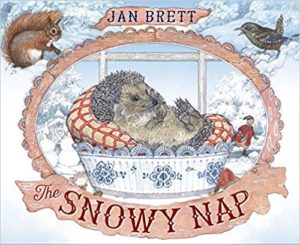 The Snowy Nap is the second Jan Brett book in our basket! Hedgie the hedgehog is told by all his farm yard friends about what he'll miss out on in the winter if he hibernates. He wants to experience all the joy with his friends, and tries his best to stay awake!
It's a cozy story with Brett's classic, gorgeous drawings. Each page includes little foreshadowing drawings where we can ask the kids what they think will happen next.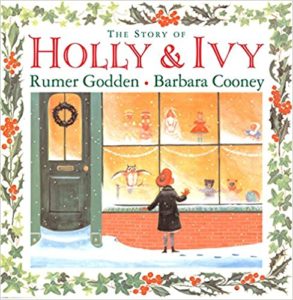 This is a heartwarming story of an orphan girl who wants a family, a doll who wants a child, and a couple who want a son or daughter – and how all three wishes can come true. Ivy is a confident young child who goes off in search of the life she wants before Christmas comes.
Holly & Ivy is a story that everyone in the family, no matter their age, can be engaged by and enjoy.
Fair warning that it can be a bit of a tear jerker!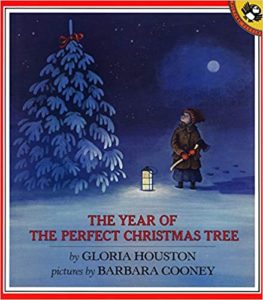 The Year of the Perfect Christmas Tree is a classic Appalachian story that I had in my Christmas book basket growing up. I've found myself appreciating the story more and more as I get older.
A great story about family and the magic of the holiday season.
For young kids, it can be a bit wordy. If your kids still have short attention spans, I might break it up into a few reading sessions or set it aside to add to your collection when they are a little older.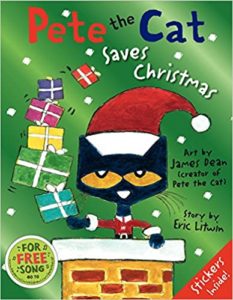 The blue cat puts a new spin on The Night Before Christmas tale. Pete takes over when Santa is too sick to deliver the presents and gives his all to make sure Christmas happens on schedule!
As always, Pete has a positive attitude throughout the book and there is a song that goes along with the story.
If your kids love Pete the Cat, this is a great one to add to your collection!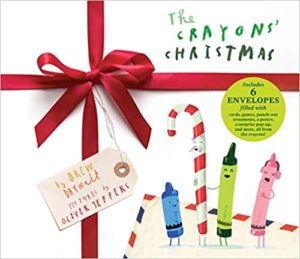 This story is so interactive, creative and funny! It actually includes letters to the crayons that you can open and read, a pop up Christmas tree, and other activities.
The crayons continue their stories from the previous books in the series, which makes the little jokes even funnier for those who already love The Day the Crayons Quit and The Day the Crayons Came Home.
While the holiday season might be the perfect time to write letters to Santa and create a list of the things you want, in this story the crayons find joy in giving to others.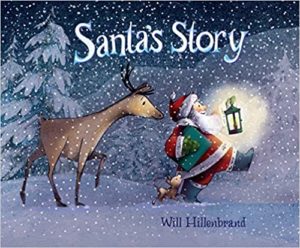 Santa's ready to go on Christmas Eve, but where are his reindeer?
Santa's Story is a tale about the importance of traditions with the ones you love. It's time to go, but the reindeer are all off doing their own thing and aren't ready to come to work. But then Santa remembers their annual tradition. He needs to read a story with all his reindeer before taking off!
It's not the best story in our Christmas Book Basket – it's a little choppy – but the illustrations are great and my boys love seeing what all the reindeer are doing.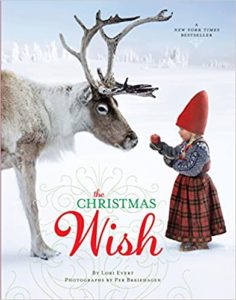 This story by Lori Evert is an absolute Christmas classic embodying the spirit of the holiday. It features a brave and dedicated little girl who wants to be one of Santa's elves. So, she sets off on her own to make her way to Santa.
Along the way, Anja is kind and brave. The scenes and illustrations are absolutely gorgeous as Anja heads north. You'll see the Northern Lights, snowy landscapes, and an adorable little girl.
It's one of our favorite books and I'm excited each year when we open it!
Celebrate Christmas With Family Story Time
There is nothing that feels more like Christmas to me than being curled up on the couch with my family, fire blazing in the wood stove and tree lit up, reading a holiday book. It's time when I am completely present with my loved ones.
Create your own Christmas basket and get in the spirit of the holiday by reading together!
What is your favorite Christmas book? Do you have holiday reading traditions with your family? Share in the comments!