How to Build Wealth on One Low Income
Why You've Got to Listen to This Episode...
In today's episode, I'm talking with Caroline Vencil, who is an expert on living a full life on a tight budget. (Like as a family of six!) We're talking about why extreme saving can be a severe hang up, the creative ways Caroline helped her family stick to the budget, and how being intentional makes spending money more fulfilling.
Moments You Don't Want to Miss
Ready to Set Meaningful Money Goals?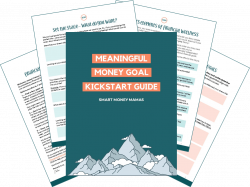 Grab our free Meaningful Money Goal Kickstart Guide and start setting goals you'll love and achieve!
Key Takeaways to Help You Build Wealth on a Low Income
As always, we've rounded up our top three takeaways to summarize what we believe are the core points to remember from Caroline.
1-Talk to Your Kids About Money & How You Purchase Things
Caroline grew up believing her parents were rich and that they had all the money they'd ever need. She wasn't aware of how her parents got the things they had because they didn't talk about money.
Some parents get irritated, saying their kids just think, "Money grows on trees." But if we don't explain to them how we get money, what debt means, and how we purchase things—how are they supposed to know that money doesn't effectively grow on trees?
Kids won't innately understand that you have to save, plan, and work for what you have. These conversations are crucially important, and the more you have them, the more comfortable they will become. And the more your kids will be prepared when it's time for them to budget and handle their own money.
2 - Don't Be Afraid to Negotiate Your Bills—The Worst They Can Do Is Say, "No"
Caroline learned how to negotiate her bills when she didn't have another choice. And a lot of families, especially in 2020 with COVID, are in that space right now.
If you need help paying your bills, or simply want to make sure you're getting the best price, call companies you pay for services and kindly ask what they can do to lower your bill.
As Caroline mentioned, negotiating can usually be done if you do it in a kind and appreciative way. Companies won't blacklist you or deny you services. No one will yell at you or belittle you. (If they do, just hang up and maybe find a new provider.) Really, the worst a company can do is say, "no."
And if you emphasize your history with the company, your appreciation of their product, and your desire to stay with them, you'll usually get some kind of break.
3 - Take Time to Revisit Your Money Story to Create Positive Change
Caroline and I both shared some of our own money story struggles today. And while we've come a long way, there is still work to do. And there always will be.
You can't just do money mindset work once and never come back to it.
Whether you're a spender who needs reminding that you can do amazing things when you budget, or you're a saver who forgets that saving up for something means that you have permission to spend that money and enjoy it, we're all a work in progress.
Pay attention to your money beliefs. Celebrate wins and aim to be a little bit better than yesterday. While those negative stories will continue to come up in certain moments, you'll find that your positive stories get stronger. And that you can identify and let go of what's holding you back more quickly the more you practice.
Links & Resources Mentioned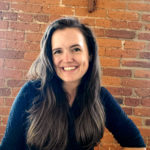 Caroline is a money-saving expert, especially when it comes to her family of 6 living on one low income. She is a master of living on a tight budget and still having a full life. Her passion is to teach other women how to make their money work for them and to take charge of their own financial lives.
Other Ways to Enjoy This Podcast
Have You Subscribed Yet, Mama?
Are you subscribed to the Smart Money Mamas podcast? If you're not, I want to encourage you to head over to Apple Podcasts (or wherever you listen to your podcasts) and subscribe! I release episodes twice and week and as a subscriber, you'll be notified right away so you can take checking the feed for new content off your mental to-do list. 
Click here to subscribe on Apple Podcasts, Google Podcasts, or Spotify!
Thanks to Our Episode Sponsor!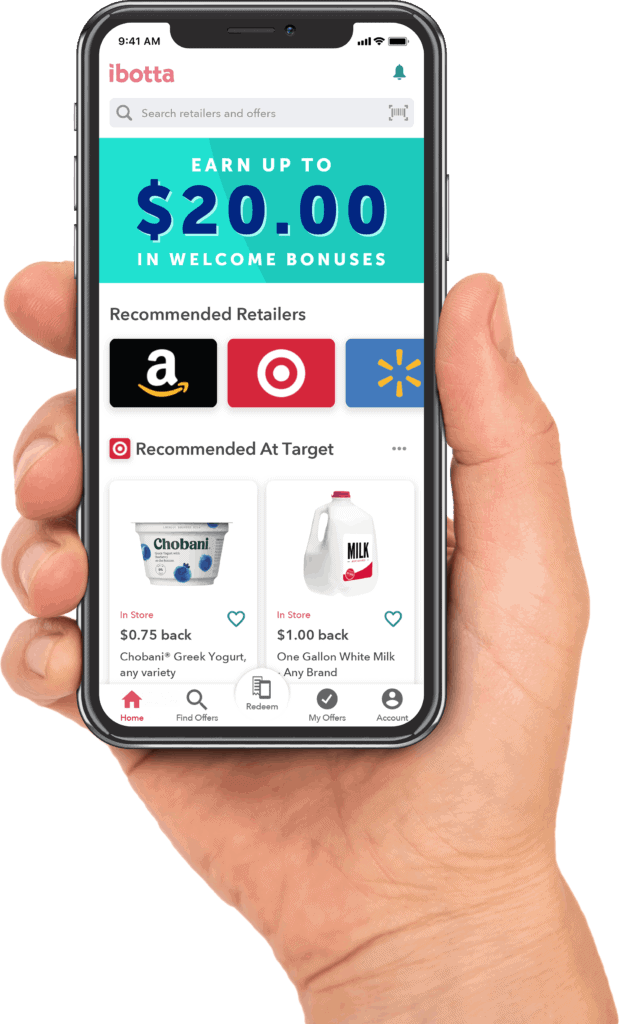 Whether you're building an emergency fund, paying off debt, or saving for that special vacation, every little bit counts, which is why I love to use Ibotta – a free cash back app that lets you easily earn actual cash rewards – not points or mysterious codes – on almost all of the things you buy – groceries, household items, school and office supplies, furniture, restaurants, clothes, diapers and more!
Download the Ibotta app or add the Chrome extension to your browser. And don't forget to the code MAMA2020 when you create your free account, because Ibotta is offering Smart Money Mamas listeners a $20 cash welcome bonus to supercharge your savings!
Don't leave money on the table, mama! Start using Ibotta today.