The History of Racial Bias in the U.S. & How to Do Better Anti-Racism Work
Why You've Got to Listen to This Episode...
In today's episode, we're talking to Meaghan Siekman, a PhD in public history and a genealogist at the New England Historical Genealogical Society, about the history of racial bias in the U.S. and her experience, as a white woman, coming to terms with the realities of slavery and colonialism through her everyday work.
Yes, it's weird to have a conversation about race between two white women. Neither Meaghan or I have ever experienced racism. We come at this conversation from a place of immense privilege. And we will, absolutely, talk to Black women on the racial situations in this country over the coming weeks. But in the practice of allyship, we did not want to put additional pressure on Black women and men to educate us on what we need to know and what we should do next.
Meaghan truly has a powerful perspective—particularly for white women who are just starting their anti-racism work—on what it looks like to really address our history of racism in the U.S. on a regular basis in her work.
We'll cover some events in history that have led us to where we are today, where to start if you're brand new to anti-racism work, as well as Meaghan's best advice and resources for those who are wanting to learn more about their own bias.
Moments You Don't Want to Miss
Key Takeaways For You To Take Into Your Own Anti-Racism Work
As always, we've rounded up our top three takeaways to summarize what we believe are the core points to remember from Meaghan.
1 - Stop, Listen, and Reflect
Acknowledging your privilege means acknowledging that you don't know everything. That you can't possibly know what it's like to live someone else's life. I'd actually say that's part of being an empathetic human, but it's more crucial for those in a place of privilege because they are the ones so often talking over others.
No matter who you are, as Meaghan puts it, the only way to start to expand your perspective is to shut your mouth and truly listen.
Approach conversations with others with a compassionate heart. When you hear something that feels foreign to you or even that your mind wants to reject, sit with it for a while. Reflect. Develop empathy and understanding. Honor other people's truth.
You, and your communities, will be better for it.
2 - Practice Checking Your Internal Bias and Really Question It
We all have internal biases. As Meaghan says, they are programmed into us by systems that were built with bias, even if we weren't raised by overtly racist parents or teachers.
No matter who you are, you will have thoughts and reactions to situations that you know are wrong. Don't deny that you do. Don't push them away. Start learning how to check them.
Ask yourself, "Why do I feel this way?"
"Am I really unsafe? Is what I'm thinking actually true or am I having a reaction?"
"How should I actually proceed in alignment with reality and my values at this moment?"
This requires taking a momentary pause, and addressing those thoughts in the moment takes practice.
We will have times where we screw up, when our biases will play out before we catch them. In those moments, reflection and taking the time to learn what we could have done differently and course correct is even more important.
Acknowledging our bias and doing the work to overcome it is the only way things can change.
3 - This is Your Opportunity to Show How You Show up Against Injustice
Meaghan is absolutely right when she said "If you are a person who says they would have been an abolitionist, that you would have participated in the underground railroad, would have marched during the Civil Rights Movement, then you better be speaking up and doing something now."
Because now is the time to prove it.
Things do feel different right now. The movement feels bigger and louder, like we're making more impact.
We are living in a moment in history, and if we want to create real change—a better, more equal country for all and for future generations—we all have to stand together for justice.
When you tell the story of this time to your grandkids, what will you say? What will you have done?
It's time to get out there and do the hard work. Black Lives Matter.
Links & Resources Mentioned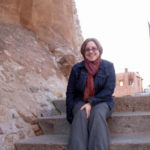 Meaghan Siekman is a genealogist at the New England Historic Genealogical Society (NEHGS) where she writes family histories as a member of the publications team.
In partnership with the Georgetown Memory Project, she most recently conducted oral histories with descendants of the over 272 slaves sold by Georgetown University in 1838 as part of a larger project to create a database of information, records, family trees, and interviews of the GU272 and their descendants. She is co-author to a weekly column on African American genealogy with Dr. Henry Louis Gates, Jr. which traced families all over the country from recent personal tragedies and back in time to the Jim Crow South, Reconstruction, and before the end of slavery. She is author to guides for African American genealogical research published through NEHGS and frequently lectures and gives webinars on locating ancestors of African descent before and after emancipation.
Meaghan's other research areas include American Indian history and genealogy, German American genealogy, westward migration and settlement in the American West, and tracing maternal lines.
Other Ways to Enjoy This Podcast
Have You Subscribed Yet, Mama?
Are you subscribed to the Smart Money Mamas podcast? If you're not, I want to encourage you to head over to Apple Podcasts (or wherever you listen to your podcasts) and subscribe! I release episodes twice and week and as a subscriber, you'll be notified right away so you can take checking the feed for new content off your mental to-do list. 
Click here to subscribe on Apple Podcasts, Google Podcasts, or Spotify!