How many times have you started a planner at the beginning of the year and then stopped filling it out a month later? I definitely have! I realized that I've stopped using planners because they weren't working for me. I've found that there are different kinds of planners for almost anything! I had to choose the one that fit me and my goals best.
Things to Consider When Choosing a Planner
Choosing a planner is very personal. The wonderful thing is that there are so types of planners out there so you can find the one that will work the best for you!
When picking out your planner, keep these things in mind: size, use (how do you want to use your planner? Are you looking for a simple overview each month or a detailed daily spread with room for notes and lists?), and layout (do you prefer a vertical or horizontal layout?). There's no wrong answer! So, without further ado, we present 8 planners to change your life!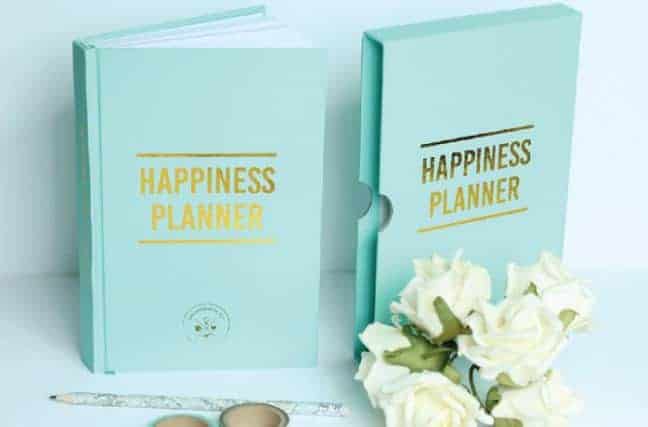 Let's be honest: who isn't looking for more happiness in their life? The Happiness Planner is a planner designed to help you welcome more positivity and joy into your life with affirmations, mindfulness, and gratitude. This planner also is a place for you to plan out and manage your to-do list and schedules.
You'll be encouraged to plan your life around things that truly matter to you, end each day with an attitude of gratitude, cut out the things that hold you back, spend your money and time on the things that make you really happy, and more!
Using the Happiness Planner
The Happiness Planner opens with a section called The Happiness Roadmap. The Happiness Roadmap is designed to help you to better understand yourself. Not into free-form journaling (without a prompt)? No worries! The Happiness Roadmap has simple questions that allow you to set goals that fulfill you.
This planner comes with pages of quotes and space for reflections, and intention setting, And yes, even space for your daily to-do lists, schedule, exercise, and meal plans. One of the coolest things about The Happiness Planner is that it has a section for end-of-year reflections, which is crucial for goal setting for the next year!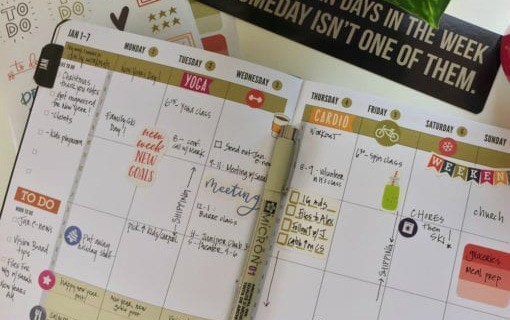 Do you love 30-day challenges? Is one of your resolutions to get back on track with your healthy habits? The Commit30 planner may be for you! Focused on 30-day goals and weekly focus items, it is designed to fulfill your dreams and goals.
The Commit30 planner comes with space for a yearly vision board, organized into 12 different categories such as physical health, personal growth, home, career, and fun. See the big picture and your priorities with a large section for monthly planning, complete with ample space for writing dates for events and appointments.
But you can also get down to the nitty-gritty with 52 weekly spreads that are perfect for tracking your to-do list and schedule. Commit30 believes that small steps equal big results!
The planner is made of high-quality paper (no ink bleed through) and is completely customizable to your goals, passions, and dreams.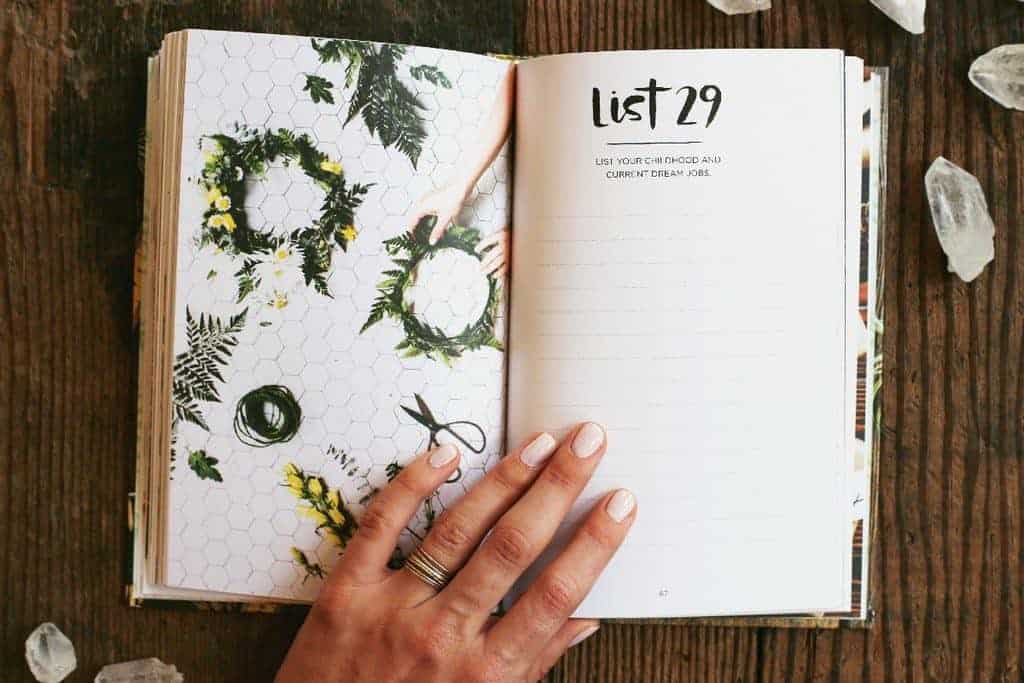 The 52 Lists Project contains weekly lists that help encourage self-expression and development. It's focused on building a better you.
While this journal doesn't have space for to-do lists and appointments, 52 Lists Project journal will definitely help you reflect on your wants, needs, and goals!
52 Lists by Season
Each of the for sections includes weekly list prompts with plenty of space to write. Some prompt examples include "list the things you would change in your life right now if you could", "list the words that warm your spirit", and "list the ways you can cleanse your life for spring". Each prompt is timed perfectly with the seasons, so you won't get a prompt asking about winter when it's July (unless you skip around).
Challenge yourself this year with a new prompt each week with the 52 Lists Project. It's perfect for those of you who don't want the expectation of having to fill out a journal every day or are more focused on self-improvement than scheduling. You can definitely make this journal your own and create a great book to look back on over the years!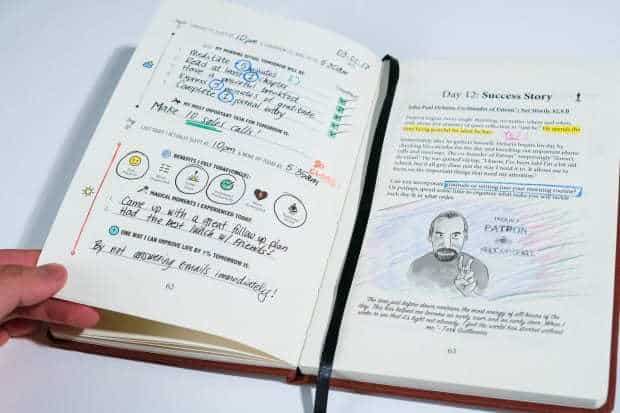 The Morning Sidekick journal is perfect for those that are morning people or wish they were morning people. For many, the morning can be the most productive time of the day! If you're looking to develop a structure morning routine, check out this journal!
In the Morning Sidekick Journal, write out the few specific actions you want to take in the morning. This works because when you wake up you don't have to think about your to-do list!
Why Makes The Morning Sidekick Journal Different?
The unique part about the Morning Sidekick Journal is that it is broken into 3 phases to help you get the ball rolling and keep up momentum.
Days 1-7 are "Hell Week", days 8-22 are "Staying Consistent", and days 22-66 are "Rewiring Your Brain." Each section gives you tips and advice to keep going and stick to your morning routine. This journal only has 66 days' worth of content, so it's not a yearly planner. But at the end of the 66-days, you'll have built new habits and improved your productivity.
Each day there is space to track your sleep and wake up time, ways you can improve your day tomorrow, identify your distractions, focus on your most important task of the day, and plan tomorrow's morning routine. There are also daily success stories, tips, habits, and challenges that you can apply to improve your mornings.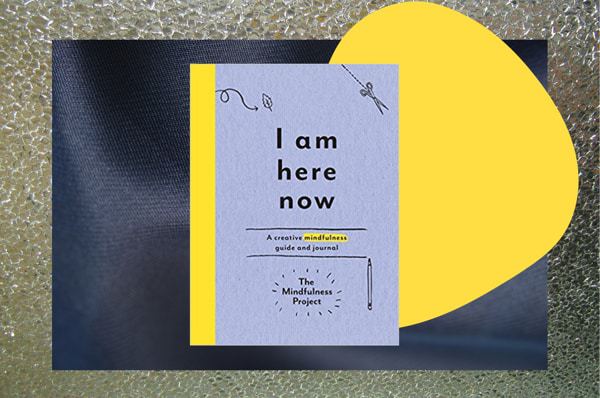 Mindfulness is a total buzzword lately, but what the heck is it?
Mindfulness is the simple practice of paying attention to what's happening in here and now. It's being present. And developing this important practice can keep you from getting lost in thoughts, which often generate more stress and reduces productivity!
This journal is full of creative activities that encourage you to find moments of quiet in your everyday life. With more than 80 activities to foster creativity and self-reflection, plus sections for journaling about your meditation practice (or lack of), I Am Here Now is the ultimate mindfulness journal.
If one of your New Year's resolutions is to reduce stress and be more focused, this journal is for you.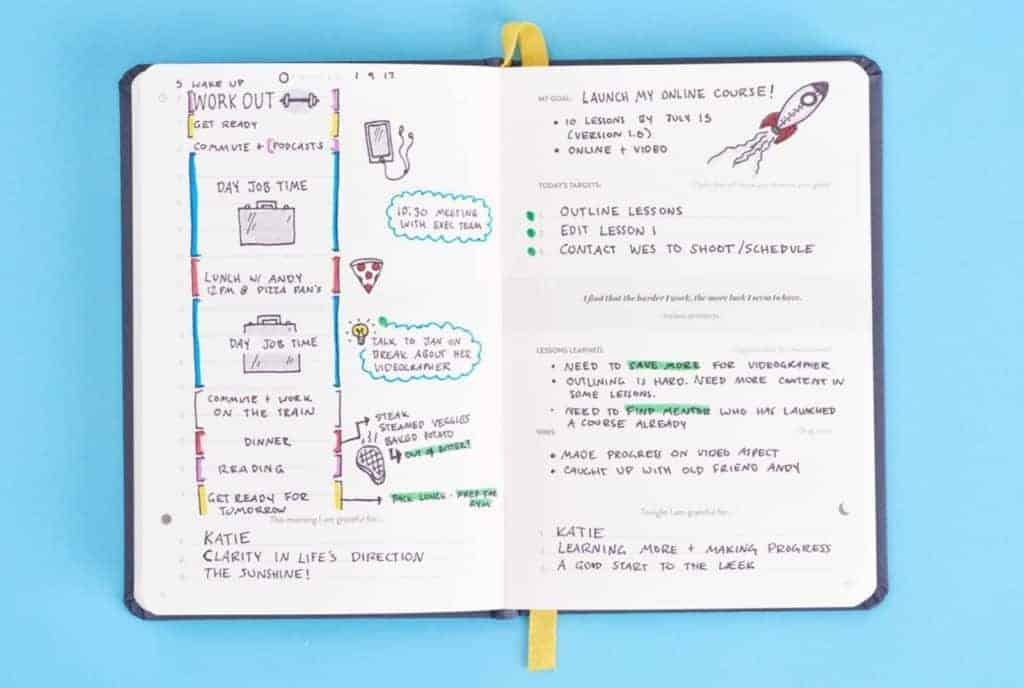 Need help setting goals that you'll actually work on? The Best Self Journal is a helps you achieve your goals by mapping out the steps you need to take, encouraging you completing them, and then reflecting on what worked and what didn't.
By breaking down big objectives into smaller steps allows you to see your goals in bite-size pieces and makes them less overwhelming. Want to go back to school for your Masters? Figure out the steps to get there instead of focusing on the end result.
This journal allows you to track your goal progress and reflect each day on the small wins, losses, and lessons learned. There are no dates in this planner, so you can personalize it with your own schedule. There are also pages left intentionally blank to leave room for doodles, notes, or anything else you'd like to fill it with!
The Best Self Journal is perfect if your days always seem to have too many to-do's and not enough time. It can help you prioritize and take action!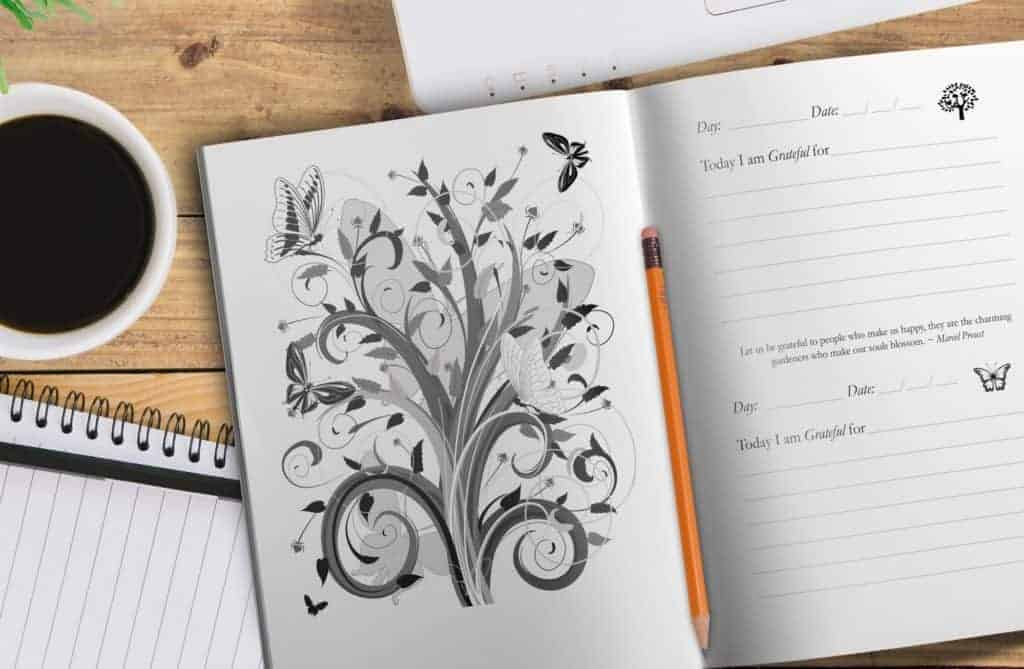 Are you looking for a way to be more grateful in the coming year? Look no further than the One-Minute Gratitude Journal.
As the name suggests, this journal is ideal for people that want to start a practice of appreciating all their blessings, but don't have a ton of time. This journal features half pages for each day of the year to jot down things you are grateful for and reflections. The One-Minute Gratitude Journal also allows a lot of flexibility – there are no set dates! Just write down the dates you journal and don't feel guilty if you miss a day!
Why Commit Time to Gratitude?
Forcing your brain to think back over your day and feel grateful for all that went right is beneficial for your mental health. Gratitude reduces toxic emotions, such as jealousy, regret, frustration, and resentment.
Gratitude researcher Robert A. Emmons, Ph.D., conducted many studies on the link between gratitude and well-being. And his research confirms that gratitude increases happiness and reduces depression. With the One Minute Gratitude Journal, you can reap the benefits of a gratefulness practice with very little time.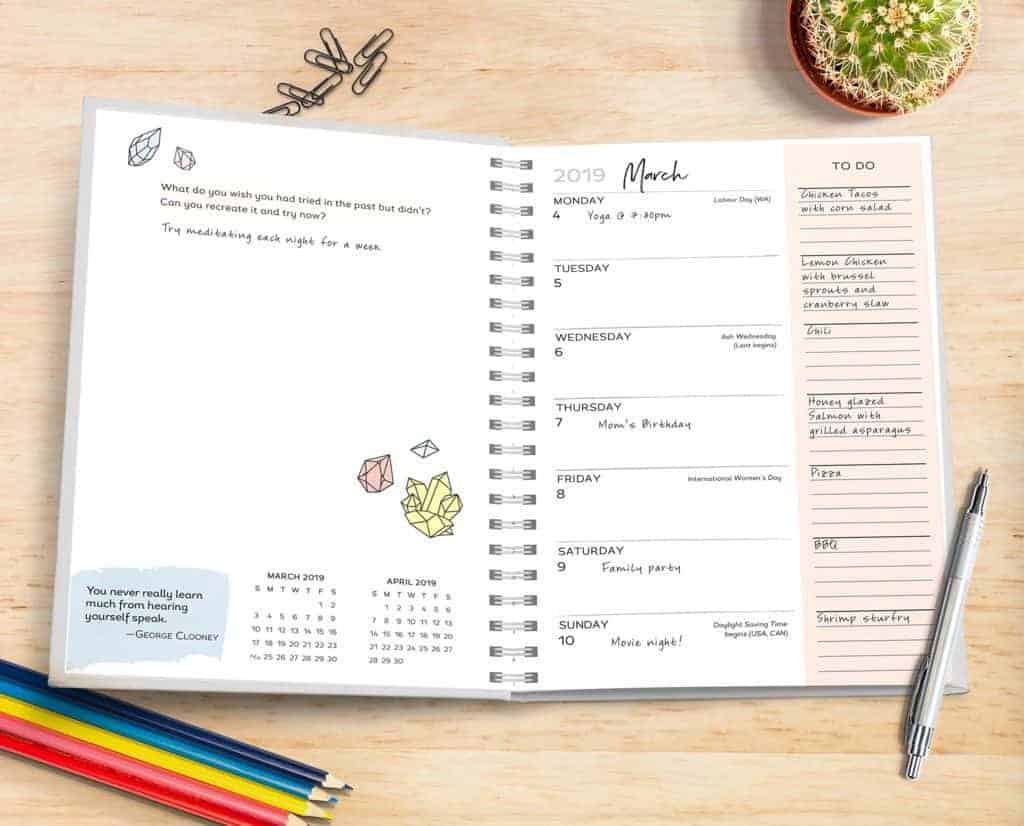 Are you a busy mom with too much to do, too much to keep track of, and no time to plan? The Very Busy Planner might be for you! This planner features sections for each single month to reflect on what's working for you and what you'd like to focus on next month.
The Very Busy Planner also has monthly and weekly calendar pages where you can not only organize your to-do lists and set goals for yourself, but also keep yourself inspired with quotes each week. This planner even comes with color-coded stickers to keep your lists and appointments organized! On each page, find a question that makes you think about who you are and where you're headed. This Very Busy Planner just might be the best purchase for your active family!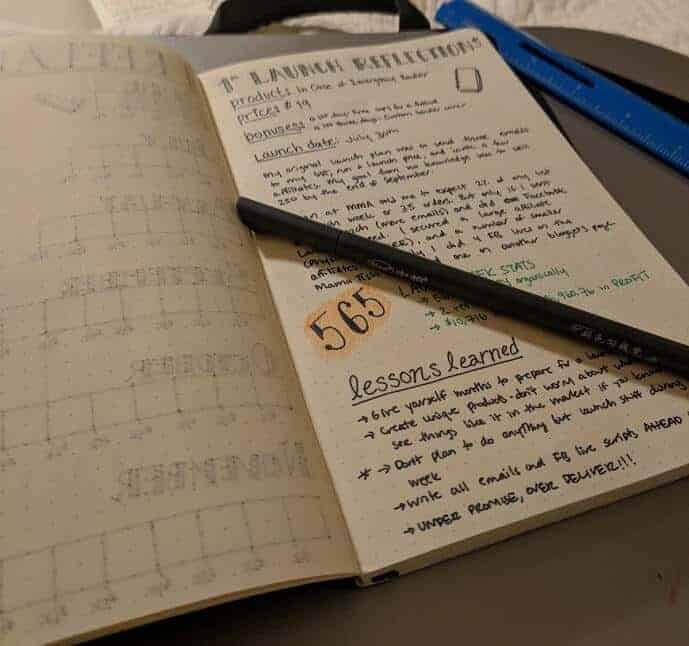 None of the journals so far have what you need? Or just hate giving up control to a system set up by someone else? You may need to try bullet journaling.
Bullet journaling has been blowing up the last few years. Why? Because unlike most planners, the bullet journal is actually completely customizable. You can use any notebook you have lying around or buy one specifically for this purpose!
At its core, this method of journaling is simply a system of bullets. You can make it cute and fancy like all the posts on #bulletjournal on Instagram, or keep it a clean and utilitarian black and white bullet point list.
A bullet journal is perfect for people who have a billion to do lists floating around and would like one place to organize all your thoughts. Think of a bullet journal as a mashup of an organizer and a diary.
A bullet journal can be a place to keep your birthday gift ideas, spending tracker, daily to-do lists, gratitude log, list of movies to watch, braindumps, and more!
Want to start your first bullet journal? We highly recommend this notebook!
Finding a Planner to Fit Your Life
In a world full of phone apps, email, tablets, and cars that read us texts, an old-school paper planner may seem unnecessary. But it's far from it. If anything, planners are more important now than ever before.
The act of writing something down tells our brains it's important. Moreso than typing it into our phone or recording a voice memo. We're more likely to focus on our goals, remember when we have to pick our daughter up from soccer practice and reflect on our days instead of getting stuck running through the motions.
Find a journal that best fits your life and needs. It can make all the difference in you reaching your big, amazing goals!
What is your favorite planner or journal? How do you organize your busy life? Share in the comments!