Gym memberships are often the first on the cut list for personal finance bloggers and frugal families. And for good reason. There are plenty of free ways to work out at home and 67% of people with gym memberships never use them. But with January coming, many of us will be signing up for shiny new memberships to hopefully, fingers crossed, help us reach our New Year's resolution health goals. So it begs the question, can you really make a gym membership worth the cost?
For Daddy Fish and I, the answer is an unequivocal yes! However, that has only been true since we switched gyms about six months ago. Here's how we made the benefit outweigh the cost!
Be Honest About Why You Want Your Membership
I've discussed before how our expensive gym membership was one of our top frugal failures. Just six months ago, we were still paying $267 a month (gasp!) for a membership to a "luxury" gym we almost never went to. We had tried to change to a much lower cost gym in our town in the past but ended up going even less. When we revisited our gym cost a few months ago, my husband and I asked ourselves some tough questions.
Why do we really need a gym membership?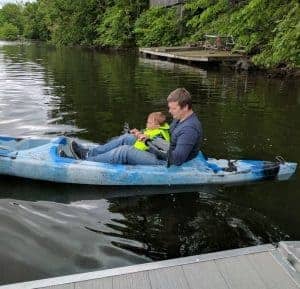 Spoiler alert: Wanting to get in better shape can't be your only reason for forking over a monthly gym membership fee! You have to have a plan for why a gym will actually help you get in shape, with a real plan around how you will use your membership.
The biggest reason we want a gym membership actually has nothing to do with exercise for my husband and me. It is very important to us that Fuss Fish, and coming baby #2, are comfortable in the water. Not only do we love the water (Daddy Fish used to be a boat captain!), but my mom and my in-laws have lake houses. For safety's sake, they need to be strong swimmers. Here in Boston, relying on local lakes and town pools would only give us two to three months a year when we could expose them to the water. An indoor pool is a need for us.
So, we looked into some local pool clubs that we could join instead of a full gym with a pool. Not only were they as expensive as a lot of gyms, they would give us less flexibility on when we could bring the boys to the pool. Finding the right gym it was!
Why your family wants or needs a gym membership is likely unique to you. Just be sure the reason is truly an important value for your family, and that the cost reflected for spending on that value when we get to price shopping is worth it to you!
What would make us exercise more?
Once baby #2 is born, I have a significant goal of getting back to my pre-Fuss Fish weight. Over the years, I've learned that exercising regularly not only helps my sleep, it is best for my mental health. Daddy Fish also has some weight to lose and does enjoy swimming. Something he can't do easily when the boys are napping!
To make sure we were in the best place to reach our health goals, we thought about what would make us more likely to actually show up at the gym. Unlike those 67% of unused gym memberships in the US!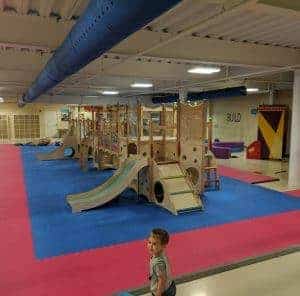 Being in a gym that felt clean!
The last time Daddy Fish and I switched to a lower cost gym, we went for only a couple weeks before stopping. As mentioned, the resource we use the most at the gym is the pool. The pool at our discount gym looked fine when we toured, but the more we went the more disappointed we were.
The water was often frigid! And the bottom was frequently gritty, or with gross hairs floating in it like it hadn't been cleaned properly. It is hard to drag yourself out of the house to go to a place that makes you feel gross post workout, instead of accomplished.
We decided that the best gym for us would be a balance between low cost and quality.
Safe daycare!
Fuss Fish and his coming brother will be home full time with Daddy Fish. If he wants to go get a good swim or workout in, he will need to drop the boys at the gym daycare. Many of these places are sketchy (to say the least). If we could find a gym with a daycare staff and area that we were comfortable with, my husband would be more comfortable going during the week. Which would also mean more time in the pool for the boys!
In addition, we like to workout together. Whether it is playing racquetball, swimming laps, or pretending we know how to play tennis or basketball, it is really fun to get moving together! A good daycare would make it easier to do this during winter weekends when it is harder to hike or go biking.
Other questions to consider
While the first two questions were the most important for our family, there are some other crucial things to consider!
How do you most often workout? Could you do it at home?

How far are you willing to drive to the gym? If driving there takes 30+ minutes roundtrip, you need a bigger window of time to get your workout done, which might mean you skip it more often.

When are you most likely to workout? If it is in the morning, does the gym you are considering open early enough or have the group classes you like at the right time to get you to work on time?

Would you be more likely to exercise if you could do it in your home? There are numerous free and low-cost workout videos to follow at home. This is cheaper than a gym membership!

Is there a gym a friend or group of friends go to regularly? You may be more likely to go if it is also a social activity!
Price Shop for the Best Gym For Your Budget
Once you know whether you really need a gym, and what criteria you want that gym to have, it is time to price shop. Determine your acceptable driving radius and look up all gyms in your area. Use each gym's website to see if it marks off your most important criteria. Now you have your possible gym list!
Touring and testing the gyms on your list!
For Daddy Fish and me, our possible gym list came down to three options. We had visited and tested out one before, the one that was actually closest to our house, so there were two more options.
There is a lot you can learn online about different gyms, but nothing will be like actually standing and exercising in it. Plus, a lot of gyms won't give you the real details on joining fees and monthly membership fees unless you are there in person. (Annoying!)
Most gyms offer at least a pass, if not two to three days, for potential members. Use those passes to test the gym at the time you would like to work out and see how things feel. In one of the gyms we tested, the pool deck looked fine, but it felt really dark once you were in the water. Plus, everyone had to wear swim caps. I do that anyway, but I didn't necessarily want to be wrestling one onto Fuss Fish everytime we went swimming.
Sniffing out deals!
Gyms offer great deals at various points in the year. Increasing competition from home workout systems has also put pressure on pricing. Find out if the gym ever waves joining fees or offers free months or other introductory offers. This usually happens around New Year's, as well as Memorial Day, Fourth of July, and Labor Day.
Avoid long-term contracts!
Many gyms offer lower fees or monthly rates if you sign up for an annual membership. This may sound great, but if you have never successfully used a gym on a regular basis, don't just assume you will now! Sign up for a month-to-month to give yourself an out if you aren't using the gym enough!
Can you get a health insurance rebate for your membership?
Most health insurance plans today offer some rebate for a gym membership or personal training classes. It is in their best interest to keep you and your family healthy! Some have policies that you must show evidence of going so many times a month (the gym can print this out for you). But some only need you to show proof of membership.
We discovered that our health insurance plan offers up to $150 in fee reimbursement a year! Far from covering the annual gym fees for our family, it does help offset the cost a bit.
You can usually look up your insurance company's benefits on their website. Often though, navigating those websites is a disaster! I recommend calling the phone number on your insurance card and asking about your options for gym memberships.
Does the cost make sense on an hourly basis?
Ultimately, Daddy Fish and I picked our favorite gym. It was about 15 minutes away, only about two minutes farther from our old gym. There was no joining fee and the monthly cost for the whole family was $83. Way down from the $267 we were paying before! Plus, if we signed up on during their family weekend event, we got our first month free!
The question now was, what did that $83 actually break down to on an hourly basis?
Daddy Fish planned to take Fuss Fish, and later both boys, two times a week during the week. We planned to go as a family every other weekend. There was a chance of me using the gym in the evenings during the week, but we weren't sure and didn't want to price that in.
How long do we spend at the gym?
When my husband takes Fuss Fish to the gym, it is quite a production!
He first drops Fuss off at daycare, changes, then works out for about 45 minutes. (~1 hour total)

Then, he picks Fuss up and takes him to the cafe for a snack. Don't worry, the snack is packed not purchased! (~20 minutes)

Finally, he takes Fuss swimming! It takes about 15 minutes to get them both changed and rinsed off to go in the pool, 30 minutes of swimming, then another 15 minutes to shower and get dressed again. (~1 hour)
Including commute time of 30 minutes roundtrip, a journey to the gym takes 2 hours, 50 minutes.
This is similar when we go as a family on the weekends. Either my husband and I work out together first, or we take Fuss to the gorgeous children's center. The indoor play area has all sorts of climbing equipment, slides, and more. Perfect, especially on a rainy day!
Our Hourly Gym Cost
Assuming 4 weeks a month, we make ten visits to the gym a month. With an average visit time of 2 hours, 50 minutes, this totals 28 hours and 20 minutes spent at the gym a month.
Our monthly gym cost is $83. But after taking account the $150 back from insurance each year, the out-of-pocket cost is $70.50. Now, we divide $70.50 by 28 hours, 20 minutes to get our hourly cost!
Our gym membership costs us $2.49 per hour, for our whole family! This is also about $7.00 per visit, a lot less than the $15 family day pass.
As a stay-at-home dad, my husband is always trying to find activities to get Fuss Fish out of the house. Some are free, like hikes or reading circle at the library. But some, like Gymboree, cost $20 or more per hour! And are generally a max of an hour long! Plus, when my husband goes to play pick-up hockey for exercise, that is also $20 an hour. For us, $2.49 an hour is a small investment to make in our health!
Be honest about how much you will go!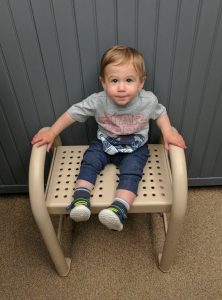 When we first ran this math, before officially changing gyms, we thought my husband would take the boys to the gym two or three times a week. We averaged at 2.5, which created a lower monthly cost. We also included some increased use in the summer, when our membership includes access to a big outdoor pool and children's splash pad area.
After a few months, Daddy Fish really only goes to the gym about twice per week. We haven't seen a summer with the pool club yet, so we also backed that out for this analysis.
If you've never succeeded in regularly going to a gym, don't assume you'll suddenly be hanging out there four or five times a week! Set a reasonable estimate, even if it is only once a week, and decide if you are comfortable with that cost. Then, a few months in, run the math again. If you aren't going as often as you wanted, it may be time to cancel!
A gym membership can be worth every penny
After years of failed experiments, we count our gym membership as a part of our budget that is worth every penny. It took some self-reflection and trial & error, but we got there. Over the last few months, we have even learned that our gym hosts free, amazing events for members. Face painting, games, pony rides, and little carnivals! A great reason to get Fuss hanging out with other kids, and usually another gym trip for us that month!
Because two-thirds of their members never actually show up, gyms are able to charge pretty reasonable prices. If you can actually drag your butt to the gym, your cost of use is likely to be quite low! Even lower than some of those paid for, at home programs. Just be sure you honestly run the math for your family! And check in regularly on how your attendance is stacking up to the cost!
Do you have a gym membership? Do you feel like it is a drain on your budget or is it worth the cost? Share how you decided whether or not to stick with a traditional gym in the comments!