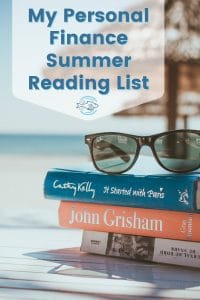 I constantly have a goal I am off pace in achieving. Sometimes it's money, sometimes the blog, sometimes I just feel like a really crappy parent. (I haven't been to the gym for, um, months.) Maybe I'm too hard on myself, but I have a nagging suspicion most people feel this way. Lately, for me, it has been reading. I used to read a book a week, but now that has dwindled down to almost nothing between work, blogging, parenting, and making an effort to be a halfway decent wife. So, in order to combat my reading malaise, I created a personal finance summer reading list!
My goal is to read all five of these books in the next two months and write book reviews for them on the blog. The hope is that having the list publicly shared with you all motivates me to stay on track. Plus, if you want to read along with me, we could even form a little book club! Woo, nerds unite! Anyway, on to the reading list!
This post contains affiliate links, for more information, please see my disclosure.
I have to admit, I started this book about a month ago and never got around to finishing it. I kept trying to read on our deck during downtime and was endlessly distracted by Fuss Fish, who is at the age where he is constantly learning new words and skills. When your toddler is trying to throw you a ball while saying "ball", you throw the ball back! But I digress.
I plan to start back at the beginning and tackle the whole thing. As I count myself a Boglehead*, I think it is crazy I haven't read this highly regarded title on investing! Can't wait to see what there is to learn!
* A Boglehead is someone who believes in the investment principles of John Bogle, the founder of Vanguard. Long-term, low-fee, index fund investing. There is a whole community of them here, founded by the author of this book.
I'm super excited for this book. It got a 5-star review from Rockstar Finance, which is reason enough to read it, but I actually think it could have a huge impact on my life. If there is one thing I am not good at, it is minimalism, both in stuff and thinking. I've constantly got at least three different things on my mind and I often fall into the trap of buying things for convenience rather than need. (Case in point, I placed 3 separate orders on Amazon Monday…)
One of my big goals is to continue to simplify my life and focus more on what really matters. I think this will have a great impact on my stress levels and my ability to appreciate the little moments, in the moment. Good luck to Greg McKeown in helping my calm my endlessly overactive mind!
With a subtitle like "Simple Ways to Stop Doing Dumb Things with Money," this book looks fun. It definitely feels like it will be more along the lines of Freakonomics or Malcolm Gladwell, instead of a heavier non-fiction book, which should make it a little easier for me to get through.
I'm a big believer that the path to financial security and wealth isn't complicated. In most cases, it requires following a simple set of rules, consistently, for the long-term. You don't need an advanced knowledge of the stock market or options trading to achieve success. With this belief, I definitely feel like The Behavior Gap will be right up my alley. I predict much nodding while reading.
As some of you know, I'm pursuing financial independence and the ability to embrace my passions in my work. A big reason for that is that I believe the system of work in most corporations is broken. Productivity is higher than ever before, but we are working more than ever! The systems of feedback, leadership, and development at most companies is poor at best. Things need to change.
I'm hoping this book can help me find some methods to reinvigorate my work at my 9-5 and stay energized on the blog. Also, as I now have the responsibility of managing and developing some younger folks on my team, I would love to see some best practices for helping them improve while still enjoying their work.
Dave Ramsey is one of the biggest characters when it comes to achieving a debt free life and growing your wealth. Incredibly, I've never read any of his books! I've only ever read the baby steps and other people's summary's and opinions on his work. This summer, I'm going to change that. 
Talking about debt reduction is definitely an area where I feel my knowledge is weak. While I understand the mechanics and tools available to those in debt, I've never been in that position myself. As such, I feel totally unqualified to address the challenges and emotional roadblocks families face. I'm hoping reading Ramsey's book will be the first step of learning more.
So that's it! Five personal finance books in 2 months and a set of book reviews to share on Mama Fish Saves. A totally achievable goal and one I know I'm more likely to keep now that I've shared it with all of you. I am so excited to dedicate some more time to reading and learning this summer!
Have you read any of these books? Do any look interesting and helpful to you? Let me know!