The fluorescent light in my fridge illuminated a bottle of Siracha, some mushy looking apples, a few questionable containers of leftovers and of course the peanut butter and jelly.
Grocery day is about a week away and we still need to eat. And while I would never diss the classic PB&J, a week of the same sandwich just isn't an option for us.
Sticking to our budget has been essential to reaching our financial goals. This includes our grocery budget. So while I was tempted to order Thai food, instead I used these hacks to get us through.
Raid the Pantry
If you are anything like me, the pantry is not where you look first when planning a meal.
Typically I like to start with the fresh items in the fridge. But when fresh has long left the fridge, the pantry becomes the next place I look. Because it really is plentiful.
Cans and carbs. Yum!
Seriously though, these two things in the pantry will be the basis of our meals for the week.
Typically I find cans of beans, strange hot pepper chilies, cream of something and the friendly neighbors "famous" canned green beans.
Then the real pantry golden nugget is always noodles and rice. The number of dishes you can make with noodles or rice as a base is astounding. And a total lifesaver. If you have these, getting through the week will be easy. (And full of delicious carbs!)
Decipher Sell By and Best By Dates
Don't be afraid of older items in the pantry!
I used to be a throwaway anything that was even one hour past the "best-by" date. But since trying to stick to a grocery budget and stay on track with our finances, those days are over.
Here is what you need to know about sell-by versus best-by dates.
If an item is within a month of the "Best By" date you are safe. If it is a canned item, you are almost always safe unless it is years old. They mostly put those dates on canned goods to cover their butts and keep you buying new canned corn.
The "Sell By" date isn't something you ever have to worry about. The "sell-by" date is only there for the store and really not an indicator of whether or not the food is safe to consume.
As with all rules, there is an exception. And that is dairy products. But since these (hopefully) do not sit in your pantry, you should be golden to follow the rules above.
If a date is nowhere to be found, I typically run around the house asking people to tell me if it smells funny. I know this is not ideal, but we're trying to avoid an extra trip to the store.
When in Doubt, Dive Into the Freezer
Back in the deep, frostbitten corners of the freezer, you may be able to find some things that can give you a little more variety than pasta dishes of all kinds. For older food in the freezer that is freezer burnt or in need of some TLC, consider turning the ingredients into soups or smoothies.
Smoothies are the best breakfast I can think of. They are fast, produce minimal dishes, kids love them, and they can be healthy. Smoothies can also provide some much-needed nutrients in your week if your dinners are filled with hearty carbs.
Oh, did I mention I do not have to actually cook anything?
Some of my favorite smoothies are nut butter and frozen cherries with cocoa powder or a tropical oasis using whatever leftover frozen fruits are in the freezer and some coconut milk or water. Just throw them into the blender and you're good to go.
For dinners, that freezer burnt meat or bag of peas can easily be combined with that can of cream of something you found in your pantry. Throw these in the instant pot/crock pot with some chicken broth and Viola! You have a soup.
Not that daring? We've got your back, Mama.
There's an App for That
So obviously it's not easy to just throw something together with the bits and pieces left sitting around in your fridge, freezer, and pantry. Especially if you don't want to risk wasting food by making something no human being would eat.
Thank God there's an app for that.
We all have busy lives with more important things to do than trying to play Chopped with your random bag of mystery ingredients.
To find recipes based on what I have lying around the house, I use two different apps depending on my needs.
Supercook – This is my top choice for when everything is bare.  It's only a web-based program, but it's so easy to use. Just click on what you have in the house from the list and Supercook offers multiple recipe options for dinner.

 

Allrecipes Dinner Spinner App – This app takes a bit of time to get used to, but is easy to access on your phone. It will create a recipe "feed" for you and your tastes as well as let you search by ingredients to add. One of my favorite parts is the feature to let you search by what NOT to add in case anyone in the home has food allergies.

 
Real Talk
I am not going to lie. Sometimes these last-minute meals flop. Or I forgot to flip the Instant Pot on and we succumb to the Thai Food (poor us).
However, most of the time we try sticking to it and not wasting the food that we have. It is a pretty decent feeling to have your cupboards bare and ready to be restocked come grocery day.
It also feels amazing when you get to put those fresh leafy greens and crunchy apples on your plate knowing that you stuck to your budget and made it stretch.
Being frugal with our groceries does not mean rice and beans, beans and rice, and PB&J all the time. But sometimes it does mean embracing rice and beans, pasta and sauce, soups, and smoothies for the week or so before grocery day.
And that's worth it to waste less and reach our financial goals.
What are your favorite ways to stretch the food you have until grocery day? Share your tips in the comments!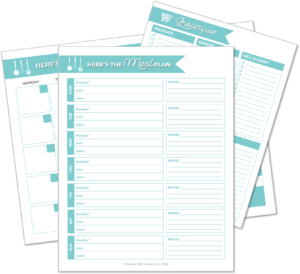 Grab Our Free Meal Planning Sheets!
Weekly & monthly meal planners and a simple grocery list to get a handle on your grocery budget.