Thanksgiving is one of my favorite holidays of the year. Crisp cool weather, food, and family. It just can't get any better! But despite the fact that Thanksgiving isn't a gift-giving holiday, hosting can really weigh on your wallet. As a holiday hosting addict – I just love cooking and filling our house with family – I thought I would share some of my top tips for hosting Thanksgiving on a budget.
1 – Embrace the potluck!
It is easy to want to do everything yourself for Thanksgiving. It means you get to plan every beautiful detail of the menu, cook some of your favorite foods, and pretend to be Martha Stewart for a day. But financially and emotionally, are any of us happy with this decision come Thanksgiving morning when we are sweating over the stove?
Chances are, your guests love making delicious Thanksgiving food to share with others as well. That is part of the holiday! Bringing your little piece of the harvest to share together with friends. Let others in on the day to help out.
Send around an email or set up a Google Spreadsheet for your guests with what you need. How many appetizers, sides, and desserts? How many servings should each dish cover? Sorry, Uncle Melvin, we don't need 15 pounds of ambrosia salad! Then just fill in the main things you would like to prepare – like the turkey – and ask your guests to claim an open slot.
Worried about insulting your guests by asking them to pitch in? I promise the guidance will be appreciated. No one wants to show up empty-handed, and it isn't fun to walk into a holiday with a beautiful fruit salad only to discover your brother's wife already brought one.
2 – Shop around for your turkey purchase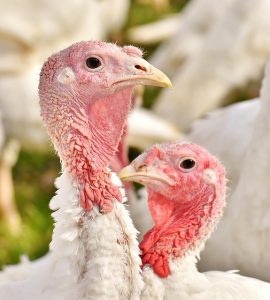 Thanksgiving is usually the cheapest time of year to buy a turkey. Every grocery store has inventory and they want to get those birds out the door before Black Friday, when everyone will be rolling in leftovers and sick of roast turkey for at least a month. That means – deals!
Some grocery stores offer free turkeys if you spend a certain amount on other purchases in the weeks approaching Thanksgiving or in one transaction. Some offer steep discounts on turkeys if your purchase is paired with other holiday staples. Jump online or swing by a few grocery stores for their circular before making your decision on where to make your purchases for November.
Make your decision early if you need a big bird. Last year, Acme gave away 10-22lb frozen turkeys if you made a purchase over $100. Take a wild guess which gobblers disappeared first?
Pro-tip: A frozen turkey will last 2-3 years if properly stored in a deep freezer or up to 7 months in a standard freezer. If your normal grocery purchases could score you two free turkeys, or one free/one heavily discounted, in the month of November spread your shopping across two stores. Cook up your extra turkey in a few months for a special dinner plus soups and sandwiches!
3 – Decorate beautifully, for free!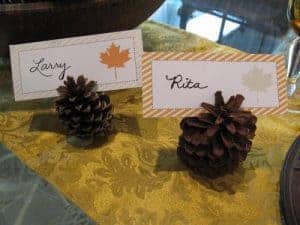 If you are like me, visiting HomeGoods or AC Moore in the fall is a dangerous business. There are so many pretty decorations! As soon as I walk in I'm planning a new table layout or decor for our front door and stoop in my head. But there is a funny thing about fall decorations – It is all made to look like nature. In case you've forgotten, nature is free!
Send your kids out on Thanksgiving morning to find some colorful leaves for your place settings. Roll up a napkin, tie it with cheap hemp or ribbon, and tuck a leaf into each napkin. Or let your kids use leaves and construction paper to make rubbings with fall colors.
Pinterest has tons of ideas for great fall centerpieces you can make yourself. By collecting some pinecones and leaves from the woods, or cutting a few flowers from your garden, you likely have all you need already in your home.
If DIY just isn't for you, buy decorations on sale after the holiday and use them every year. The fall acorn welcome board for our front door I got for $2 at AC Moore a few years ago. I love when it gets cool enough to pull it out of the basement each fall!
4 – Skip the "classic" dishes no one will eat.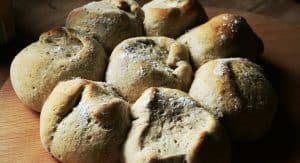 Every year, my family buys canned cranberry sauce. The kind you push out of the can and slice. There is only one person who eats it and 90% of it gets thrown out. A can of cranberry sauce won't exactly break the bank, but purchases like this add up.
For dishes that feel like a tradition, or like you have to have them for a healthy meal – like a large bowl of Brussels sprouts, be realistic. Most people approach Thanksgiving excited for turkey, stuffing, mashed potatoes, gravy, and cornbread. The rest is window dressing.
Focus your spending on the dishes that really matter. It will reduce food waste, a positive thing for the environment, and help keep more dollars in your wallet.
5 – Focus on what matters!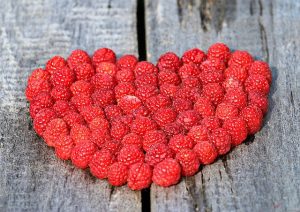 Better Homes & Gardens and Country Living magazines can make us feel like everything has to look perfect for a perfect family holiday. But hosting a holiday in and of itself is a generous gesture. People will remember the time spent together more than anything else. Plan a holiday that you can afford, and then focus on making memories.
When I think back over the Thanksgivings I've attended, I don't remember exactly what dishes were served or how perfectly the table was laid out. I remember playing with my cousins, a family lip sync competition (that was only a couple years ago…), and falling asleep on the couch in front of a football game. Thanksgiving is about community, give thanks for yours!
What are your Thanksgiving holiday traditions? How do you save money when hosting a holiday? Share your tips in the comments!
This post was proofread by Grammarly.