Care about the environment, your health, and the safety of animals? But also need to keep your budget under control?
There's good news for you! Cruelty-free personal care and makeup products no longer break the bank.
You can now find a wide range of quality products sold online and in stores that are cruelty-free, made of safe ingredients, and easy on your budget.
You don't have to pay large sums of money to feel good and do good.
It's About More than Cute Bunnies
Animals are used to test products of all kinds, including the individual ingredients. Animal testing often causes animals harm, stress, pain, and suffering. You can do your own research for the specifics as it can be eye-opening and sickening.
Animal testing is commonplace around the world. But this doesn't mean we have to participate. As consumers, we can choose to support companies that won't stand for animal testing and opt for the leaping bunny of approval.
In addition to caring about the way we treat living things, cruelty-free products are often more environmentally friendly and non-toxic.
Animal testing is practiced to make sure the product won't harm consumers (or so the labs say.) Since the cruelty-free companies aren't testing on animals, they have to be even more conscious of the ingredients they're using. These companies stay away from harmful chemicals and solvents that are used in so many animal tested products because they have to be sure their customers can use them safely.
So even if animal welfare isn't a concern that tops your list, consider the impact that the product has on your body and the environment.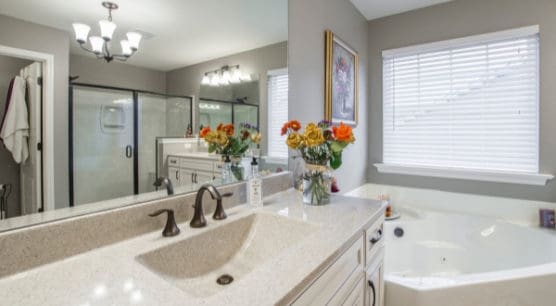 Let's Talk Cost
When it comes to skincare, makeup, and even household products I'm very aware of ingredients. I make my own items or use the pure ingredients where I can.
That said, I'm not about to grind up minerals for some eye shadow because my time is also valuable. In those cases, I look for the best balance of quality and cost.
Here are some of my faves!
General Hygiene
With scents like Coconut Water and Mimosa Flowers, these feel like luxury items at a fraction of the price. Around $14 for both bottles (that also happen to be made from 100% recycled materials), these are an easy purchase on Amazon.
I don't always have time to make my own deodorant and I keep some on hand for travel. But finding a natural deodorant that actually worked felt like mission impossible. Finally, I decided to give up my expensive bottles for Tom's at half the price. And it works! The cost is around $8 for a pack of two.
Pro tip: If you have struggled to find a natural deodorant that works, consider doing a "deo detox" on your pits with a heavy clay mask like this one. It really helped me transition to not stinking.
Fluoride free and cruelty-free without the weird taste of some natural toothpaste's make this one a favorite in our home. You can purchase a 2 pack for around $7.
Other brands that have decent toothpaste include Kiss my Face and Honest Co. The Honest Co. even has a children's specific toothpaste that is highly rated and recommended.
For a basic everyday use bar soap Dr. Bronners is cheap and has several scent variation for everyone. A 6 pack of their 5 oz bars costs about $25, making it a bit more costly at the start, but our bars of soap seems to last months!
Skincare
This is on the higher end of the price scale, but as someone who has eternally sensitive skin, I don't mind spending a few extra dollars. It can be purchased on Amazon, or in most health food stores, and does a great job of being gentle and keeping my skin from drying out.
It costs about $14 a bottle, so if this seems outrageous try out the Yes To brands of face wash you can find in any drug store. If you tend towards oily skin, the Yes To Cucumber Daily Gel Cleanser is a good option costing around $7 per bottle.
This is a favorite of mine, along with most of the Avalon Organics products. I keep this in the shower and use about once a week on my face. My partner also loves this face scrub as his skin tends to get dry and flaky in the winter.
The cost is around $10 for a bottle that lasts us about a year.
I love all of their face masks because they feel like luxury, but cost a fraction of the price. A little tub priced around $10 has lasted me 6 to 8 months! In addition to this mask, I regularly use the 1000 Roses Rosewater Mask to bring down my red complexion.
A fragrance-free, gentle and beauty moisturizer for most skin types. This is for those who prefer the lotion type feel of a moisturizer. Cost is around $10 per bottle.
I typically only use pure Jojoba Oil as my facial moisturizer, but recently found this heavenly smelling face oil with a jojoba base. It's been amazing to use in the evening because of the lavender smell and my skin seems to be taking to it well.
At around $12 per bottle it's on the spendy end for face moisturizer, but if you love oils it's the way to go.
Makeup
This is a very shimmery nude palette that I love. They also have matte shades and a variety of tones. The pigments are rich and the cost is low around $7 for a palette.  All of Physicians Formula can be found in drug stores and is cruelty-free.
As someone with heavy circles, this product is a bit of a miracle for me. I will use this under my eyes right over my face oil with nothing else and feel fresh-faced. Around $10 for a tube which practically lasts forever!
Another one of my favorite products – Pacifica Concealer – it's light a fresh without getting cakey. All of Pacifica is cruelty-free and can be found in some drug stores, on Amazon, and in almost every whole food or health food store. Their perfume is also the bomb.com.
I don't wear a thick or heavy foundation, but when going out or getting ready for work I'll wear a light BB inspired cream from Bare Minerals. This complexion rescue also has SPF in it so I keep it on regularly in the summer.
It's more expensive than a drug store foundation at $24 a bottle. However, I've been able to find really great deals on eBay for as little as $9 per bottle.
Around $9 for the entire set is a steal. Brushes are one of those items that are often not cruelty-free since they can be straight from the animal. Brushes are also outrageously expensive and I've found this set to work perfectly fine for daily use and Halloween night makeup.
E.l.f. Is one of the more accessible budget cruelty-free brands. Found in most stores, their products tend to be the most affordable. The lipstick at $7 a tube is not sticky and has a vibrant color.
This mascara is really worth the hype and creates volume without clumping.  The only downside is that it isn't smear-proof – so don't wear it when watching The Notebook.
NYX is the second more popular cruelty-free drug store brand next to e.l.f., making their products affordable and accessible for all. Another winner for NYX is their finishing spray.
Do Good. Save Money. Buy Cruelty-Free.
Choosing to shop cruelty-free, while staying on budget, might require a little extra research. And while you can just look for the tiny leaping bunny on the back of any product you're considering in store, that can be a bit time-consuming when you just need to pop into CVS.
For those times when you just need something fast, here are some cruelty-free brands worth looking at that are carried in most drug stores.
E.L.F
NYX
Physicians Formula
Yes To
Wet n Wild
Kiss My Face
JASON
Alba Botanical
Flower (at Walmart)
Tom's of Maine
Skinfix and Pixi (at Target)
Pacifica
Dr. Bronner
Avalon Organics
Desert Essence
In addition to these brands, all of Trader Joe's products are cruelty-free. 🙌 From a delicious Tea Tree Shampoo and Conditioner to the Rose Water Face Mist, it's worth checking out.
Shopping cruelty-free not only protects animals, but it's also better for your body and the environment. Choose incredible products that make you feel fab – inside AND out.
We want to know, what is your favorite cruelty-free brand? Share in the comments!