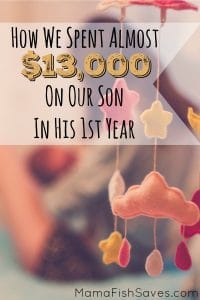 Kids are expensive. We hear it everywhere. But looking back at a year of expenses for our first child, my husband and I know that we made things way more expensive than they really had to be. The cost of a baby really doesn't have to be that high, but we lost track of our frugal values. We got sucked well into the machine that is new parent marketing and filled our house with stuff. Our basement, his nursery, and our entire house are drowning in children's toys, books, clothes, and gadgets. We own things we never needed and have toys he has never touched. But it was honestly all our fault.
Recently, I visited Mustard Seed Money to share my plea to our family and friends to stop spoiling our son from now on. But after writing that piece, I felt the need to step back and take responsibility for the all the stuff that invaded our house and share the details on how exactly our crazy spending happened. Learn from us, and don't let the consumption machine suck you in!
Breakdown of expenses in the first year
I am a bit Type-A and love data, so I have kept pretty meticulous budget records on what money has been spent on Fuss Fish. However, until I sat down to write this post, I had looked at it only on a month to month basis and not an aggregate basis. The numbers totally shocked me. All in, including the registry, gifts I kept track of, and all our personal expenses, $12,769 was spent on my son from when we found out I was pregnant through his first birthday. Of that money, approximately 70% we spent ourselves, and the rest was received as gifts. So, the vast majority of the exorbitant spending on our son in the first year can be blamed solely on my husband and me.
The most recent USDA numbers estimate the cost of raising a child to be $233,610 from birth to age 18, before college.  Of that cost, 29% is housing, which I didn't include, which makes the comparable figure ~$9,215 a year. Then, the USDA had an additional note that the average family spends ~$300 a year less from birth to age 2, so that is $8,915. This means we spent about 40% more than the average family on our son in his first year of life. Oops.
Here's how it looked for us. Keep in mind my husband is a stay-at-home dad, so we don't have formal childcare expenses.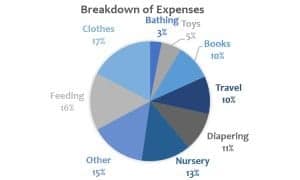 Where we could have cut
If you answered "everywhere" you are right. The fact is, some categories were significantly worse than others as I went through and parsed out what we purchased and thought about what we used. Fuss Fish definitely didn't need over $2,200 in clothes. Baby clothes were my kryptonite, and I take full responsibility for that. If it wasn't for Unenroll.me I would probably still be buying adorable clothes like crazy.
The Other category is filled with a whole lot of crap. He actually didn't use his MamaRoo bouncy seat much. And his little tent for when we were outside was excellent to keep the sun and bugs off. Well, at least for that first month before he could just crawl out of it… However, that category also includes useful safety accessories like many gates, a video baby monitor, and ear protection for when we brought him to a wedding and my brother's hockey game, both before he was two months old. Overall, we probably could have cut about 40% of that category or a little over $750.
Finally, sadly, I have to call out books. I love books, and I love that Fuss Fish has mini libraries in virtually every room in the house. But we bought, every children's book we saw and liked. He has piles of books in his closet that he won't be able to read for several years. So, first off, I wish we had paced ourselves. Allowed for more room for him to pick his books when we bring him into the local bookstore. Waited to see what interests him most. Second, I should have recognized the power of the library. Within 3 miles of our home, there are two public libraries with massive children's sections. My husband brings Fuss Fish there regularly, and he could have picked out any books he wanted to read. We could have rotated his stock more regularly and spent a lot less money.
What we were happy with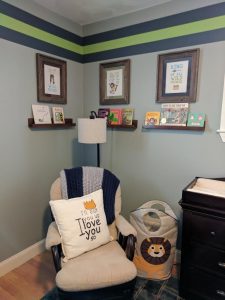 While almost $13,000 is an exorbitant amount to spend on a tiny person who spent half of his first year most happy kicking on his back, there are parts of this spending I really can't make myself upset about. The first of which has to be his nursery. Including all furniture, we spent $1,708 decorating Fuss Fish's nursery. We bought non-toxic paint from Lullaby Paints so I could help paint, and I wouldn't be worried about the fumes and the baby. I found fun art prints and Etsy products to tie in the Where the Wild Things Are theme, and we purchased an incredibly comfortable glider for his room. Every time I walk into his room, it makes me happy. I love that he wakes up and points to, "monster monster" on the wall in the morning. I love reading to him in his chair at night. The room turned out exactly how I imagined it, and I don't regret a penny spent.
I'm also happy with our choice on diapering. We never really considered cloth diapers but didn't want to entirely abandon our environmental beliefs. We found chemical free, 100% biodegradable diapers and ran with them. For a few days when Fuss was a few months old we considered cloth diapers, but at that point, he was starting to show a propensity for overheating, and I couldn't find a cloth diaper I trusted to be cool. Bambo diapers cost a fortune (as you can see), as do Honest Company wipes, but they were worth it. Fuss almost never had a leak or blowout, the diapers were thin and light weight, and we were comfortable we weren't adding piles and piles of a landfill that would stay in place beyond his lifetime.
What took us by surprise
Our second biggest expense category for Fuss was feeding. We spent almost $2,000 feeding him in his first year, and that doesn't include normal groceries. We did baby led weaning with Fuss, which means he ate whatever we were eating from 6 months. So besides some puree pouches for snacks and on the go, that spending figure is just for formula.
Before Fuss was born, I planned to breastfeed for at least six months, with a goal of a year. I read two books on it recommended by my doula, I was excited, and I was ready for a challenge. But I quickly learned babies don't care what your plans are. Fuss and I faced numerous difficulties in the first weeks with feeding. To work through it, we went to five private lactation consultant appointments, then we both ended up with thrush, and no one was sleeping. After two weeks, when he had fallen to the 0.05% weight-to-height ratio, we switched to formula. It was one of the hardest decisions I had ever made. I never planned to have to buy formula or so many bottles, and in the end, it was 15% of our total expenses.
What we learned being first-time parents
As new parents, we wanted to solve every need in our lives. We prioritized convenience over responsible spending and lack of clutter. Teethers are a perfect example of this. When Fuss started teething, we kept buying teethers to try to soothe his pain. We asked every other parent what worked for their kid and ordered them. There are maybe ten types of teethers floating around our house. He hates them all. His preference? A cold carrot from the fridge, a cool, wet washcloth, or a cold spoon.
Every kid is different and what works for them will vary and change, sometimes day-to-day. If we knew then what we know now, we would do a few things differently. First, before trying to solve any problem, we would give it a week. Almost all of our struggles and Fuss's frustrations passed in that amount of time, and he didn't need anything specific to help him. Second, for real issues, we would have tried the cheapest (or free!) options for things first.
Parents get by all over the world with a minute fraction of what we determine to be "needs" in the U.S. We just need to trust our natural parenting instincts, not the constant marketing to parents. Because, let's be real, now that my son is a toddler, all he really wants is to run laps in the backyard in just his diaper. And I bet your kid isn't much different.
Do you know how much you spent on your first child? What expenses did you have that you definitely didn't need? Share in the comments!