Welcome, How to Talk To Kids About Anything Listeners!
I'm excited to help you learn more about teaching your kids about money! Below are the resources and tools mentioned in my discussion with Dr. Robyn.
As you begin the lifelong journey of teaching your kids about money and values, remember that our own work is never done. The best lesson you can teach your kids is showing them that you're still learning too – whether that's admitting a mistake or researching a new term together. We're building a generationally wealthy growth mindset!
Teach Your Kids Lifelong Positive Money Lessons with These Fun Activities!
What Are Your Family Money Values?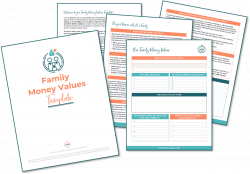 Grab our free Family Money Values Template and create a strong foundation for your family's healthy money habits!
Join the #1 Money Membership for Intelligent, Driven Moms Who Are Ready to Re-Write Their Money Stories, Connect with Their Biggest Dreams, and Build Lasting Wealth!