Most of the moms I know don't want roses or diamonds for Valentine's Day.
Roses are insanely expensive, cliche and they die in a week.
Diamonds? How many moms do you see decked out in diamonds while doing school drop off or running to an 8:00 am meeting?
In my experience, as a mom and friend of many moms, what we want for Valentines Day are meaningful experiences that make our lives easier and enhance our relationships with the people we love.
So, this Valentines Day, if you really want to make the mom in your life happy, tune out the commercials and savvy marketing campaigns and take some time to think about how you could reduce Moms daily to do list, provide some well-deserved pampering and make her feel special and acknowledged.
Meaningful Valentine's Day Gift Ideas
1 – A Cleaning Service

If your house is in a perpetual state of chaos and disorder and it drives your mom/wife mad consider hiring a professional cleaning service for a day. Or, for a more cost-effective option, rally the kids and do a top to bottom clean by yourselves.
Just make sure you find the cleaning service yourself – or if you want to DIY, send her out of the house so she isn't asked a million questions and ends up doing it herself. (This is exactly what started a viral conversation about emotional labor a few years ago…)
Remember, a clean house is a happy house!
2 – A Massage, Facial, or Haircut
Sometimes, as a mom, your personal hygiene and self-care can take a back seat to any number of things…your kids, pets, career, partner, eating, sleeping, Netflix…
Before I had a child I washed my hair nightly, now I'm happy with once, maybe twice a week. So, if you want to make your mom feel special and well cared for consider booking her for a spa service like a massage or facial. Or, schedule a new hair appointment for her. This will leave Mom feeling loved, pampered and, hopefully, relaxed.
For a more cost-effective option — Dads, go and buy some oil, send the kids to grandma and grandpa's house and treat your gal to a full body massage. Kids — Mom would love a nice foot rub or you could give her a pedicure to make her toes look pretty!
3 – Let Her Get Some Sleep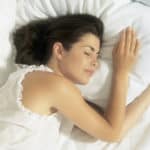 Ahhhh, sleep. I took it for granted before I had a baby. I was a night owl, staying up far too late for no good reason. This Valentine's Day give Mom the gift of sleep. Book her a hotel room and ask for a late checkout.
I realize Valentine's Day is supposed to be about passion and romance but I can't think of anything more romantic than my partner setting me up with an early bedtime and a peaceful breakfast in bed…alone, at a hotel.
If a solo sleepover at a hotel is outside of the budget, that's okay. Instead, round up the kids and head to Grandma and Grandpa's for the night. Leave strict instructions for Mom that she is only to watch tv/movies/read/take a bath/eat snacks and go to bed early. No cleaning/bill paying/meal planning etc. allowed.
4 – A Handmade Gift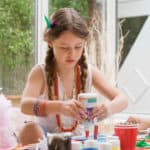 There is nothing more special than a handmade gift from your kids. So, if you're still set on getting Mom flowers and jewelry for Valentine's why don't you opt for a handmade macaroni necklace and a tissue paper bouquet. Dad, knowing that you orchestrated the entire craft will touch your ladies heart and bode well for you on Valentines!
5 – Her Favorite Champaign or Wine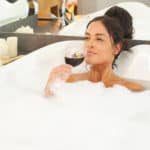 For the mama who loves the occasional cocktail. Purchase a special bottle of bubbly, draw a bath, light some candles, turn on some soothing tunes or grab her favorite book. Let her relish in the warmth of the water while you feed the kids and put them to bed, early if possible…at Grandma and Grandpa's is even better!!
6 – Chocolate (or Her Favorite Treat)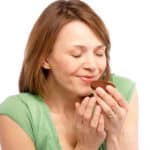 I love Ben and Jerry's "If I Had a Million Flavors" ice cream. And I don't want to share. I want a pint all to myself. If I came home and saw this in the freezer along with a nice little note, my heart (and tummy) would feel happy and full.
While I suppose the generic heart-shaped box of grocery store chocolates is better than nothing…it doesn't really say, "I went out of my way to make you feel special." So, if your gal loves chocolate, then, by all means, buy her chocolate. But do some investigating so you can get her the kind she really wants.
7 – Some Thoughtful Acknowledgement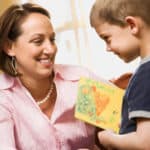 Being a mom is hard. It's amazing, but it's exhausting and a lot of the time it's thankless. If you want to make your partner feel special and appreciated write her a note expressing what a wonderful mother and partner she is. And be specific.
"You're a great mom and wife" is nice to hear but it's not very personal. Instead, get into the details so Mom really feels like you're being genuine, "We really appreciate all the hard work you put into making us healthy meals….even if we complain about eating our vegetables. Thanks for taking such good care of us."
Have the kids join in. Get them to think up one thing in particular that they love most about their mom, "I love that mom reads to me every night and rubs my back before bed." This is the kind of stuff that makes a moms heart melt….and the cost is free!
8 – A Peaceful Date Night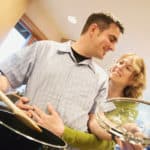 Romance is still an important part of Valentine's Day but sometimes the thought of planning an evening on the town and coordinating childcare just sounds too exhausting.
If you want to show the mom in your life a fun night on the town….you plan it, you find childcare, you pick the restaurant and you make a reservation. Don't ask any questions just tell your lady when she needs to be ready to head out. As an added tip, it's better not to schedule your date night on Valentine's Day. Pick a night a few days before or after V-Day so you can avoid the crowds!
For a more cost-effective option, stay in and cook for your special lady. Whip up her favorite meal, open up a bottle of wine and have a conversation that doesn't revolve around kids, bills or scheduling.
Give Her the Valentine's Day Gift She Really Wants
There you have it, a list of gifts that the mom in your life would love to receive. So this year skip the traditional, cheesy gifts and give her what she really wants: time for herself, some pampering and acknowledgment from the people she loves the very most.
Happy Valentine's.
We want to hear from you, mama. What is your dream Valentines Day gift?