How to Start Thinking Like a Breadwinner and Take Charge of Your Future
Why You've Got to Listen to This Episode...
In today's episode I'm talking with financial expert, startup executive, and author, Jennifer Barrett. In her book, Think Like A Breadwinner, Jennifer is helping women re-examine the false narrative that women shouldn't or can't earn more than men.
We're talking about how societal expectations play a role in how women think about money, why you need to start thinking like a breadwinner even if you aren't one, and why being a female breadwinner is worthy of celebrating!
Moments You Don't Want to Miss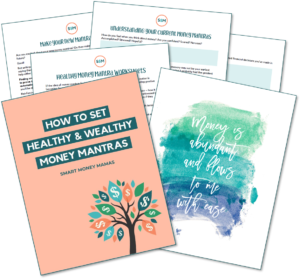 Are Your Money Mantras Helping You Reach Your Goals?
Reflect on your money beliefs and create healthier money mantras today with our free workbook!
Key Takeaways to Help You Start Thinking Like a Breadwinner
As always, we've rounded up our top three takeaways to summarize what we believe are the core points to remember from Jennifer.
1 - You Don't Have to be the Breadwinner to Have a Breadwinner Mindset
To start thinking like a breadwinner means you're asking yourself important questions.  Are we making choices with our money that lead to long term financial wellness? Are we getting paid appropriately for our work? Are we taking on work that will keep us stuck instead of moving our careers forward? Are we doing important work that's going to show up at promotion time? How can we do things differently?
This is also about asking ourselves – are we using our superpowers to really have the best career possible? Sometimes this means making a big shift and sometimes it means going out and applying to new jobs. And that's okay, especially if it helps you get to the next level. 
Even if you aren't the primary breadwinner in your household, you need to adopt a breadwinner mindset because without it, you're more likely to think that the money you earn is somehow not as important as your partner's. That means you don't negotiate as much and you don't value your own work as much. It's likely that that gap between what you earn and your partner earns is only going to widen over time.
2 - The Media and Workplaces Haven't Kept Pace with Changing Family Dynamics
This is so important, despite the fact that over 40% of households now have a female breadwinner. On top of that, for married couples, over 70% of those households have a co-breadwinning model where both partners work. But our society still expects a woman to be at home. When we look at the school day, when we look at maternity leave policies, or when we see headlines that portray breadwinning women as an anomaly we see the evidence of a problem. These are old narratives, and the reality has changed.
We need to change the narrative, both in our own minds and for our kids so that they know that there should be equal partnerships. It's important to know that you can only rely on yourself and start thinking like a breadwinner. You should be financially responsible for your own future.
We talk about this in the Motivated Mama Society and how responsibility is one of the core money fears for a lot of people. They are waiting for this prince charming or this other person to come just take care of it for us. If we can start to change that narrative, we will see many more examples of financial success.
3 - Be Aware of How You Talk About Money With Your Daughters vs Your Sons
If you're listening to this podcast, you are a woman who is learning about or engaged with your money. But that doesn't mean our old biases or old money stories aren't playing a big role in our society. We still see statistics even today in 2021, about the fact that we talk to our daughters versus our sons differently about money. We talk to our daughters more about budgeting and coupon clipping and saving. We talk to our sons more about investing in career development.
Make sure you're aware of this even though you can't necessarily remove all bias. Listen in to the things that you're saying and pull all your kids into these conversations about thinking like a breadwinner because that is how we make lasting change.
Links & Resources Mentioned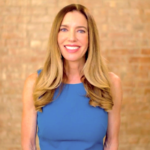 Jennifer Barrett is the author of "Think Like a Breadwinner," a wealth-building manifesto for women, out April 6 from Putnam Books. She is also the Chief Education Officer at Acorns, a financial wellness app with more than 9 million users. Over her career, she's also been the Personal Finance Editor at CNBC Digital, General Manager at Hearst Digital, and Editor in Chief at DailyWorth, a financial media company targeting women.
A contributor to Forbes, she's also written about finance for publications like The New York Times, The Wall Street Journal, The Washington Post and Newsweek, where she was a writer and editor. She's co-authored two other personal finance books and is often featured as a money expert in the media. Jennifer also advises three early-stage, female-led startups and provides leadership coaching to female founders. A proud breadwinner herself, she lives in Brooklyn with her husband and two sons.
Other Ways to Enjoy This Podcast
Have You Subscribed Yet, Mama?
Are you subscribed to the Smart Money Mamas podcast? If you're not, I want to encourage you to head over to Apple Podcasts (or wherever you listen to your podcasts) and subscribe! I release episodes twice and week and as a subscriber, you'll be notified right away so you can take checking the feed for new content off your mental to-do list. 
Click here to subscribe on Apple Podcasts, Google Podcasts, or Spotify!