Expecting a new baby is such an exciting time! Dreaming of names, deciding which baby things you really need, and handling all those pregnancy cravings. But it's also a time when we have to step up our adulting game and start financially caring for our growing family. And that means deciding when to buy life insurance and how much we need.
Luckily, life insurance isn't as complicated – or expensive – as most people think. So let's break down when you should apply, how to save on premiums, and our favorite places to get quality term life insurance.
When Should You Apply for Life Insurance as an Expectant Mom?
When it comes to life insurance, it's almost always better to apply sooner rather than later. So, if you're expecting your first kiddo, make sure to put applying for life insurance on your pre-baby checklist.
It's important to apply early for two main reasons.
First, we don't know what is going to happen tomorrow. What if you or your spouse got sick or got in an accident, or were diagnosed with a condition that impacts your ability to get insurance? You may not have the financial protection your family needs. And you may not be able to get life insurance in the future – or it will be much more expensive.
This is a particularly important consideration for expectant moms. Depression and anxiety is a risk factor to life insurance companies that can prevent you from getting coverage, at least for some period of time. Many new moms face periods of postpartum depression that they need to get treatment for, so it's important to get life insurance coverage before that becomes a factor in your application. (If you're even wondering if what you're feeling is postpartum depression or anxiety, talk to your doctor!)
Second, life insurance is cheaper when we're young and healthy! To get the best price, you want to apply while you're young.
What If You Have a Pregnancy Complication or Other Health Concern Now?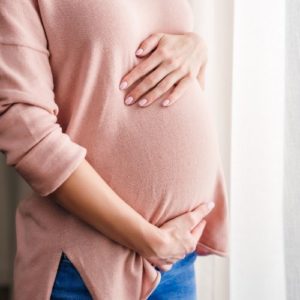 A common question we hear from expectant moms is what to do if facing pregnancy complications that may come up on their health exam. Or what if your partner is still trying to quit smoking or lose some extra weight?
In that case, you still want to get coverage if you can. That way, your partner and new babe have financial protection through your pregnancy and delivery.
However, you won't be stuck with high rates forever!
Many life insurance companies will let you re-take a life insurance exam once in the first year of your coverage, to lower rates if you are healthier or risks have lapsed. After your pregnancy and safe delivery, you can request a new health exam to reduce your rates.
Even if your company doesn't allow a new health exam, term life insurance is only valid while you're paying it You can always apply for coverage with another company later and cancel your current one! Simply request a new policy with another company, do a health exam (if necessary, Bestow doesn't require a health exam for healthy applicants!), and move to that policy.
Do You Need Life Insurance if You Have a Policy Through Work?
The short answer? Probably.
Life insurance through work is a great perk. But it often isn't enough coverage to provide for all the things you want your life insurance policy to cover. Paying off your mortgage so your family can stay in your home if you passed, covering other debts, providing for time off for your partner to grieve and care for the kids, replacing lost income, and potentially even setting some money aside for college.
The rule-of-thumb is that families need 7 to 10 times their annual income in life insurance. And work policies usually only cover 50% to three-times your salary.
In addition, you only have coverage through work while you're employed at that job. If you quit, start your own business, or have to take time off due to illness, you'll know longer have life insurance. You want to apply for your own coverage now – while you're young and healthy – so you always have the financial protection your family needs.
Where Should You Apply for Life Insurance?
There are many term life insurance companies to choose from and you have a wide range of great options. But there are also some options you want to avoid.
Make sure you choose a company with a high A.M. Best Rating – this is the rating system for the financial security of the insurance provider, so that you know your provider will have the money to pay out your policy if needed. You wouldn't want to pay a company every month for years, only to have them fail to cover you!
I also like to look for companies that offer competitive rates and have easy to use online systems. I want to be able to make payments quickly, log on to see my policy or change beneficiaries, and potentially have additional benefits – like coverage without a health exam, health services, or quick price comparison.
Here are a few of my favorite companies, but see the related post below for even more details.
Bestow: Bestow offers high-quality term insurance, at a great price, without a medical exam. They only offer policies up to $1 million, which likely isn't enough for high earners, but it's a great option for many families and for stay-at-home parents. We purchased my husband's policy through Bestow!
Haven Life: Like Bestow, Haven Life doesn't require a medical exam for individuals in great health. But they do have the option for higher coverage limits and policies for people with some health concerns with a simple health exam. And their policies come with additional benefits – like free estate planning services, an online safety deposit box, and discounts on health services.
Policygenius: Policygenius allows you to get multiple term life insurance quotes from high-rated companies in just minutes. Make sure you're getting the best price on a good policy, quickly. Side-by-side comparisons make it easy to know what you're getting for your money.
Get the Life Insurance Coverage You Need, Now!
Your to-do list as an expectant mom seem endless, but make sure applying for life insurance is up there on your list. Applying can take as little as 15-minutes (though you might have to make time for a quick health exam!) and you can get back to taking adorable bump photos. But you'll have the peace of mind that your family is financially prepared.
What questions do you have on applying for life insurance as a new mom?