Tips to Understand Maternity Medical Costs
The joy of pregnancy can also bring anxiety about the medical costs of maternity and childbirth. How do you prepare for the financial expenses that come with bringing a new life into the world?
Dr. Ashley Burkman is a naturopathic doctor at Collaborative Natural Health Partners in Manchester, Connecticut. She has experience with maternity medical costs as a health care practitioner and as a mama to twin boys, and she's offering the best tips to navigate your health care costs through your pregnancy and beyond.
Educate Yourself About Medical Costs
Many people are surprised by the medical costs of pregnancy and childbirth — the average cost of an uncomplicated vaginal delivery in the US is between $5,000 and $11,000.
But remember: Things rarely go as planned. While you hope to have an uncomplicated delivery and confidently return to work after maternity leave, you can't plan for every scenario.
Even with a birth plan, having a Plan B or Plan C for alternative scenarios like complications is }helpful. If things don't go as planned, consider questions like:
Where will you give birth?

What support system will you need?
For example, your Plan A might be a birthing center with a midwife. Will you need easy access to a surgeon in case you require a c-section?
It also helps to learn as much as you can about how your health insurance works for maternity — understand what services are covered and not covered, your individual and family deductible, and out-of-pocket limits.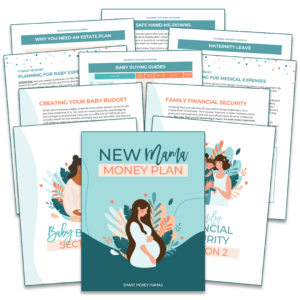 Get a clear picture of the money plan for your growing family – from onesies and daycare to estate plans – so you can relax and focus on your new bundle of joy.
Click here to grab your New Mama Money Plan now!
The Difference Between Your Individual and Family Deductibles
When financially preparing for a new baby, you should understand that your health insurance may have separate deductibles for individuals and the family.
For example, your individual deductible might be $2,500, while the family deductible is $10,000. That means that every person on your plan may not have to meet the deductible individually — once you reach $10,000, you've met your deductible requirement.
Changing Your Health Insurance Plan
If you anticipate having children soon, pay special attention to the options your company offers during its annual open enrollment period. You also have the right to change plans during qualifying life events, such as having a child.
For example, if you're on a basic insurance plan, you may want to switch to a plan with more robust coverage and lower out-of-pocket costs.
If you and the baby are healthy after birth, you might consider moving back to a less expensive plan. However, keep in mind that babies come with frequent doctor visits. A mid-range plan might save you more money in the long run.
Deciding Between a Hospital, Birthing Center, or Home Birth
Giving birth at home is cost-effective since all you need to pay for are your supplies and support staff, like a midwife or doula.
However, if you or your baby show any signs of distress, you may need to pay for an ambulance and treatment at a hospital. So, giving birth close to or in a hospital might be something to consider when comparing medical costs.
If you're lucky enough to live in an area with several providers and hospitals, call them and ask for estimates on how much it will cost. If they tell you the average cost is $10,000 and your deductible is $2,500, you can expect to pay the deductible at minimum.
Keep in mind that some insurers provide better coverage at preferred hospitals, making it less expensive for you.
You can also find out if using a birthing center and a midwife is less expensive than the hospital with an obstetrician.
How to Find a Good Pediatrician
Medical care for your baby is a high priority after they're born. When interviewing pediatricians, remember they want it to be a good relationship, too.
Many providers offer meet-and-greet hours so you can interact with the staff — take advantage of the opportunity to get to know the office team. Other providers might discuss your needs and concerns, like vaccinations, health complications, regular visits, and so forth, over the phone.
When it comes to choosing your child's doctor, trust your gut. It's essential that you trust them and that they respect your wishes.
Anytime you're concerned about your baby's health, you can request an evaluation. Even if your doctor is not worried about something, but you are, they should hear you out and look into the next steps. If your pediatrician does not make you feel supported, pick a different doctor.
Finding Support Available for Special Needs Families
As a special needs parent, you're not just their mom — you're also their advocate. However, your child is not old enough to speak for themselves. It's your job to insist on help from any doctor who will listen, especially if you find it challenging to get a diagnosis.
The cost for special needs can skyrocket, depending on your situation. Check to see what resources your state may offer. Many have a variety of financial or medical assistance programs, including access to a health care advocate. They can help you understand the resources available to you and your family.
Alternatively, your health care provider may have care coordinators on-site to direct you to resources that may not be available through the hospital or insurer.
For example, suppose your child needs a specialized feeding chair, and insurance doesn't cover it. The care coordinator may have resources to find a charity or organization specializing in that type of help.
Lastly, if your child needs long-term care, the national Katie Beckett Waiver program can offer institutional-level care in your home.
Final Thoughts on Maternity Medical Costs
When it comes to medical costs, it's better to over-prepare than to be underprepared. Check with your insurance company and medical providers ahead of time. You can get an idea of how much childbirth might cost, with or without insurance coverage.
Of course, always estimate more than you think you will need because life is full of unexpected events.
Keep in mind that your insurance may cover after-care services like a lactation consultant and therapy to help you through postpartum depression.
Lastly, always listen to your maternal instincts and get support from others, especially after the baby is born.
Meet the Expert
Dr. Ashley Burkman of Collaborative Natural Health understands the physician side of maternal health, but she's also experienced just how complicated those costs can be as a mom of twin boys, one of whom was born with special needs. Her own experience has made her passionate about helping other parents understand the costs of healthcare and be able to make informed medical decisions.⁣