How to Make Money Writing & Selling EBooks
Why You've Got to Listen to This Episode...
In today's episode, I'm talking with Michelle Jackson, founder of the website and podcast, Michelle is Money Hungry. One of Michelle's favorite passive income sources is writing and selling ebooks, and that's exactly what she'll be covering in this episode. She'll share how to write and self-publish fiction and non-fiction books to create streams of passive income even if you have no experience or background in writing, why "do it ugly" is her motto for getting things done, and some ways to leverage ebooks to earn even more money outside of book sales.
Moments You Don't Want to Miss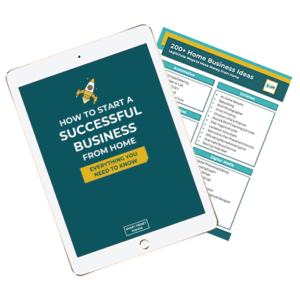 Want to Start a Business?
Download over 200 at-home business ideas with our complete guide on starting a profitable business!
Key Takeaways to Help You Make Money Writing & Selling EBooks
As always, we've rounded up our top three takeaways to summarize what we believe are the core points to remember from Michelle.
1 - You Have Way More Writing Experience Than You Think
I was so glad that Michelle called out that she didn't have any writing training before working on her books but that she did have writing experience—writing projects in high school and college, freelance writing, writing blog posts, writing work emails and newsletters. And that most of us do have more writing experience than we think.
Right before getting on to record with Michelle, I was talking to Lauren about my desire to write fiction, and I actually said, "Well, it's not like I've taken it all that seriously. I'm not really a writer."
And then I listened to Michelle and was like, "I'm a dope. I write ALL the time! I tell stories on the Smart Money Mamas platform ALL the time."
If you're interested in writing a book, chances are you've done some writing too. And you've read books and listened to storytellers. You've made up stories for your kids at bedtime.
You have experience. You don't need a certificate or a class or any kind of permission to write. You just need to start writing!
2 - There Are So Many Ways You Can Leverage a Book to Earn More Money
Michelle's ebook earnings of $200 to $2,000 a month, and growing, sounds awesome. Especially because once she writes the book, the vast majority of the work is done. The rest of the income is passive!
But if you choose to write ebooks, your earnings don't have to stop there. Particularly if you write a non-fiction book about something you have deep knowledge of.
You can leverage your book to grow a website, to sell courses, to book paid speaking gigs, to bolster your resume when you're applying for jobs.
You can create an audience of readers who are excited to purchase and read your next book.
Ebooks are cheap—which makes them a great entry-point for a personal brand. If you're wondering if the time committed to writing a book makes sense for the ROI, remember to look beyond just book sales. And that sales of a book last years after you publish it.
3 - You Just Need to Start
I loved when Michelle said, "maybe the win is that you wrote the book!"
Writing can be a scary thing—you're putting yourself out there, and you're not sure what the feedback will be. You're not sure if you'll sell 1,000 books or 2. You're not sure if people are going to think you're nuts. (That last one might just be me.)
If you're feeling like you'd love to try your hand at writing and earning income with ebooks, but are nervous, embrace Michelle's philosophy and do it ugly.
You don't know what will happen. And you never will if you don't just jump in and do it.
Links & Resources Mentioned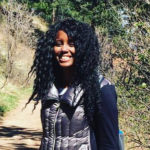 Michelle Jackson is mission driven to help her readers and listeners empower themselves financially. Whether it is by improving their personal finances or learning how to sell what they already know-she loves having those conversations. Michelle runs the website and podcast "Michelle is Money Hungry" and is the founder of the Money on the Mountain retreat focused on empowering financially single women one conversation at a time. When she's not geeking out about personal finance, you can find her hiking in the mountains of Colorado.
Other Ways to Enjoy This Podcast
Have You Subscribed Yet, Mama?
Are you subscribed to the Smart Money Mamas podcast? If you're not, I want to encourage you to head over to Apple Podcasts (or wherever you listen to your podcasts) and subscribe! I release episodes twice and week and as a subscriber, you'll be notified right away so you can take checking the feed for new content off your mental to-do list. 
Click here to subscribe on Apple Podcasts, Google Podcasts, or Spotify!