I want to raise readers. Not kids who suffer through their summer reading but who fall into the fantasy world of incredible books in that way that makes time disappear. Which might be why 95% of Fuss Fish's toys in his first year of life were books.
Having books at home is the single largest indicator of educational achievement – more important than income level, parents' education, family composition, or other factors. And each additional book in the home matters. Going from two to three books has a greater impact than 100 to 101, but that 101st book still matters.
The problem is, books can be expensive. So, today, I wanted to highlight some top ways to build your child's library for less. Because every child deserves books of their own.
Freecycle and Buy Nothing Groups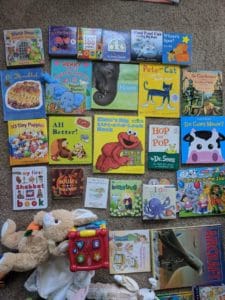 Kids grow out of books, some families receive multiple copies of the same titles, and some stories just don't strike a cord with a child. Given the low resale price of most books, they often get donated or given away.
Your local Freecycle or Buy Nothing group on Facebook, or swap groups for parents, can be a great place to find books. Postings with book offerings usually go fast, but you can always post an ISO (in search of) detailing the age of your children and asking if anyone has books they are willing to part with.
Thrift Shop Finds
Goodwill, Savers, Salvation Army and other thrift stores often have children's books for as low as $0.25 a copy. As many people are more likely to purchase books for their children than for themselves, these shelves are usually smaller than the aisles of adult books. But you can still find some great titles if you're willing to look!
An alternative to thrift stores, that may be less picked over, is garage sales. Look for community sales in the spring or summer to check out many family's outgrown books at once!
Free Book Programs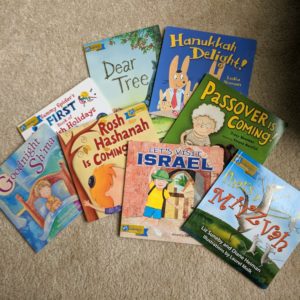 There are a few charity programs that regularly send out free books to kids if you qualify. The largest secular program in the U.S. is Dolly Parton's Imagination Library. Imagination Library will send a free book a month to children from birth to age five, inspired by Parton's father's inability to read and write. Find out if the program is available in your community here.
PJ Library is another book program available to Jewish (and interfaith) children. It is available for children 6 months to 8 years old and each child in the family receives a monthly book. Signing up is super easy and they even try to coordinate so that younger children don't receive the same books their older siblings did at that age. Recently, PJ Library has created PJ Our Way so that children 8 through 11 can choose their own monthly chapter book. If you're raising a Jewish child, sign up here!
Discover Local Book Sales
Local library sales and tent sales from bookstores cleaning out inventory are very often listed on BookSaleFinder.com with dates and details. Choose your state and look for sales in your community.
A recent search on Book Sale Finder helped me discover that a neighboring down's Friends of the Public Library group is going to be holding a huge sale of over 60,000 books! With prices $0.50 to $2.00 a book, and already organized by category, it will likely be worth heading out to look for new titles. Especially as this sale will also be offering children's games and puzzles! (Our need for more bookshelves is probably going to become even more dire…)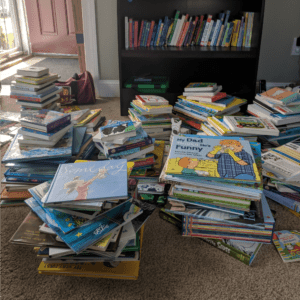 One tip you may not find on Book Sale Finder is stores that offer publisher overstock books. These discounted, but new, books are more likely to be found at independent booksellers than large chains. But they can represent a huge discount on book prices.
The second floor of our local children's bookshop when we lived in Massachusetts, Park Street Books, was dedicated to overstock and gently used books. It is a huge reason the boys have such a large library. Call any independent bookstores in your area (a sadly dying breed) to see if they offer overstock books.
Online Used Book Sellers
If you're short on time or looking for a specific title, online used bookstores can help you find what you're looking for. Prices won't be as low as thrift shops (or free!) but they will still be much lower than buying new.
Here are some top shops to consider!
Powell's: Powell's currently has over 29,000 used children's books from $2.95 up. Shipping is a flat $3.95, but orders over $50 ship free!
alibris: alibris also has thousands of children's books available, and prices start at just $0.99 a book. (Including one of Fuss's favorites, Giraffes Can't Dance!) Shipping is free for most orders over $39 and you can receive 6% cash back with Ebates. (asdf)
Better World Books: The thousands of children's books at this site start at $3.98, making it the most expensive option on this short list, but shipping is free for domestic orders if you're willing to wait for standard delivery.
My favorite service when looking for a book for the boys is Book Scouter. Search by title and it will compare used and new prices from dozens of sellers to help you find the best deal.
The Gift of Reading
Books are incredibly important to a child's development. Besides building obvious literacy skills, books can improve a child's concentration, develop their imagination, improve their emotional intelligence, and more.
Don't let the price of books be a barrier to building your child's library.
Final note: If you've never considered the cost of books before, and freely buy books your children might love or want for their own collection, consider donating books to families in need.
While the education opportunity gap in this country has long been clear to me, I'll never forget Fuss Fish's pediatrician chatting with us about how things our son would take for granted, like how a book works (how it opens, which way to flip the pages), is completely foreign to a lot of lower-income students entering Pre-K or kindergarten.
Create a Little Free Library in your community or donate to excellent literacy charities like First Book and Project Night Night. The world would be a better place with more readers.