Today, we have a special treat! Natasha from Money Smart Guides is sharing her story of self-improvement by viewing every challenge as an opportunity. 
Everything is perception.
At the age of 19, I gave away all of my belongings and moved to live in the jungles of Maui by myself, with nothing but a backpack. I was exploring and camping around the island with no permanent place to stay when I stopped to check out a beach party.
At the party, I had to use the restroom, so I left my backpack with some friends while I was gone.
When I came back, my backpack was gone. It was dark and someone had taken it when they weren't looking. So that meant my passport, IDs, all of my money (I only had cash at the time), clothes, phone, everything was gone.
On top of all of that, I didn't have a place to live. It was just me, the tank top I was wearing and my swimsuit bottoms.
Although this was a terrible circumstance, I was oddly hesitant to react with rage. I felt strangely calm in my chest and the calmness spread throughout my body. My friends thought I was insane, for even they were slightly over the edge of staying cool about my loss.
But my calmness came about because of why I was in Maui in the first place.
Working To Be The Best Me Possible
I came to Maui a few weeks prior to work on bettering myself. After spending some time in the jungle, I was able to think a lot and develop a very tranquil peace of mind. One day, I asked myself what my initial goals were for being on Maui.
I had three:
To work on my self-confidence. I didn't want my confidence and self-love to come from any other source than from inside myself.
To have more humility. I wanted to be less stubborn and prideful. I wanted to develop the ability to ask others for help.
To not be materialistic. I no longer wanted to rely on material objects to bring me comfort.
As odd as it sounds, my incident at the beach was perfect for me. It helped me in the best way it possibly could have. It helped me achieve all of my goals in one simple, swift, backpack-sweeping motion.
I had to work on my self-confidence. You are forced to no longer worry about outward appearance when you lose your nice swimsuit, makeup, and even your hairbrush in one fell swoop. I began to develop my self-confidence from within.
It was the glow of my spirit and the self-love pouring out of me that they made me beautiful, to myself and to others.
I developed a strong sense of humility. I was forced to hitchhike around, ask for work, tell others about my situation, and network in this way of needing help.
It has made me much more humble. My pride was replaced with confidence as I realized how much others really enjoyed helping me.
Finally, and this is an obvious one, I had totally and completely lost all grip with material objects. My roots were where I stood. I found comfort in my breath, the connections I made, and the love pouring out of me.
How To Change Your Perceptions
While my experience helped me to achieve my goals, here is how you can use what I experienced to improve yourself and your life.
Suffering is only real when it is pointless.
We can justify our suffering by altering our perception of the situation. If I had looked at my backpack being stolen as just ill-luck, that the universe hated me and wanted to just be outright awful, then my experience would have been very bad.
Instead, I looked at this as an opportunity to grow and to fulfill all of my goals, as if it was a gift from the universe, which it was. Looking back, it was probably one of the coolest things to have happened to me.
But if my outlook was different, I could say it was one of the worst things to have happened to me. And reading it, many of you might have been thinking this very thought.
If you can find purpose in your suffering, all of a sudden it transforms into an opportunity for growth. Any time we are uncomfortable, we are growing. If we can understand this in the moment, we realize that we are on a journey here to learn and grow, not to suffer.
For example, a man at the gym perceives his burning muscles to be a good thing. On the other hand, a man that is forced to help his grandmother move her furniture perceives his burning muscles to be a bad thing.
What's the difference? How they perceive the work.
The man at the gym is content with his muscles burning because he realizes that it means he is getting stronger. The man helping his grandmother is bothered by his muscles burning because he doesn't see how it can help him. In other words, he is only suffering because he doesn't have a reason for his suffering.
If the man helping his grandmother were to think, "Man, my muscles sure are burning, what a workout! I´m going to be so strong after this!" instead of thinking about how annoying it is that he has to help, he would have never experienced suffering.
Viewing Challenges as Opportunities
So here is my challenge to you. In a situation where you might feel as though you are suffering, find the way that it is encouraging you to grow.
Right now, I am in a library trying to write this article, and a man is singing next to me, drumming on the desk with his fingers. It's distracting and annoying. I keep telling myself, however, that he is a teacher of patience, and I am becoming more patient by being in this current situation.
Is this easy to do? Not all of the time. When I am lacking sleep or stressed about something, trying to find the way a situation is challenging me to grow is tough. But I also understand the power that lies in achieving this.
Even with practice, sometimes I fail. As much as I want to take every situation where I am suffering and find the good in it and grow, I don't. I'm only human and have my breaking points just like anyone else.
But I am OK with this. I am not looking to never experience an emotion like suffering. I am simply trying to work on myself and limit these experiences as much as possible and learn something every time.
For example, the other day I was in the express checkout lane at the grocery store and it was anything but express. I found myself getting irritable and impatient. This could have been the perfect time to learn patience here. But I just couldn't do it.
The funny thing is, when I dismiss opportunities to improve myself like at the grocery store, I often find that same suffering present itself to me later as a second chance. The man singing right now is my chance to try again.
Final Thoughts
Any time we are uncomfortable, we are growing. Metaphorically, even as children when we experience growing pains, they are uncomfortable, but they mean that we are growing. Once we realize and understand this, we can start to look at all of these bad situations as teachers as opposed to nuisances.
The next time you feel like you are suffering, or you are uncomfortable, try asking yourself some of these questions:
What is this trying to teach me?
How can I learn from this?
What mental or physical muscles is this exercising?
In what ways am I growing from this?
We can look at this as composting. Turning bad circumstances, into compost, which will then create rich soil from which we can grow.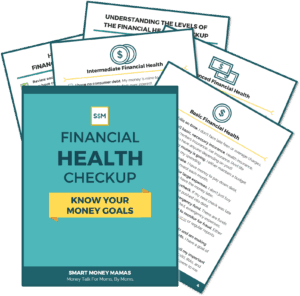 Wondering whether you're doing the right things with money or what you should focus on next? Download our quick financial health checklist and see where you stand!
Author Bio: Natasha Lincoln is a happy nomad with a passion for [email protected], lucid dreaming, fire dancing, and talking to strangers. Every day, she wakes up with two goals: 1.) Conquer Fear 2.) Be Love. You can find more of her writing at MoneySmartGuides.com.