It is almost summer, which means invites to grad parties, a new crop of students heading off to college or into the workforce, and a scramble to find a meaningful graduation gift for your children and your friends' children. It also means a new crop of young adults who are about to learn how little financial literacy education they actually got in school. To combat the almost guaranteed question of, "Why didn't anyone teach me this in school?!," I always give one of my favorite money books for beginners as a graduation gift. These books are excellent because they are easy reads while still including all the basics a person would need to be financially empowered and grow their wealth. Plus, the gift of knowledge lasts a lifetime!
Below are my five favorite personal finance books for beginners. They all provide a unique insight into the world of responsible money management and wealth creation. Pick your favorite for the grads in your life, and tuck in a little cash to make the perfect gift! (Or buy one for yourself and learn something new!)
This post may contain affiliate links. For more information, please see my disclosures.
The Millionaire Next Door by Thomas J. Stanley & William D. Danko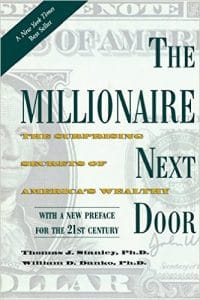 The Millionaire Next Door was the first book I ever read about money, and it still keeps a special place in my heart. Thomas Stanley and William Danko spent two decades studying the habits, careers, and spending preferences of millionaires before writing this fantastic book on what you need to do to be a millionaire.
New money managers and people looking to learn more about their finances will benefit from this book because the advice is straightforward and commonsensical. Also, the fun facts about the millionaires Stanley and Danko studied are entertaining and eye opening.
Readers of this book will learn the seven simple rules they need to follow to build wealth and become millionaires. They will also learn that society's perception of what a millionaire looks like is very far off. Millionaires don't wear $1,000 suits, but they do drive Toyotas!
Who it is perfect for: The student who always wants the shiny new gadget or seems obsessed with the rich & famous.
The most important lesson it can teach a new grad: If you want to be a millionaire, ignore the Joneses. They may have fancy cars, but they probably have very little wealth.
A favorite quote from the book: "Have you ever noticed those people whom you see jogging day after day? They are the ones who seem not to need to jog. But that's why they are fit. Those who are wealthy work at staying financially fit. But those who are not financially fit do little to change their status."
Buy Now on Bookshop (support local bookstores!) | Buy Now on Amazon
I Will Teach You to Be Rich by Ramit Sethi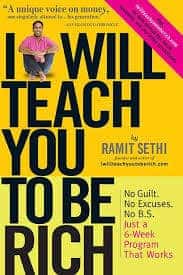 Sethi's book has the benefit of being written by a blogger (kidding! kind of…), but it is also the perfect book to introduce young adults to solid financial habits. I Will Teach You To Be Rich is written directly to millennials in an entertaining, to the point, no B.S. way. It starts with the basics of opening up bank accounts and getting a credit card, through to investing, handling student loans, and even paying for your wedding.
The best part about Sethi's book is that it is actionable and not overwhelming. He makes it easy to take things one step at a time and encourages the reader not to focus on making everything perfect. Financial literacy and wealth building is a lifelong process, and anyone who makes it seem like you need to be an expert is likely to make young adults think, "I'll just deal with this later." Give a graduate this book to tell them they need to get started today!
Who it is perfect for: The student who is starting from scratch. They've always been under their parents' wings financially, and now it is time for them to set out on their own.
The most important lesson it can teach a new grad: How to create an easy to maintain a financial system that will help you grow wealth without thinking about it.
A favorite quote from the book: "The single most important factor to getting rich is getting started, not being the smartest person in the room."
Buy Now on Bookshop (support local bookstores!) | Buy Now on Amazon
Unshakeable: Your Financial Freedom Playbook by Tony Robbins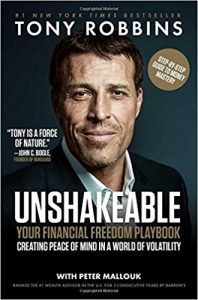 I have always been a Tony Robbins fan. His energy and drive to make the world a better, happier place is something I really admire. But even if you aren't, or haven't heard of him, look at the cover of this book. It is endorsed by John C. Bogle, the founder of Vanguard! It has to be good!
Tony Robbins is a motivational speaker, not a financial expert, but after the global financial crisis in 2008-2009, he went on a mission to figure out what went wrong. He did extensive interviews with over 50 of the top financial experts in the world and put together his book MONEY: Master the Game on what it takes to achieve true financial freedom. Now, that book was a fulsome and fascinating read, but it was also almost 700 pages long and not something the average young adult will want to pound through.
Unshakeable is Robbins' follow-up to his first financial freedom book. This book is a condensed, easier to tackle version of the first focused on putting millennials and young adults on the right path from the get-go.
Readers of this book will learn how to set financial goals, how to invest responsibly, and how to sniff out unnecessarily high fees in their investment accounts and 401Ks. They will also get to hear the top investment tips from all the experts Robbins' interviewed for MONEY Master the Game, including John C. Bogle himself.
BONUS: Robbins is donating 100% of profits from Unshakeable to Feeding America, a charity focused on fighting the hunger crisis in the U.S.
Who it is perfect for: A money-conscious student who already thinks responsibly about budgeting and is ready to take the next step into investing.
The most important lesson it can teach a new grad: How to grow your wealth by investing logically, for the long-term, using a well-constructed plan and low-cost investments. The basics of removing emotion from your investments to protect your returns.
A favorite quote from the book: "You have to focus on what you can control, not on what you can't."
Buy Now on Bookshop (support local bookstores!) | Buy Now on Amazon
Your Money or Your Life by Vicki Robin & Joe Dominguez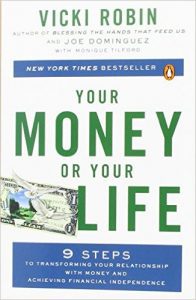 Of the books on this list, Your Money or Your Life probably offers the least in terms of concrete financial advice. However, it is still highly valuable. Robin and Dominguez introduce the idea that society has warped career status into a personal value judgment and that our identity as consumers has overtaken our identity as citizens. They offer another way centered on personal values and achieving true financial independence.
This book is an excellent introduction to the basic concepts of FIRE (Financial Independence, Retire Early). It will show young adults how to pursue a life that energizes them by spending frugally and working intentionally, instead of trading their precious hours sitting in a cubicle for 30 years. It provides another option.
Your Money or Your Life was made for millennials and the next generation who are always asking why and refusing to accept, "that's how we've always done it," as an answer. With all the advances in technology, we should be working less, not more, and Robin provides the motivation to do just that.
Who it is perfect for: A student who is a little less than excited about giving up their college freedom for a 9-5 and two weeks vacation.
The most important lesson it can teach a new grad: Work is selling hours of your life for money. Find a career or venture to get paid what you're worth and spend in ways that actually align with your values.
A favorite quote from the book: "Waste lies not in the number of possessions but in the failure to enjoy them."
Buy Now on Bookshop (support local bookstores!) | Buy Now on Amazon
The Richest Man in Babylon by George S. Clason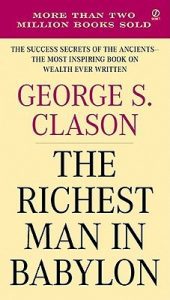 Clason's book is an absolute classic when it comes to personal finance literature. This book is written in easy to digest parables that teach the basics of sound money management and living a good life. While the old world language might take a little getting used to, the short stories are good for a quick read!
The Richest Man in Babylon is a collection of ten parables fictionally set in ancient Babylon. The parables were originally printed as pamphlets and distributed to individuals by banks and insurance companies but were bound into a single book for the first time in 1926. Despite the book's age and ancient setting, it still has an enormous amount to teach us about money and wealth.
In addition to the sound principles on money, my favorite parts of this book are the focus on a lifelong pursuit of knowledge and the value of hard work. Anyone who is financially successful, and stays that way, is motivated to learn. They may choose to retire or step out of the fast lane career-wise, but they know the world is always changing and there is always something they don't know.
Who it is perfect for: A student who isn't a big reader and prefers stories to non-fiction.
The most important lesson it can teach a new grad: Work hard, save money, avoid debt, and invest and you will grow rich.
A favorite quote from the book: "Desires must be simple and definite. They defeat their own purpose should they be too many, too confusing, or beyond a man's training to accomplish."
Buy Now on Bookshop (support local bookstores!) | Buy on Amazon
So there it is! Five personal finance books I wish someone had given me that I now gift at every high school and college graduation party. I'm sure it doesn't make me the most popular guest, but maybe I'll get some thank you notes in 30 years?! Hope this helps you give a meaningful graduation gift this spring and helps start another young person on the right foot financially!
Do you have a money book you wish someone gave you when you were young? Share your favorites in the comments!