We are back with another installment of the Aha! Moment debt series! This month we meet Cody, a young father who has worked with his wife to pay off $83,000 in debt in just 20 months.
But I have to tell you something important.
Cody and his wife have a combined income below six-figures.
They work hard and they prioritize their spending, which has put them in a place to achieve financial independence in 5 years when Cody is just 30-years-old.
Debt freedom and financial independence are for everyone! Check out Cody's story and start making progress towards your own debt-free life!
If you would like to be considered for an interview, drop me a note!
To read more stories in the Aha! Debt Interview Series check out the project's page here.
Let's get started…
Aha Moment Interview: How Real People Get Out of Debt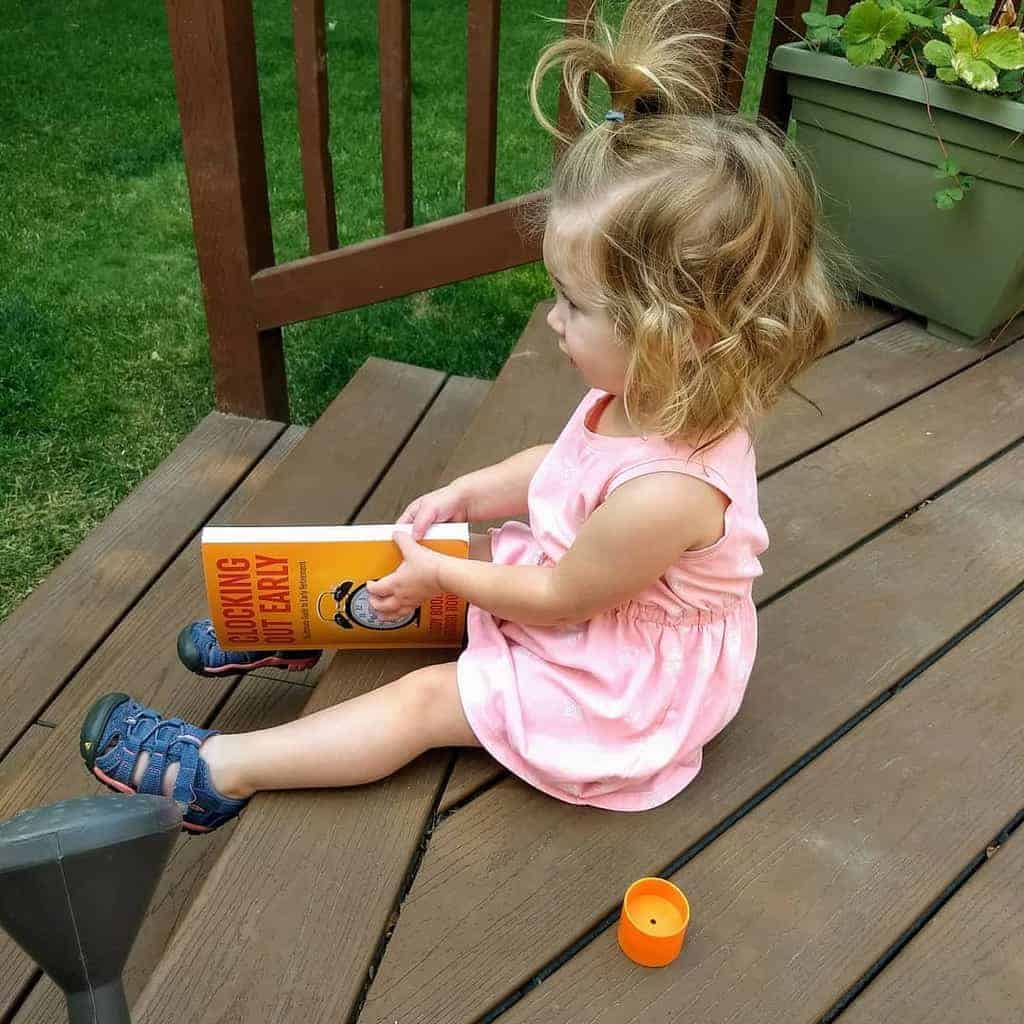 Tell us about yourself!
My name is Cody and I'm a 25-year-old financial independence aspirate living in Eastern Washington with my wife, Georgi, daughter, Elli, and fluffy lapdog, Pilot.
In addition to my day job, I'm an author, blogger and financial coach for individuals and businesses and a big football fan (go Hawks!)
How much debt do you have today and where did you start?
The only debt we have is our mortgage at $169,000 (home itself is worth $230,000).
Five years ago though, my wife and I were recent college graduates working minimum-wage jobs in Seattle and had over $83,000 in student loan and car debt.
Just 20 months later, after drastically reducing our expenses and increasing our income, we paid off all our debt.
What was your "aha" moment that made you realize you had to get out of debt?
We wanted to start a family but needed more of a financial cushion before pulling the trigger.
The first thing we decided was to pay off our car. We started researching the best ways to do this and stumbled across the early retirement blog of Mr. Money Mustache. After devouring his content, we fully revamped our spending habits to go above and beyond our goal of just paying off the car.
We decided we would pay off all our debt and pursue financial independence, so neither of us would have to work to provide for our family.
What lifestyle changes did you make while paying down debt?
We started with the lowest-hanging fruit. We canceled our Verizon contracts, paid the early termination fee and switched to Republic Wireless, reducing our phone bill from $120/month to $25/month.
We cut the cord and saved $80/month by eliminating cable.
We temporarily suspended gift-giving (except for some small gifts during Christmas) after explaining to our families what we were trying to do.
We stopped eating out and leveraged Costco to cut our grocery bill (including toiletries) to $75/week for the two of us.
Most of our recurring subscriptions were canceled, except Netflix, and we moved into a cheaper apartment.
We started walking to work and didn't take any vacations.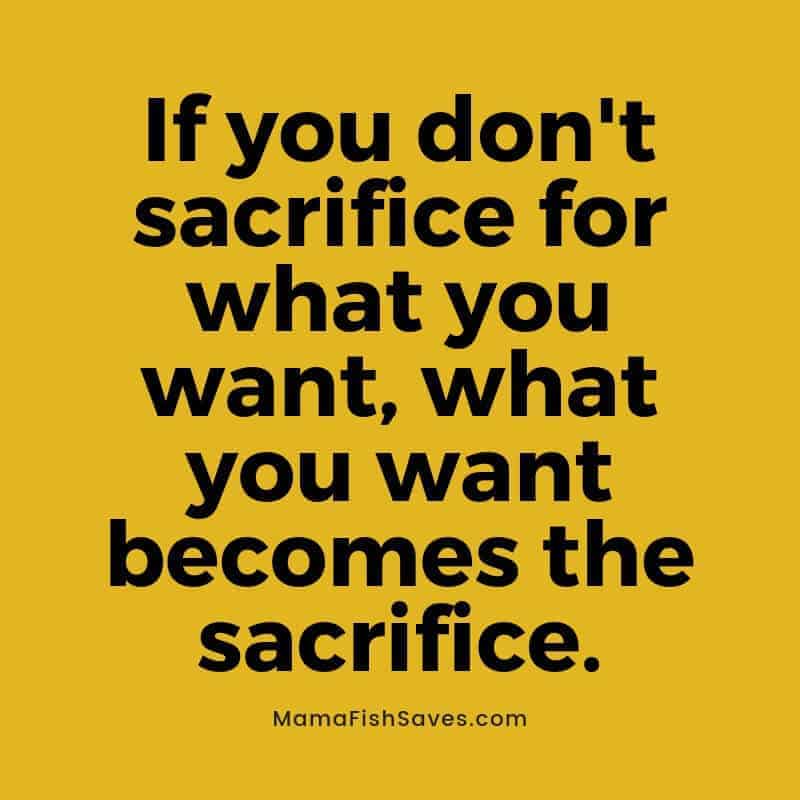 After getting our car loan's balance down to its actual market value, we sold it and bought a $2,400 Altima to eliminate our car payment. We significantly reduced our car insurance premiums by switching to liability-only on the cheaper Altima.
We bought "two-buck Chuck" (now almost-three-buck-Chuck) instead of craft beer.
All of these changes allowed us to put the majority of our paychecks towards debt. We also made a major lifestyle change by moving from Seattle to a small city in Eastern Washington about halfway through this journey, both because I had family there and the cost of living was lower.
I still wanted to keep the job I had in Seattle, though. My employer had never had a full-time operations employee work from home, so I knew my request would be unprecedented. That didn't stop me from asking, though.
I got creative and put together a detailed work-from-home plan for my managers that would have me working in three different departments. My presentation convinced them to take the risk on me, and I paved the way for others at the company to do the same!
I've been working from my home office for over three years now.
Did you have a side hustle (side job) to help you pay down debt faster?
Yes, my wife's blog was found by a publication that hired her as a freelancer. She wrote a couple articles a month that brought in a little bit.
We also found higher paying jobs a few months into our debt payoff spree that paid us roughly $15/hour.
A year later, I got a raise that brought me up to $24/hour and a new position that allowed me to take extra on-call shifts. During this time, I was taking on two on-call shifts every month, allowing us to increase our debt payments even more.
What was the biggest setback you experienced while tackling your debt?
Within a week of deciding to pay off our debt, my wife was laid off.
She found another job a month later, but it paid slightly less than her previous position. This slowed down our payoff timeline but acted as even greater motivation to get ourselves out of this hole we had dug.
Did you and your spouse have any differences of opinion on how to get out of debt? How did you get through it?
I am very blessed with a spouse that is completely on board with the frugality and FIRE concept, which goes hand in hand with being debt-free.
She was pushing us to be more frugal even before I went looking for ways to pay off our car loan faster.
In fact, I'd consider her even more frugal than me; I'm a sucker for eating out and she has way more willpower than I do. She makes eating at home really enjoyable, though, because she's an excellent cook and baker.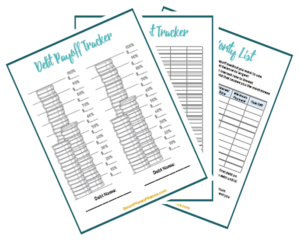 Grab Our Free Debt Payoff Trackers!
Creating a plan for debt freedom is the first step!
Did you use a debt snowball or avalanche?
For those of you who don't know, you can read about both methods here. But the short story is that a debt snowball means paying off your debts from the smallest balance to the largest. An avalanche is paying off your highest interest debts first.
We used the snowball method.
Even though we paid a little bit more in interest over the avalanche, the psychological boost from seeing the smaller line items fall away one by one was worth it.
What financial mistakes did you make that other families can learn from?
Looking back, I think we didn't have enough balance during this time – balance between present and future happiness.
We slid a bit too far into deprivation.
In retrospect, paying a few hundred more dollars to visit family more often and allowing for a few extra dates would have been worth delaying debt payoff by a couple weeks.
Also, all of those on-call shifts added up. I was sleep deprived and it often affected my attitude. There were a few times where I took on three consecutive weeks of on call and that was definitely a mistake.
It's important to be aggressive with debt payoff, but being too aggressive can lead to burnout and frustration.
Now that you're debt-free what is your next big financial goal?
Our next goal is financial independence!
We've grown our net worth into the six figures (not including home equity) and are roughly 5 years away from financial independence.
My wife is now a stay-at-home-mom, but she submits articles about once a week for the same publication. I still work for the same company, but my salary has increased and I focus on providing as much value to my employer as possible, which in turn results in solid raises.
We don't make 6 figures in combined household income, but we keep our expenses low, allowing us to save 65-70% of our take-home pay.
We also took all our combined knowledge of years of experience and research in personal budgeting and financial planning and wrote a book (Clocking Out Early: The Ultimate Guide to Early Retirement) and started a blog, which we hope will bring in some passive income in the future.
Finally, where can readers find you and follow your story?
Check out our book and blog, Clocking Out Early!
On the blog, we're a few posts into our FIRE series, which covers everything from expense reduction and debt payoff, to investing, travel hacking, calculating how much you need to reach financial independence, tax optimization strategies and sustaining financial independence during the drawdown stage. This series will likely be at least 30 posts that will be released over the next 1-2 years. The same information can also be found in our book if you'd like to check it out before the series is complete!
---
Smart Money Mamas' Thoughts
Thanks to Cody for sharing his debt-free story!
As I always do in these interviews, I want to share some thoughts:
You can achieve debt freedom on any income. A lot of times, readers see these large debt payoff stories and tell themselves it's impossible. It is driven by high incomes or help from family. But Cody and his wife started this journey at minimum wage jobs. They got raises to $15/hr. And yet they made big changes to reach their goal. It's inspiring.
Don't be afraid to ask for what you want. One of my favorite parts of Cody's story is that he wanted to work from home and found a way to do it. He knew his company had never allowed it before, so he made a detailed presentation of how it would work and pitched it to his bosses. If he had just walked in and said, "Can I work from home?" the answer probably would have been, "NO!" But he was thoughtful and made it happen.
Don't run too fast. Getting out of debt is a fantastic goal. But overly depriving yourself can cause more backslides than just giving yourself the room to breathe you really need. Decide on some small "luxuries" to keep, and remember that your happiness today matters.
Thank you again, Cody!
What did you think of Cody's story? Any thoughts you would add?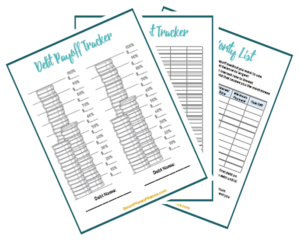 Grab Our Free Debt Payoff Trackers!
Creating a plan for debt freedom is the first step!